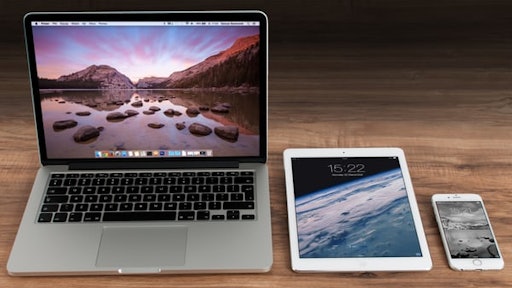 Photo by William Iven on Unsplash
Technology is constantly evolving and changing the way work is done. While construction has traditionally been slow to adopt technology, attitudes are quickly changing. From data-based analytics to robotics, emerging technology offers the ability to boost efficiency and revolutionize project completion.  
Enter cloud technology, which offers businesses the capability to store, share and utilize data from anywhere as long as they have a device (such as a laptop, smartphone or tablet). For Construction Pros recently spoke with RedTeam CEO Michael Wright on the benefits of cloud technology in the construction industry – and on RedTeam's recent partnership with Sage to offer even more options for business management and work completion.
What Is Cloud Technology?
In the past, we stored data locally, which meant it was located on the hard drive of our computer and could only be accessed from that computer (or via sending a file through email).
Cloud technology, which is also commonly referred to as cloud computing, is the ability to store data in a software-based program. This means anything that's stored can be accessed by anyone with an internet-connected device and access to the cloud program of choice.
Because data saved on the cloud can be accessed and utilized from anywhere by anyone with an internet connection, construction companies can use cloud technology to improve business and project completion processes in a variety of ways.
This is exactly why companies like RedTeam exist. RedTeam offers construction companies the ability to maintain all facets of business management, information storage/sharing and project completion from the cloud. Wright says, "Construction is a difficult industry because it's almost like manufacturing in the field. Where manufacturing is done in a controlled environment, in construction, you're actually sending everybody out with the materials to build something in a remote location."
Wright goes on to say, "There are a lot of things about that that are hard to control. One of the biggest impacts from the technology perspective that we've seen recently is just the emergence and the ubiquitous access to cloud and mobile computing devices, the smart devices. The combination of cloud and smart devices is really nothing short of transformational because now we've extended out information technology to people on jobsites."
Let's take a look at how cloud technology is being used to benefit jobsite performance and business management processes in the construction industry.
Efficiency and Productivity
The most obvious benefit of cloud technology within construction businesses and on jobsites is efficiency.
In the old days, worksite information had to be written down, called in, communicated physically and shared in a variety of other manual ways. This resulted in lost time, delayed productivity and even mistakes as details were transmitted incorrectly. These mistakes often even resulted in change orders, which caused project delays and increased costs.
Today, managers and workers can enter, upload and share measurements, specs, plans, images, videos and any other job data in the cloud. That data can then be accessed by anyone else within the organization, from anywhere. Cloud technology truly enables jobsites to be fully connected.
Wright says, "We've seen tremendous growth in construction workers and construction company managers utilizing data and utilizing cloud technologies to better manage their businesses and better promote efficiency, productivity and using data to streamline their processes."
Cost Savings and Profits
As efficiency grows, so do cost savings. This is most apparent in the correlation between quicker project completion and monetary resources. The faster and more efficiently a crew finishes a project, the fewer work hours a construction company owner has to pay for that project. This results in both savings and higher profits from each job.
As projects are completed with more efficiency and speed, construction companies are also able to pick up more work in a given amount of time.
Additionally, when it comes to managing company costs and profits, construction companies turn to cloud technology for accounting and financial maintenance purposes. According to Wright, this is a big reason why RedTeam recently partnered with Sage, which is a high-functioning accounting software for small businesses.
Wright says, "We've actually had a relationship with Sage for many years in that we've had many customers that use Sage software for their accounting. And if I go back several years and look at our traditional product line, we've typically sold RedTeam as a standalone platform for commercial construction project management, and our customers would then also have an accounting system (such as Sage or QuickBooks)."
He goes on to say, "Sage 100 and Sage 300 happened to be the flagship products in the commercial construction industry. They dominate the market as the provider of the accounting systems that most contractors use for managing their construction businesses. And that's because they have very particular expertise in commercial construction. The architecture of the system is designed specifically to support contractors and the type of work they do."
In a recent press release on the partnership, RedTeam announced, "RedTeam, combined with Sage, allows users to manage all aspects of construction businesses, including business development, preconstruction, project management, scheduling, field management and cost control."
Safety
In addition to efficiency and improved finances, construction companies can also utilize cloud technology to boost safety on jobsites.
From storing and sharing safety protocols to communicating important information regarding issues such as weather or other conditions, managers can provide workers with the information they need to perform their jobs safely and effectively.
Safety is also improved thanks to accurate data sharing – such as equipment weight requirements, limitations and safe-use guidelines.
No matter the size of your business, cloud technology offers the ability to enter, store and share data from anywhere with an internet connection. Whether you want to increase efficiency, reduce costs or simply keep a close eye on worker performance, this innovative technology can change the way projects are completed.