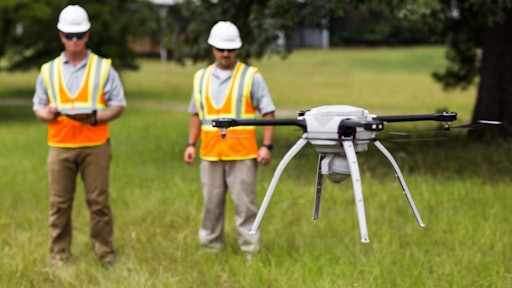 Talon
Visual data captured on construction sites is only valuable if it's timely and provides meaningful and accurate insight into what's happening on the project. Receiving hundreds of images several days after they were taken and with minimal or no context, or getting confirmation that a task has been done incorrectly long after that portion of the project is completed, can lead to missed opportunities and/or costly rework and delays.
Delivering insight that companies can immediately use and apply to their operations is a large part of what data solutions provider Talon provides. Its platform is designed to help field teams capture and collaborate on field service information; enable that field data to be converted into actionable data; and deliver more efficient workflows – all of which are driven through artificial intelligence (AI) based technology.
While drone services are a part of its product offering, Talon's services extend beyond aerial data capture during certain segments of construction. "Our technology and software platform are geared around the process from project planning, through construction, all the way through to the audit closeout," says Rod Dir, CEO.
The objective is not just to deliver insights but to change aspects of how jobs are completed. "We're very involved in process change," Dir states. "As an example, on preconstruction scoping and site surveying, [contractors] traditionally will take a crew out to the field and inspect the site in advance. They have a statement of work or a checklist of items that they're capturing at that stage."
Rather than send a construction crew out, Talon sends its drone crew to the site with that same checklist, captures the information required and delivers it in a format that is readily actionable. "So, what we've done is eliminated the [need for] construction crews to go to the site for the planning phase. We bring all that back in a very organized way… And that's to reduce cost and shorten the planning or scoping phase of a project," says Dir.
"It's about process change," he states. "Because if you're just adding video footage or images to your current process, you really haven't taken advantage of drones and AI."
Visual Data Capture Tools
Drones prove particularly valuable in the site surveying and planning phase. They can capture hundreds of images and videos – including information that may not be visible from the ground – that can be used as a visual reference for all stakeholders, including those who aren't physically on the jobsite.
"Engineers that are working on the project that aren't going to be on site can pull that video and images up and observe data that they may not traditionally have back in an office," Dir comments.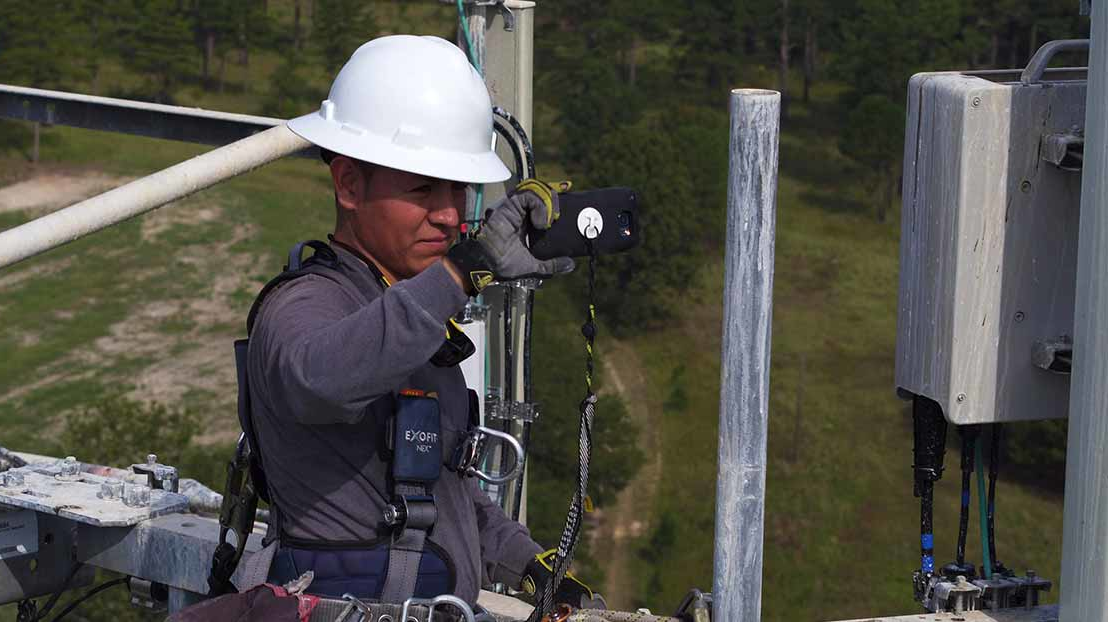 iPhones, tablets, cameras and other technology can be used to capture data and upload it for analysis by the AI-based model.TalonSite audits in difficult to access areas are another place where drones excel. "Throughout the phase when work is being completed on very high or very tough places to inspect, it can be audited or reviewed by drone images," Dir points out.
Although drones are an integral part of Talon's services, for jobs closer to the ground, mobile devices serve well instead. "We use drones about 30% of the time, but we also use iPhones, tablets and other technology to capture that data and upload it," says Dir.
Machine Learning Aids Accuracy
"The most important thing about actionable data is that you get it timely," Dir states. "And the second piece is that you can give a response back to the on-site crews immediately." This is where AI comes in.
Utilizing data and insights from previous projects, Talon's AI model is trained to know what to look for in a completed task. "We teach it what's an appropriate completion of that work and what's an inappropriate completion of that work," Dir explains. "We train the model over and over until we get the right level of accuracy in the system.
"All of that is based on a standard statement of work or standard checklist of things that you're trying to accomplish," he continues. "So, if you can maintain that consistency from project to project, then you can teach the system and the software to look for that type of accuracy."
Of course, not all tasks on a construction project are repeatable. But for those that are, it can help to eliminate the need to bring in a third party to test and verify accuracy, enabling time and cost savings down the road.
For example, say you're putting up drywall and the electrician needs to confirm the interior wiring is installed correctly. "The electrician can submit the image of that wiring, send it through the cloud and immediately get a response back that the wiring configuration [is correct]," says Dir. "We have gotten about 99.6% accuracy with our AI that the work has been completed properly.
Once the crew member gets the green light that a process is completed correctly, he or she can proceed to the next step of the process. "They don't have to wait for an inspector to come on site," says Dir, adding, "It eliminates so much rework by getting an immediate response."
Shared Insights
Sharing of data among stakeholders is essential to improve processes and keep projects flowing smoothly. "Our technology captures and organizes the day in a way that allows you… to share and invite users into the system to view the data and contribute to the project," says Dir. "We also have a real-time collaboration system. Think of it as a live Zoom meeting."
So, not only can invited project stakeholders view all available data and insights, they can readily collaborate in real time via live-stream video conferencing – all within the same platform.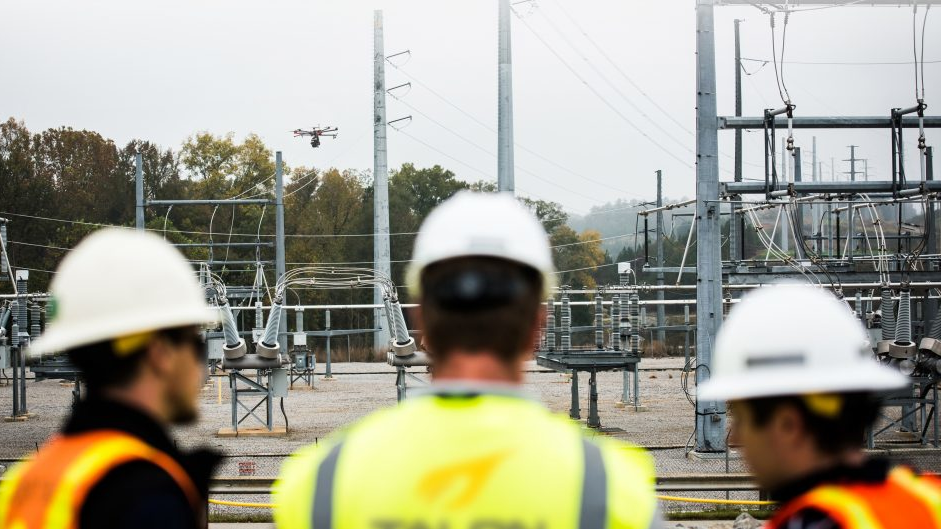 Talon Teach can be used to provide job aids, standards requirements, specifications and more at workers' fingertips.TalonIn addition, Talon Teach can be used to provide job aids, standards requirements, specifications and more at workers' fingertips. This can be especially valuable to those working alone or in separate areas of a jobsite where communication is limited.
"They not only can have training tools available to them on their mobile device for each phase, they can submit images of work that's just been completed and get immediate response," says Dir.
This helps to maximize accuracy and timely completion of tasks throughout the construction process. "We go in and attack processes that are highly manual and labor intensive and try to take that from, say, 70% manual and cut that down to 30% or 25%," says Dir.
Such process change can save contractors of all types and sizes time and reduce risk exposure on their portion of a project. "They can ensure that certain processes are being followed and certain things are happening with their crews through automation like this to increase the quality across the board," says Dir.
Companies in this article