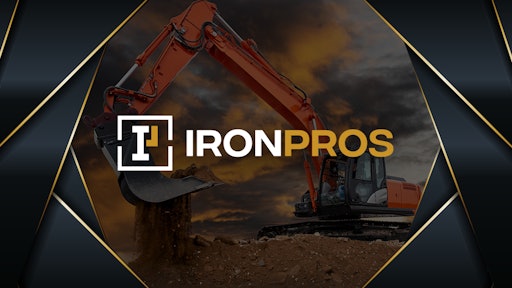 AC Business Media launched IRONPROS, a destination site for expert-grade buyer's insights, research and comparison, specifically engineered to inform purchasers of new heavy equipment, construction technology and workwear products. The sophisticated interactive product engine features journey-based content, research and multi-level product showrooms.
Powered by the ACBM and ForConstructionPros.com audience platform, including Equipment Today and ENTENTION Data Insights, the launch allows contractors, construction business owners and buying specialists to research almost the entire market of new heavy construction equipment, construction technology solutions and consumable products — starting with workwear and professional work boots.
"The complexity of the purchasing process in heavy construction equipment and construction technology has dramatically changed in the past few years. Buyers are in need of more data around machines, long term value, ROI, and efficiency as they work through operational investment and improvement," says Ron Spink, ACBM's CEO. "IRONPROS, at launch, is the largest collective resource of brand information in the field — taking disparate product data, research, and specs and combining them in a visually-exciting interface, surrounded by one-of-a-kind buyer's content."
Diving deeper into insights and trends, IRONPROS delivers essential industry knowledge that allows contractors to effectively manage assets and navigate the trends within the industry through a range of multi-media content, including articles, videos, podcasts, infographics, virtual events and webinars, informational guides and product launches.
Coupled with the launch is IRONPROS/TV, a premium content library that allows contractors to find the exact moment any construction concept, brand or keyword is mentioned within any video on the site. T
"Construction professionals have increasingly turned to the internet to research their buying decisions. Until today, that research involved scouring search engine results, manufacturer websites, and forums," says Wayne Grayson, Digital Content Director at ACBM. "We designed IRONPROS to provide a one-stop-shop for this research. But this is just the beginning. With our unique combination of continuous equipment, technology, and workwear coverage, IRONPROS will be the ultimate destination for construction product news and research."
Here's what some of the contractors say:
"When it comes to buying new equipment, I'm most interested in the products are going to provide us the most value. I'm willing to pay more for quality and reliability. The IRONPROS videos and insights helps me find the products and equipment with the most value," Jack Nix, Shelby Erectors.
"IRONPROS has products on their site I didn't know existed. It is a very helpful resource to find the best and latest products," adds Marvin Joles, Blacktop Banter / Wis-Coat Asphalt Maintenance.
CHECK OUT IRONPROS now.