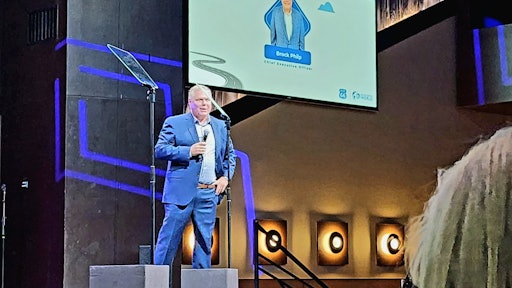 IRONPROS
Newforma originated the construction software category project information management (PIM), and thanks to a 2021 acquisition and a disciplined approach to product management has now united PIM with building information modeling (BIM) for a refined approach to project data management, issue tracking, requests for information and data sharing across distributed project teams.
Newforma Konekt, a new software-as-a-service (SaaS) offering, includes many of the features as the original PIM product, Newforma Project Center, and has been rolled out by a number of Newforma customers. But Newforma World 2023 in Chandler, Ariz. October 1-4 put deep dives into the product in front of customer attendees.
The mature Newforma Project Center has a portfolio of more than 1,500 customers who have relied on the product to provide appropriate access to files and documents to construction project team members and owners with based on permissions assigned to each project partner. The software also catalogued documents and information from project-related email, creating a canonical record of correspondence useful for project management and forensics. As BIM is increasingly the central repository for information across the design-operate-maintain lifecycle for significant projects, the logic of acquiring and extending BIM One becomes clear.
SaaS Tech from BIM One
In an opening session, Newforma CEO Brock Philp related the history of how BIM One, acquired by Newforma in 2021, contributed to the new Konekt product not just BIM capabilities but a multi-tenant SaaS architecture.
BIM One had "just unbelievable SaaS technology which we needed, a fantastic product and more importantly, a fantastic group of people," Philp said, adding that BIM One Co-Founder Carl Veillette was now chief product officer of Newforma.
The acquisition marked a significant shift for Newforma, a company whose flagship product originated as an on-premise solution. But at this point, the fruits of the product team's labor are more than ready for market.
"Everything changed for this company, and by extension our product changed," Philp said. "You're going to see that today, and you'll see the product that is not a beta. We're selling it today. And again, a lot of the people in this room, our customers have been very, very instrumental in helping us in product direction. So that was our inflection point."
Philp said there was not currently a plan to increase prices, something customers may associate with the move to cloud and acquisitions. Nor are there plans, he said, to stop offering the original product, Newforma Project Center.
While SaaS offerings tend to be more profitable for vendors than on-premise solutions, even when paired with cloud provisioning, Philp stressed the impetus for Konekt came from customers and customer survey data.
"Many of you have commented that it's great product functionality, but it looks old and tired," Philp said. "It needs to be in the cloud—but you have great people. So what I hope you come away with today is that you're still going to deal with fantastic people, only more of them. You're going to have a great product that looks great and has and has the greatest technology. And you're going to have more features than you did before. And they're going to be in this new form of Konekt."
Stream our full interview with Newforma CPO Carl Veillette from Newforma World 2023.
Incremental Approach
In general sessions, Newforma drove clarity around roadmap, which includes a number of migration tools for customers so they can more easily continue to run Newforma Project Center and Konekt. For starters, customers can expect a tool to enable them to view project data from Newforma Project Center in Konekt, with a direct link to open the project in Newforma Project Center. This is designed to make it easier for team members who will be working in both products.
According to Newforma Senior Vice President of Product Marge Hart, resources are allocated to develop and evolve both products—with 76 members of the engineering team assigned to Konekt and the remaining 47 on Newforma Project Center. Priorities into 2024 will be to limit the need to move between applications and the launch of data migration tools. Both Newforma Project Center and Konekt have a set of application programming interfaces (APIs) that would speed data migration for customers with the internal IT resources or external budgets to do the required heavy lifting.
"We're not one of those kind of software vendors that are trying to force our customers to do a migration," Veillette said. "Obviously, we want them to leverage the greatest innovations that we're rolling out, but they would do it on their own pace. And what we're doing to assist that transition is really providing a licensing agreement so that they don't have to pay extra for it."