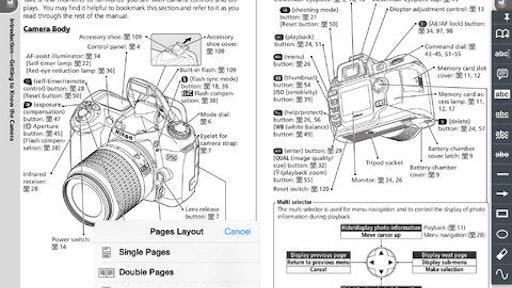 Mobile app: GoodReader
Developer: Good.iWare Ltd..
Cost: $4.99
Available on: Apple iPad and iPhone
The GoodReader mobile app PDF reader for iPad, iPhone and iPod touch allows the user to read virtually anything from anywhere. The app read can handle huge PDF and TXT files, manuals, large books, magazines and renderings of 100 mb and more. The app also features advanced reading and annotating capabilities.
App users have the ability to mark-up and annotate PDFs. Annotations that can be created and edited in the app include: typewriter text boxes, popup comments ("sticky notes"), text highlights, freehand drawings, lines, arrows, rectangles, ovals, cloudy shapes, text underlines, strikeouts, and text insertion marks.
App users can also manage files on GoodReader by creating folders, moving, copying, renaming files, zipping, emailing, unzipping and even sending the files to other apps. Files can be transferred in a number of ways including:
Directly from your computer over a USB cable or WiFi connection
From the Internet
From email attachments
App features:
Text search helps find your way to the exact info you want in any PDF or TXT file
Auto Sync feature works with Dropbox, SkyDrive, SugarSync, box.net, and any other WebDAV, AFP, SMB, FTP or SFTP server
Sync entire folders or individual files separately
Double-page mode to view entire spread
PDF hyperlink feature allows user to quickly jump back and forth within a document; "Go Back: button takes you back to the page you came from
PDF crop tool removes large page margins
Path bar lets user navigate through large file structures
New audio player operates in the background and can be accessed from any file viewer
Manage Files button allows user to flatten copy
Import/export to photo albums
Star and tag files with seven different colors; search for individual color tags separately
Supports massive PDF and TXT files as well as:

 MS Office - .doc, .ppt., .xls
iWork '08/'09
HTML and Safari web archives
High resolution images
Audio and video