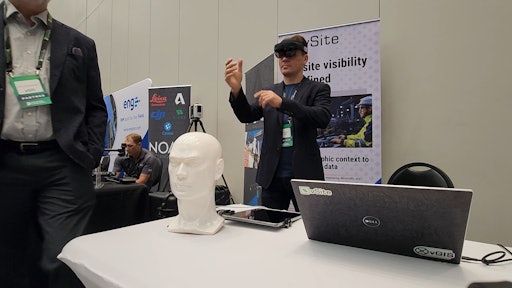 Charles Rathmann
As about 360 construction professionals and executives converged on McCormick Place on Chicago's lakefront for the Advancing Construction Technology 2023 conference on Aug. 22, the educational sessions were not the only draw. The exhibit area at the event can reveal some of the undercurrents and zeitgeist behind construction technology trends affecting the market, and this year was no different.
Two product developments stood out, with crowds of attendees waiting to learn about new solutions. Ukrainian construction augmented reality company vGIS and Topcon with its new Aptix integration platform as a service (IPaaS) offering both drew crowds due in part to their new or emerging offerings, but because market dynamics and customer needs are creating strong demand.
vGIS Poised to Win
vGIS, headquartered in Toronto but with some programmers and operations in Ukraine, drew heavy interest in part because of compelling use cases like the ability to view underground utilities superimposed on reality. According to vGIS Founder and CEO Alec Pestov, the product can also handle indoor use cases, superimposing mechanicals and other modeled elements on reality through a Microsoft Hololens headset or through other devices including consumer smartphones and tablets.
"We're targeting seven main use cases," Pestov said. "One is having a common data environment, that puts everything you have for the construction site in this geographic context. So the model is not living in isolation. It's mapped to everything around itself, so that you can see where this manhole goes in the physical world for instance. We help with reduction of site visits by enabling you to bring crowd sourced data from the site to issue recordings for scanning, so the person who needs the data doesn't physically need to go and see it themselves."
The vGiS software converts linear vector data into three dimensional models and can also work with BIM models directly from Navisworks or Revit, BIM 360 or Bentley ProjectWise. The software can work with point clouds or reality meshes in addition to GIS and BIM data.
While the demo with Microsoft Hololens turned heads on the exhibit area floor, vGIS also supports approximately 100 different devices, including traditional phones and tablets running Android and iOS. We can also support and events devices like HoloLens, this is brought to you by Microsoft. And soon we will support Magic Leap 2.
But vGIS and competing solutions like XYZ Reality and Trimble SiteVision are of intense interest to certain contractors now due to the discontinuation of the VisualLive product by Unity, which gained the product through acquisition in 2021. Contractors we spoke to at the event were intrigued by vGiS's ability to handle not just the underground utilities but mechanicals in vertical construction. Interest was high enough that as we interviewed Pestov on-camera, two different groups of attendees interrupted.
STREAM OUR FULL CONVERSATION AT ADVANCING CONSTRUCTION TECHNOLOGY
Other solutions in the mix for the orphaned VisualLive customer base include Trimble SiteVision and XYZ Reality, but contractors that had considered XYZ said the company wanted to sell them a services-oriented solution that included operators as well as the software and headsets.
In a debriefing with IRONPROS, XYZ said it was transitioning to a partner model where companies with a strength in engineering and surveying would resell the solution and onboard new customers.
"Building an augmented reality solution for construction isn't easy, and it's more difficult if your sole focus isn't the construction industry," XYZ Reality Chief Revenue and Marketing Officer Harry Battu said. "XYZ Reality developed an engineering-grade AR solution specifically for the construction industry, meaning it's accurate to within 3 millimeters.
"We are seeing demand for XYZ and expanding to the U.S. market because construction teams and owners want to know at every course of a project if things are right. The ability to visualize holograms of 3D models to millimeter accuracy enables all stakeholders on a project to get closer to the build process and correct potential mistakes before they happen and before the cost has been incurred. We recently extended this functionality into Project Controls, allowing project teams to validate work completion and progress in real-time with total accuracy."
READ THE IRONPROS XYZ REALITY PRODUCT DEEP DIVE
iPaas Software for Earthwork
Topcon meanwhile presented on and encountered strong interest in its month-old Aptix solution.
Aptix automates and orchestrates the distribution of data, including machine control files, constructible models, project schedules, and reports on actuals. It shows, in near real-time, the location of machines with the ability to aggregate as-built data from mixed fleet telematics. It provides real-time reports on people, materials, machines, and carbon dioxide emissions, creating greater visibility for carbon footprint and sustainability initiatives.
Topcon Global Director of Business Development and Marketing, Integration Services Scott Langbein said that while this is an integration platform as a service (iPaaS) product, it focuses on earthwork and connected equipment and models rather than the business transactional processes iPaaS offerings like Agave or Trimble DataXchange will streamline.
STREAM OUR FULL CONVERSATION AT ADVANCING CONSTRUCTION TECHNOLOGY
"The No. 1 gap that we're filling is the feedback, the real time feedback from the field performance of the machines and the crews," Langbein said. "And it could be a machine running machine control technology, or it could be a layout crew running a stakeout layout team. getting that feedback to the schedulers or project management, updating the schedule. Atpex is able to quickly identify these things so it happens automatically. The data comes in through Topcon Sitelink and telematics or another data collection software and cplots on the on the dashboard."
Topcon Sitelink is not a firm prerequisite, according to Langbein.
"Sitelink gets you the most, the most depth of information, because it's monitoring the machine performance as the machine is doing any grading," Lanbeing said. "We're, we're following the blade or the bucket elevation at all times. I like to think of it as advanced telematics, and it's giving that data back. There's value simply knowing the telematics start time, stop time and being able to compare that to his schedule. But if we can get height mapping and actual as-built height mapping of machine control work, we can do some really nice 3D modeling and progress tracking."