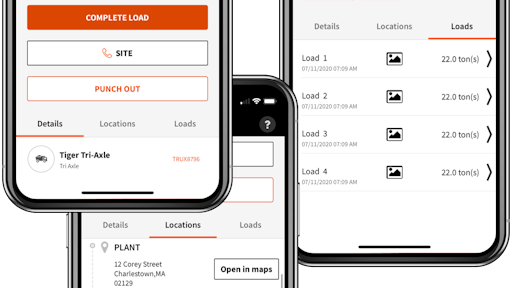 Dump truck logistics technology provider, Trux, unveiled contactless ticketing that allows contractors, dump truck drivers, and material producers to safely and digitally record and track data from construction projects without worrying about physical paper tickets, solving the problems that arise from physical tickets and receipts.
Trux Contactless Ticketing is a robust eTicketing solution that integrates sales orders and scale tickets directly into technology solutions for all participants in the material supply chain by leveraging unified digital dispatching, hauling, and site contact load tracking and resolution software. Traditional non-digital ticketing relies on paper slips that are easily misplaced, harder to submit for invoicing, contain non-standardized information, and are often missing key details. Paper tickets also lack easily accessible historical data or insightful analytics since physical records are often kept off-site.
Trux Contactless Ticketing meets established requirements from the leading state DOTs across the country for digital ticketing, ensuring full conformance with modern regulations. For the states that have provided guidelines or requirements, Trux Contactless Ticketing not only exceeds these guidelines, but can also help set the industry standard. With over 16,000 approved drivers on its platform, as well as some of the nation's largest material producers and contractors as customers, Trux is uniquely positioned to modernize ticketing in the construction industry and set a new standard for safe, digitally-enabled worksites.
Trux's new Contactless Ticketing follows the recent debut of the company's enterprise-level platform, Powered by Trux, which equips material producers with the tools they need to provide best-in-class service to their customers and innovative software to their dispatchers. Additional features expected to debut on the Trux platform this year include enhanced analytics, dashboards, insights, and more.
Request More Information
Fill out the form below to request more information about
TRUX Launches Robust Contactless Ticketing Solution for Dump Truck Industry