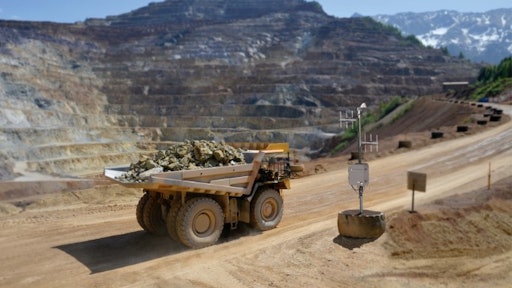 Michelin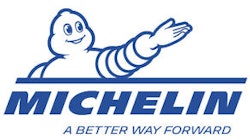 Michelin has launched Michelin MEMS Lite, its newest offer in connected tires for surface mining and quarry vehicles.
MICHELIN MEMS Lite is an entry-level tire MEMS solution that combines Michelin's liquid-proof sensors to deliver periodic tire pressure and temperature readings. Tire sensors are mounted inside the tires, where data is captured periodically as vehicles drive by fixed reading stations strategically located at the mine site. The data is then sent remotely to connected devices through a local server or secure cloud server.
"As part of Michelin Better Mining, we strive to provide the mining industry with innovative services and solutions, beyond the tire, that add value for users," said Hugo Morales, Mining MEMS business development manager. "We designed this new entry-level MEMS offer to meet the needs of customers who want to start using a TPMS1 with basic features to improve their operations. We found that miner's running 100 – 150-ton trucks were looking for a simple, robust plug-and-play solution with alerts sent to their mobile devices should an issue arise, which will be supported by a trusted technical network."
MICHELIN MEMS Lite requires no hardware installation on trucks. It is a tire monitoring solution that adds both safety and savings to operations, giving operators control of their equipment and making it a reliable solution for mine owners. MEMS Lite helps mine operators:
Strengthen safety by monitoring tire pressure and temperature remotely, keeping personnel at a safe distance from equipment
Save2 on budget by extending the life of the tires and reducing unplanned maintenance; and
Increase productivity by keeping machines running through improved tire data.
"One of our primary goals is to provide the mining industry with multiple options to help owners and operators achieve maximum efficiency within their budgets," said Sarah Robinson, regional mining segment manager for Michelin North America. "We designed this new entry-level unit to meet the needs of customers who want to start using a TPMS1 with basic features to improve their operations. With costs being an ever-increasing concern for the mines today, the MEMS Lite will help our customers increase efficiency and at the same time help lower costs. It's a win-win for the mines."
MEMS Lite can be upgraded to MEMS43, as they both use the same platform and communication protocols that are currently available in North America.
1Tire Pressure Monitoring System
2Savings up to $200,000: Tire budgets represent up to 20% of maintenance costs for equipment fleets. For tire budgets of $1,000,000 annually, a TPMS can deliver annual savings up to $200,000 (Internal source)
3MEMS4 is targeting trucks above 150 tons. Since its launch in 2006, MEMS 4 is the fourth generation and the most commonly used tire monitoring system in the world, with over 4,000 rigid dump trucks above 150 tons equipped, in more than 100 mines across 20 countries and on 7 continents.
Request More Information
Fill out the form below to request more information about
Michelin Rolls Out MEMS Lite Tire Monitoring Solution