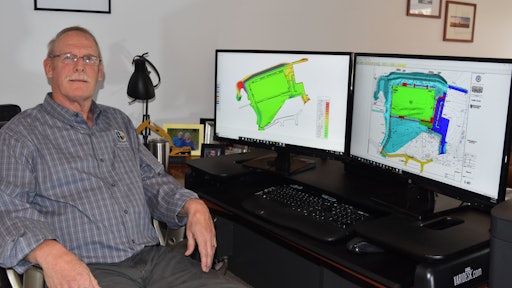 In the early 2000s, Jim Hammond decided to shift his highway and heavy civil construction career and begin working for the toughest boss he's ever known – himself. Hammond launched Hammond Estimating & Consulting, based in Canandaigua, NY.
"When I was putting my business plan together for my new firm, I was thinking 'how can I best help my fellow dirt contractors succeed in their work,'" Hammond said. "I decided to focus on the necessary tasks that contractors need to complete before any heavy equipment hits the site. Calculating the exact quantities of dirt for cut and fill on earthworks projects can provide better cost estimates, as well as determine resource allocation and project time."
Hammond understood that contractors generally want to be working in the field, getting things done than in the office running numbers. For many, quantity estimating is a necessary evil – it must be done, but they hate doing it. He first targeted smaller contractors that have limited staff to begin with, but still have the critical need for accurate data. Larger contractors soon followed, seeing the advantages of having an outside professional take care of their projects' dirt quantities needs. Hammond hit it right; dirt movers do see the value of getting accurate estimates.
Today, Hammond Estimating & Consulting has about 20 solid contractor customers ranging in size of $1 million to more than $100 million in annual project volume. Their contractor customers are based all over North America.
A Dirt-y Software Solution
"Ever since I was a boy working in my dad's construction company, I've been interested in computers and the technology that can make construction tasks easier," stated Hammond. "With my interest in computers, I got thinking that there's got to be a program for quantifying dirt three dimensionally."
Hammond started looking for programs and learned that InSite Software, Inc., based in Rochester, NY, was developing its SiteWork Earthwork and Utility Estimating Software for calculating cut and fill, stripping, strata quantities, paving and concrete materials, topsoil re-spread, areas, lengths, trench excavation and backfill. The software was being designed to be easy to use, with an intuitive approach, familiar terms site estimators use every day, and easy-to-use editing tools for revisions.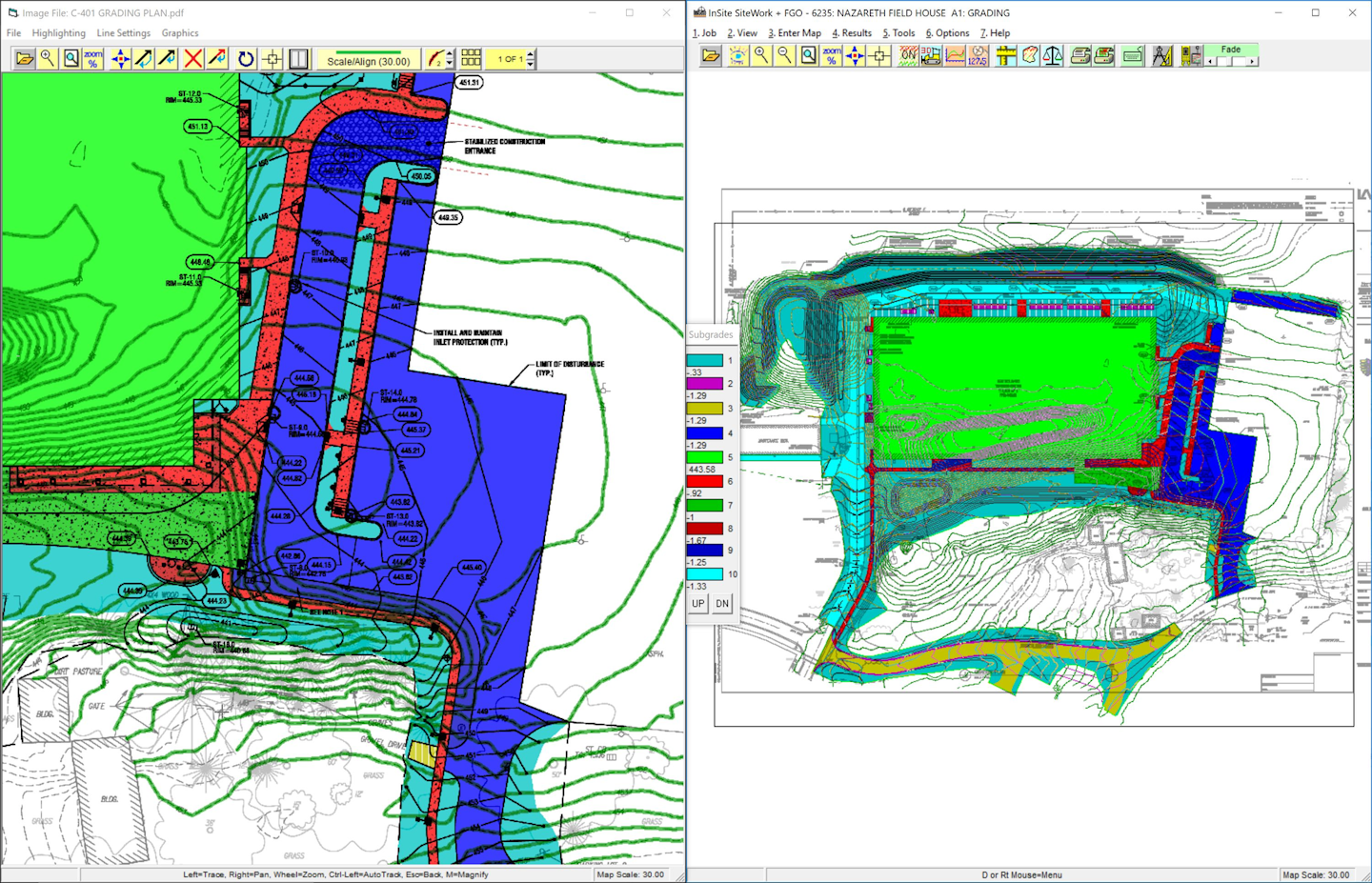 Two Windows with a coordinated cursor on both displays allow tight zooms without losing the overall perspective of the entire site.Hammond began working closely with InSite Software as the company was developing its software and provided feedback and suggested refinements. The program has since become integral to the services that Hammond Estimating provides. 
"There are other programs for calculating take-offs but they are more expensive and difficult to work with," Hammond noted.  "What really sold me on InSite is that they have dirtmoving experience and understand exactly what a contractor needs. They understand earthwork and subgrade cubic quantities."
Hammond uses computer-aided take-off for its accuracy. "It helps me ensure that my customers get the data they need to complete their projects on time," he explained. "And I tell my customers that they do not owe me a nickel unless they are 100% satisfied with my work."
With InSite SiteWork, all the calculations are accurate and supported by graphics, so the dirtmover can visualize the cut and fill requirements on the project before they even start it.
Estimating Projects Both Small and Large
The first job that Hammond used the software on was for Morris Excavating, White Pigeon, MI.  Morris needed to calculate earthwork and utility quantities on a three-acre site where it was constructing the building pad and placing all the utilities for a McDonald's restaurant. The software provided accurate calculations.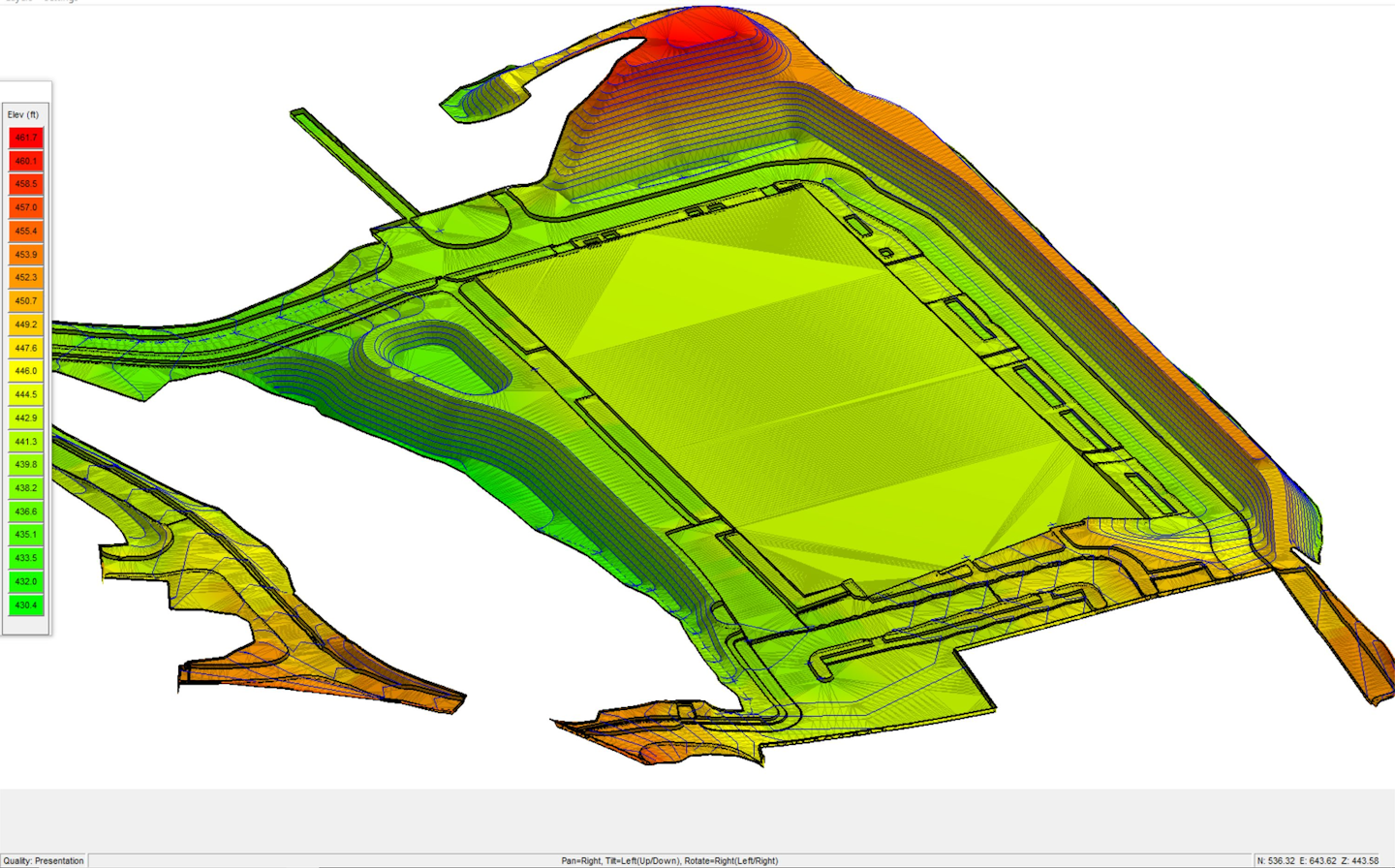 InSite's 3-D Live constantly updates as data is entered or edited to validate the 2-D input.Hammond's largest project to date has been a $21 million solar panel manufacturing facility on a 40-acre site in Buffalo, NY. Again, the SiteWorks Software provided the contractor with the earthwork and utility quantities needed to successfully complete the project.
"With each project I complete, I provide the construction contractor with exact backup on everything I produce," said Hammond. "InSite allows me to provide full-color printouts of the graphics that can be given to the jobsite foreman so they can see exactly what the work is."
Having that kind of production detail and backup has helped dirtmoving contractors win their cases when change order work and cost disputes have occurred.
"As the years have accumulated since first starting my company, I've chosen to not grow my company beyond myself," Hammond stated. "More than anything, I'm selling confidence – confidence in the dirt quantities I provide to contractors. I couldn't jeopardize that level of trust for the sake of my growth."
Hammond's customers are seeing the world in which they work become more technological. Everything is digital, ranging from 3D site models and GPS machine control, to real-time field-to-office communication and production monitoring.
"I've been in the dirt business for 40+ years and I wouldn't be where I am today offering my customers the critical dirt quantities and utility estimates they need to succeed without the relationship and support I receive from InSite Software," Hammond concluded. "I couldn't ask for a more mutually beneficial business relationship. I'm expected to continue working with dirt contractors for many years ahead."
Companies in this article