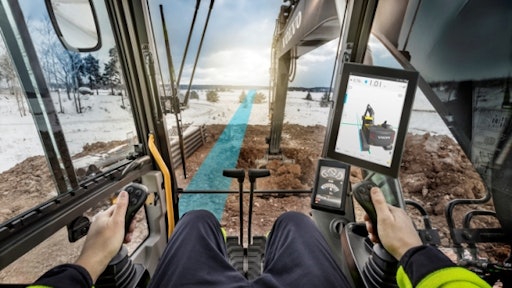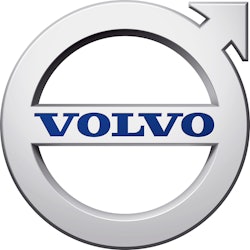 At bauma 2016, Volvo Construction Equipment (Volvo CE) is launching a new approach to how it offers services and solutions to customers. The new method gives greater clarity on both the range of services and solutions offered, and the value they deliver for customers' operations and businesses.
Volvo CE is also using the show for the international unveiling of its Co-Pilot onboard services display, and advanced "Assist" machine services: Dig Assist (pictured), Load Assist, Compact Assist and the soon-to-be available Pave Assist.
Proactive Service
New within Volvo's Uptime Services offering is Proactive Monitoring, which utilizes technology that enables Volvo dealers to remotely monitor alarms and fault codes on customers' machines. Any problems can be diagnosed early and corrective steps taken, often before the customer realizes a problem exists, in order to maximize machine uptime and reduce repair costs. 

Efficiency Services sees the launch of Fuel Advice and Fuel Report, two new services that are designed to lower operating costs of new and existing Volvo machines by targeting long-term fuel efficiency. The two services allow customers to decide in what way they would like to drive fuel efficiency improvements in their operations. 
Fuel Reports provide customers with easy-to-use, tailor made reports that help customers identify areas of improvement. Fuel Advice, meanwhile, leverages the competence of Volvo CE dealers in identifying corrective actions and ensuring fuel efficiency improvements are sustainable. 
A Co-Pilot In the Cab
Bauma also sees the international launch of the company's new on-board display – the in-house developed Volvo Co-Pilot. Designed for use on machines as diverse as excavators to pavers, Co-Pilot uses a tablet computer to deliver a new generation of intelligent machine services, such as Load Assist, Dig Assist, Compact Assist and Pave Assist. Dig Assist, Load Assist, Compact Assist and the soon to be launched Pave Assist are the first of a new generation of intelligent machine offerings that increase machine efficiency and uptime. 

Available as either 2D or In Field Design, Dig Assist allows excavators operators to complete digging tasks to a greater accuracy in less time. Safety is also improved, as there is no need to repeatedly get out of the cab and physically check grades or levels.

Load Assist is designed for Volvo wheel loaders L110-L250 and delivers real-time accurate load information to the operator to prevent under-or-overloading. Fully automatic, the system logs all load information, and the data is then displayed on the operator's in-cab Co-Pilot display. The information can also be accessed remotely via the advanced CareTrack telematics system. This allows complete payload management – giving access to data such as total transported load in tons; tons transported per gallon of fuel and number of cycles.

Compact Assist offers two module options at launch – Intelligent Compaction and Intelligent Compaction with Density Direct. Intelligent Compaction records and displays a pass counter and thermal mapping, while Density Direct cleverly calculates 100% of the surface density. 
Volvo Intelligent Compaction Delivers Density by the Numbers

Pave Assist is a family of paver-related modules and applications that will automate many of the paving parameters that today have to be recorded manually in order to meet stringent road authority reporting requirements. Pave Assist combines Thermal Mapping, Weather View, Material Manager and (as a complementary option) Volvo Smartview modules.
Ruggedized for use in a construction environment, Volvo Co-Pilot and the Assist-functionalities are introduced to the market as part of Efficiency Services, with the ultimate aim of producing higher quality outcomes, in less time and with less effort.
Grade Control Integration
Many Volvo customers have a preferred supplier for surveying and 3D machine control technology on their sites. As a result, Volvo CE has decided to allow the integration of the major 3D machine control suppliers with the Volvo machine control 2D solution called Dig Assist.
Consequently, Volvo CE announced an integration agreement with Trimble focused on establishing a Trimble 3D machine control solution that will seamlessly integrate with Dig Assist on Volvo excavators. Integrating the Trimble 3D machine control solution on Volvo excavators will complement the Dig Assist capability to enable the use of 3D constructible models, as-built data and other Trimble Connected Site technologies.
Volvo CE also announced an integration agreement with Topcon focused on establishing a Topcon 3D machine control (3D-MC) technology solution that seamlessly integrates with Dig Assist on Volvo excavators and with Topcon workflow solutions for design and as-built data.