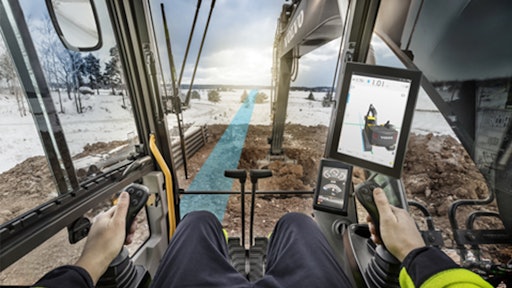 The Volvo Co-Pilot system from Volvo Construction Equipment (Volvo CE) beat international innovations to win 'most innovative HMI feature' in the Car HMI Awards 2016.
Presented by we.CONNECT, the Car HMI Awards are part of Europe's leading HMI and UX event, which brings together more than 200 experts in HMI, usability and user experience. It recognizes exceptional projects in three categories: most innovative HMI feature, best collaboration partner for developing HMI technology and most user-friendly HMI feature. The winners were announced on June 20th in Berlin, Germany. To further mark the occasion, we.CONNECT donated €1,000 to charity on behalf of the winners.
Unveiled in April at bauma 2016, Volvo Co-Pilot was developed in-house in collaboration with CPAC System AB, a company wholly owned by the Volvo Group that develops and integrates safety-critical electronic control systems. Volvo Co-Pilot is designed for use on machines as diverse as excavators to pavers. It uses a tablet computer to deliver a new generation of intelligent machine services, such as Load Assist, Dig Assist, Compact Assist and Pave Assist. The system and the assist-functionalities help operators to produce higher quality outcomes, in less time and with less effort.
"It is a tremendous honor for Volvo CE to win this prestigious innovation award," says Sidney Levy, design director at Volvo CE. "Volvo Co-Pilot sets a new industry standard, puts the user at the heart of the system and is the first step towards an integrated, holistic solution for worksite optimization. With its intelligent assist-functionalities, the system allows our customers to work more efficiently and safer than ever before. This award is a tribute to the hard work and dedication of Volvo CE's skilled employees who continue to push the boundaries of technology and design."