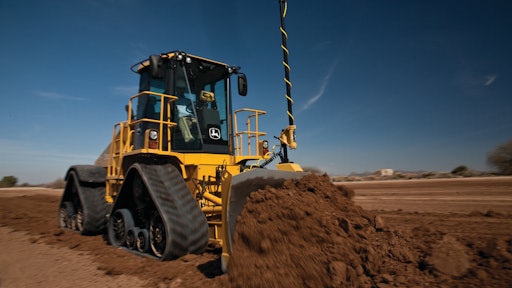 Topcon satellite-based earthmover grade controls locate the cutting edge using U.S. global positioning system, European Galileo and Russian GLONASS satellite signals. Comparing actual position to a digitized three-dimensional site plan, the systems direct the operator or hydraulic system to raise or lower the blade to achieve the desired grade. What Topcon calls "Sensor Freedom" allows users to plug and play whatever sensor types best suit the application – satellites, laser, sonic, total station or a blend of input types.
Topcon GPS Return-On-Investment Calculators
3D GPS+ – Three-dimensional control
Topcon's 3D-MC systems are for road building, site work, contour grading, or other complex surface grading. Options range from the 3Di-GPS+ low-cost, indicate-only system for bulk earthmoving to automatic grade control with 3D-GPS+. The 3Di system is easily upgradeable to automatic grade control, and building-block design allows you to add sensors or technologies to your system such as Millimeter GPS and Networking that allows your receivers to use the correction signal from an existing base station.
3D-MC² Dozer – Three-dimensional control
Topcon says its 3D-MC2 allows a dozer to grade up to 200 percent faster than with existing three-dimensional systems, with smoothness and grading accuracy comparable to that achieved by motor graders. The 3D-MC2 system adds a new inertial sensor to the GPS receivers and control box on the dozer, and works through a new hydraulic interface to "provide an overall system ten times more responsive  than previous 3D control boxes," according to Topcon.
Brochure: Topcon's 3D-MC2 for Dozers
3D-Millimeter GPS+ – Three-dimensional control
Topcon says its Millimeter GPS+ combines the high vertical accuracy of a laser reference with GPS positioning to improve grading accuracy up to 300 percent over existing 3D GPS control systems. Unlike with total stations, unlimited machines and rovers can run from one laser transmitter.
LPS-900 – Three-dimensional control
When machines have limited visibility to satellites, use the LPS-900 with a robotic total station for automatic grade control with millimeter accuracy.
LS-B100 Series – Two-dimensional control
Topcon's laser-guided indicators tell earthmover operators when the blade is above grade, on grade or below grade. Plumb indication visually confirms that the cutting edge is horizontal.
Request More Information
Fill out the form below to request more information about
Topcon Dozer Grade Control Options