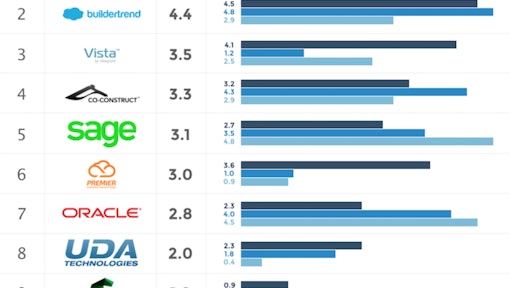 A recent report from Software Advice, a company that hosts reviews of the most popular construction software, showed 52% of today's construction software buyers are transitioning from paper-based to software-based project management methods. With that in mind, Software Advice combed through the construction software products and ranked them by overall popularity.
This popularity ranking reflects comprehensive, all-purpose solutions with real traction in the market
"Popular is a subjective term and many factors contribute to product's overall popularity," says Janna Finch of Software Advice. "We narrowed it down to three quantifiable metrics we felt contributed most — the number of product users, monthly searches performed on major search engines and the number of social media followers. Most notably, we gave the most weight to a product's number of users (75%). You'll see in our list that products used by residential contractors and small business rank highly. They have captured a sizable share of the large SMB market and have many users to show for it."
Number of users, or user adoption level, reflects the number of regular users of the product. Software Advice obtained this data from its original survey of software users. This factor was weighted the most of the three.
Search traffic (brand authority) reflects the number of times the brand name and related phrases are searched in Google per month.
Finally, social media presence reflects the number of people who have "liked" or "followed" vendor accounts on Twitter, LinkedIn and Facebook. This factor was weighted the lowest of the three.
"This report highlights the construction software product landscape at a very high level. So, it won't tell construction professional which product is best for them, but it's a solid starting point for those searching for new software. Chances are someone they know is using or has used one of these products, so they can find out more from them or read product reviews to learn more," Finch says.
"Well-established vendors like Sage and Oracle are on the list, as well as newer players like BuilderTREND and Co-construct. Plus, there's a good mix of products built to satisfy the needs of every construction industry — from residential to heavy civil — and every business size — from solo contractors to global construction firms."
Here is Software Advice's top 10 list of most popular construction software:
Procore
BuilderTREND
Vista by Viewpoint
Co-construct
Sage 100 Contractor
Jonas Premier

Oracle

Primavera P6
UDA ConstructionSuite
Constructware
HCSS HeavyBid
Companies in this article