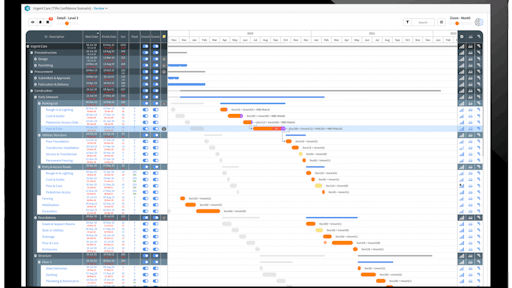 InEight
Software developer InEight has announced upgrades to its Planning, Scheduling & Risk platform to improve its total cost schedule risk assessment capabilities. 
InEight Planning, Scheduling & Risk uses artificial intelligence (AI) and data from past projects to identify threats in current projects and recommends ways to mitigate risk. 
"Getting an accurate picture of total risk exposure across an entire capital project in real time has been something reserved for organizations with big budgets and a dedicated risk expert on staff," says Nathan St. John, head of product, scheduling and risk, InEight. "Now you have a complete cloud-based solution that continuously monitors total project risk, finds threats and then takes the extra step of surfacing and prioritizing mitigation options."
New features include:
Multiple Risk Mitigation Assignments and Tracking

completes the cost schedule risk assessment (CSRA) and uses AI to recommend mitigation actions.

Schedule Critique

an always-on AI assistant, suggest improvements

 and give feedback for risk analysis.

Enhanced Risk Register

allows for threat management and advanced categorization, tracking and analysis of risk across multiple projects.

Cost Risk

integrates risk from two key pillars of project controls, cost and schedule, to provide total project risk analysis. 
InEight says the data transparency and real-time visibility improves trust between contractors and customers and helps improve the chances of winning project bids. The company has put together a webinar about how connected data helps owners and contractors, which you can watch here. 
Construction planning often involves development of a conceptual design, scope definition, assignment of responsibilities, resource management, means and methods of construction and material management. Construction scheduling is planning the sequence of activities to communicate the overall plan and manage associated resources and costs. Construction schedule risks include any uncertainty or discrete risk events that have the potential to impact the project schedule.
A construction Cost Schedule Risk Assessment (CSRA) is assigning project risks to both the schedule and cost structure in order to provide insight into potential outcomes of each. The project risk register is shared between the schedule and cost structure resulting in an integrated project risk assessment. Meanwhile, a construction Schedule Risk Assessment (SRA) is assigning project risks to a schedule in order to provide potential outcomes of a project's final duration, and functions as an aid to decision-making in project planning.