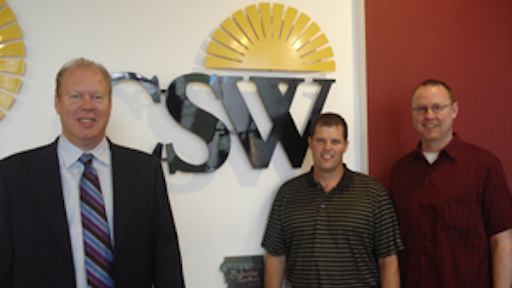 Would you turn a new hire loose on a jobsite with nothing more than an equipment rental list and trust them to find the most cost-effective solution to complete a job? Absolutely not. This is a job for seasoned professionals. But where do you find seasoned professionals with the necessary experience?
This is where formal training and practical on-the-job experience become critical assets. But what if there was a way to combine the two?
Such was the goal when Phoenix, AZ-based C.S.& W. Contractors Inc. partnered with Arizona State University (ASU) to assist with the horizontal construction curriculum. ASU has experience working with industry to provide real-world experience to students. C.S.&W., a heavy highway contractor also active in aviation projects, landfills, site work, treatment plants and street improvements, proved the ideal partner.
Revamping the curriculum
C.S.&W. Contractors already has its own formalized training programs. "We are training people to be better managers and better leaders, as well as giving them specific skill sets in project management, estimating, operator safety training, computer training, whatever it might be," says Todd Peterson, CEO.
But passing real-world experience on to a classroom of students is more difficult than it might seem. People with long-term experience are often not the best teachers. "I wasn't the perfect choice because I didn't come from 25 or 30 years of horizontal construction. But I have taught before," says Peterson. So he brought in Robert Meyers, C.S.&W.'s vice president, who did have the experience. "As a team, it has worked out really well."
"Our class is very broad," says Meyers. "The class is supposed to be about equipment and methods."
Micheal Hansberger, special project coordinator, adds, "There is an aspect of estimating; there is an aspect of figuring out equipment-specific usage and cycle times." The training also covers compaction, soil charts and slopes and grades. "There are a lot of mathematics involved in it. We bring in the GPS, laser, sonar - we teach the application of each."
There was an existing construction curriculum in place at ASU prior to C.S.&W.'s involvement. "We tried to use their textbook," Peterson notes. "They had Power Point [presentations], quizzes and tests laid out. But we basically re-wrote the whole thing."
C.S.&W. employees carefully sifted through the course material to emphasize the practical information. "Basically, we would read what a chapter was about, then we said here is what we are going to teach them," says Meyers. "There was some reference to the book for certain [things], but we definitely taught them real world. The students appreciated that."
The first year of the program required more effort than anyone imagined. Meyers spent 16 hours per chapter going through the textbook and trying to digest what the chapter was saying. Then he had to extrapolate the important information for the students.
"That is the hard part. There is a lot of information in the book. Obviously, whoever wrote it knows what they are talking about," he says. "But what do you do with it? That is the benefit of having someone who has been in that business for a while being able to relate the information."
Keeping it real
C.S&W. uses its own projects as learning tools. For example, there was a jobsite where the company was asked to move 100,000 c/yds. of material. At the beginning of the course, students were asked to determine the bid price.
"They all looked around and asked, 'what do you mean by that?'" recalls Meyers. Students were informed that, by the end of the course, they would be able to provide the answer. "So in 26 classes an hour and a half long, they could answer that question pretty successfully... In fact, it was their final test."
In addition to watching videotaped segments, students are taken to actual jobsites to observe different methods being used. "The rewarding part is that many of them, after going out there, definitely understood what was going on," says Meyers. "Some of them had great ideas. They asked, 'Why is this guy doing this? Shouldn't that 631 be loaded in 25 seconds?' So they picked up on some pretty good stuff."
Students are also trained to look for necessary information. "Throughout the whole class, we consistently send students to the Caterpillar web site to get information," says Meyers. "They have to find it themselves. We try to make it applicable to when we start a new job. They don't have to carry around a textbook or tables. They know this is one location where they can find some of the information."
Students are also given a complete list of rental equipment from a rental company. The list isn't specific to the job.
"On our list of rental equipment, we supplied a lot more equipment than what they would need," explains Meyers. "They picked the best tool out of there, then determined what it was going to cost to operate per hour. Then, they determined production and the ultimate unit cost for the activity.
"In many cases there is only one piece that was probably the best choice. It wasn't the cheapest choice, but it was the best choice," he notes. The students worked through the task in their own ways. Some caught on right away that certain machines would not work in the specific conditions outlined.
Building better employees
Attendance in the ASU course has been on the increase. There were 60 students in the first semester and 100 the second semester. There would have been more, but that was the capacity of the classroom.
"When they get done with this class, even if they get a C on the exam, they can get a job the next week and they are not going to walk in there with the 'deer in the headlights' look," says Peterson. "They are going to understand what the job is from what they have done."
Hansberger adds that it's the training that gives students an edge, not necessarily the grade they earn. "The top person in the class might not be the right person," he says. "But sometimes there are people in class that impress you."
Peterson agrees, noting, "You can pick five out of 100 and say, 'If those five came to work for us, it would be great.'" Yet, what is really important is keeping those individuals in the industry. "Let's make sure we talk to those five and ensure they are going into horizontal, [construction] even if they are going to a competitor."
Ultimately, the goal is to raise the level of professionalism throughout the industry. "We would rather work with more successful people in the field," says Meyers. "We don't care if they are our customer or who they are. If we are working with them, we want to work with qualified people. Any way we can help to put better quality people in the industry, it is better for us."
Thd class gives students a basic foundation they can build upon throughout their career. "No one ever knows all aspects of construction," says Peterson. "A lot of people think they can operate a piece of equipment for a while and then open a business. But there is more to business than digging holes. You have to know more. You have to be aware of things around you. You have to be aware of safety regulations. You have to be aware of competition. You have to know how to price your equipment. It takes all of these pieces to actually do construction."
Education of future construction management accomplishes several goals. "As we grow bigger we need higher caliber people," says Meyers. "Those people are still hard to find." Participation with a local university can increase the awareness and visibility of the company.
It also helps with the personal development goals of internal employees. For example, Meyers was able to polish presentation skills, while Peterson learned more about the day-to-day operations within C.S.&W. "It is a good way for me to learn more about the nuts and bolts of what we do everyday in the field," says Peterson.
Yet, you need to look at the greater good when choosing to volunteer your services. "It will not accomplish any single goal, but it is like community service," says Peterson. "If you go in with the right attitude because you have a passion to help, a lot of good things will happen."
C.S.&W. encourages other contractors to step up, as well, to help out future generations. "If we could get a lot of other contractors to do this down the road, we would have a lot better profitability in the industry and a lot less hassles and headaches," says Peterson. "It is building for a time when I will not be working any longer."