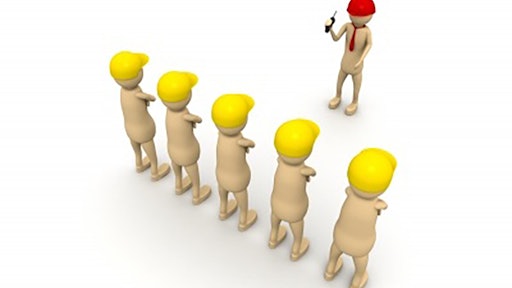 Here are 10 proven, easy-to-use steps every contractor can use to start or advance the succession planning every company needs to implement.
1. Create your company's "depth chart"
First, line out all of your employees into their respective areas. Note who are your current leaders, at every level. What is the level of talent and skill among those on your chart? In what areas of your company are you a bit thin of talent or are experiencing some poor leadership?
2. Review seniority and retirement potentials
You need to determine how much time you have left to prepare the next wave of leaders and key performers. Waiting too long can cost you greatly including having to spend a lot of time and money finding replacements. It's not too early to begin preparing some individuals for higher levels of responsibilities even two to five years out.
3. Identify one or two replacements for each key position
Most companies are lucky if they can find one quality replacement, but you need to take a hard look at who you have, what their current status is and what they need to develop.
4. Remember what you looked like early in your career
This is more of a mental reminder than a technique. Remember back when you were younger and developing. Not all present leaders in construction were necessarily thought of as a future owner, general manager, senior estimator or superintendent material. Keep in mind that maturity, education and coaching can go a long way toward turning some raw talent into a polished effective leader and decision maker.
5. Discuss future opportunities with potential replacements
While you certainly want to be confident about who you have selected as possible replacements, you will need to visit with such individuals. This discussion should:
Investigate whether the individuals are interested in advancement
Include a realistic discussion about timing for the possible transition
Identify what areas of development the individuals might need to submit to
Explain what expectations the company has for the individuals
Outline an action plan that lines out the areas of development that will be addressed and what schedule will be followed that leads up to the actual transition
6. Engage current leaders and key performers in succession process
Every current leader and key performer who might be preparing for departure should be fully engaged with identifying the needed skills and knowledge ingredients. While these folks might not conduct all of the education and coaching personally, their ability and enthusiasm to execute such efforts would be a real benefit to those coming into the roles.
Such transition efforts also send an incredibly positive signal throughout the organization that "we really do want our new leaders to be successful." Such efforts also maintain better continuity and company culture. Besides, who better than those who are currently executing the needed roles should be responsible for preparing the next wave of successful leaders and performers?
7. Conduct a thorough "brain download"
Try to record every bit of experience and knowledge that your outgoing leaders and key performers possess. Admittedly, this is tough, but it should be a prime effort. This might involve developing or updating standard operating procedures (SOP) that the outgoing folks have improved. It might also mean capturing an entire "book of tricks and shortcuts" that the outgoing individuals have learned through the years.
Additionally, have outgoing folks identify the top 10 needs in their role and develop an educational process to hand-off to the next generation. This effort can add much to the entire learning experience for those coming into their new roles while also shortening some of the time needed to mature the "newbies."
8. Increase your demonstration of respect for outgoing champions
It is very common for those who will be retiring or stepping aside to often begin to feel less important than in years past. It is very important that senior leaders, who might be preparing for their own departure, increase their attention with those preparing to leave.
It is easy to put our older workers at times in "the pasture" as if this will ease them into retirement. Not only is this bad for the succession process it's also just bad business. When you have some outgoing folks with 30 to 40 years of experience and knowledge on their shoulders, the last thing we should be doing is separating them from the learning process for the "new kids on the block." In fact, engaging the outgoing actively in the succession process can often rejuvenate their energy, giving them a platform to help sustain the successful company and culture through the next generation.
9. Prepare for disappointment and departure
Whenever you make a selection of succeeding leaders and key performers you need to be prepared for those who were not selected to leave your organization. Unfortunately, the top of the ladder gets fairly narrow and there isn't room for as many leaders.
Now, you might experience fewer departures if you will be honest with the "unchosen" and let them know that their value can and will be continued via other means. There are many tremendous leaders within the workforce who do not carry the job title of leader. Such individuals must be made to feel important and valuable contributors to your organization. Even doing this might still result in a few departures from those who have desired to rise to higher levels of responsibilities.
10. Encourage (develop?) a coaching and mentoring Culture
The construction industry actually created perhaps the first coaching or mentoring process. Its name? The apprenticeship! Long before Donald Trump made "The Apprentice" famous, masons, electricians and others learned their craft via serving as an apprentice.
The same philosophical reasons behind a successful apprenticeship can be realized through your internal coaching and mentoring process. Encourage your more experienced and knowledgeable leaders and key performers to take some of the younger workers under their wing and grow them. This process will often produce more knowledgeable workers and add to your firm's overall performance.
Likewise, some of those coaches and mentors might more quickly identify who the real "thoroughbreds" are and who might make future leaders and champions.
It's never too early to get started on considering who your next generation of leaders and key performers will be. While as an owner or senior leader you might want to keep some of the actual names confidential for a period of time, you certainly don't want to only begin to develop future leaders the month before their predecessor is to retire. This is just poor planning.
Now that you've worked through my list, compare it to your own (do me a favor and send me any suggestions you have that I can include the next time I write about succession planning). Plan today to make succession-planning part of your offensive strategy to grow your company and the people who will be leading your company into the future.
Good Leading!