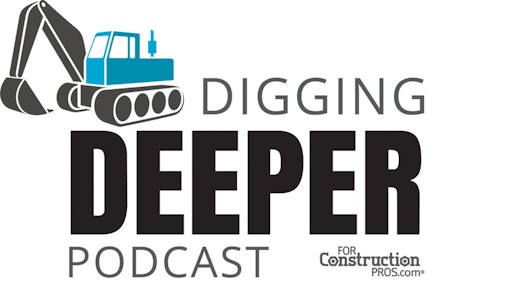 Listen to this Digging Deeper podcast to learn how innovations such as autonomous robotics in construction, GPS technology and telematics can help contractors complete projects more efficiently, cost-effectively, accurately and safely.
The construction industry may have been a bit slow to embrace emerging technology in the past, but things are changing quickly. Virtually every day, new innovations emerge that enable contractors to get more work done in a shorter amount of time while also improving quality. 
On this episode of the Digging Deeper Podcast, Trimble senior director – mixed reality and BCI (brain-computer interface) Aviad Almagor sits down with ForConstructionPros staff writer Sheena Ingle to discuss some of the latest advancements in construction technology: autonomous robotics.
Almagor says, "Trimble's mission is to transform the way the world works, and a significant part of this mission is to actually connect or merge the physical and the digital environment. Many of the inefficiencies in the [construction] industry reside in this gap, and by merging the two, we can improve productivity and safety."

Discover more:
[VIDEO] Autonomous Rebar-Tying Robot Could Revolutionize Bridge Construction
[VIDEO] Fastbrick 30-Meter Robot Arm Builds a Brick House in a Day
Trimble, Hilti and Boston Dynamics Teaming Up to Test Autonomous Robots in Construction