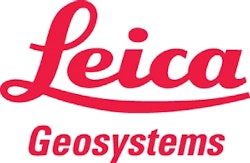 Leica Geosystems announces that customers and prospective users will be convening for the international Hexagon 2012 conference, June 4 to 7, at the MGM Grand Hotel & Casino in Las Vegas, NV, and that registration is now open.
Once again, by bringing together the latest design, measurement and visualization technologies and user communities from Leica Geosystems, Intergraph, Z/I Imaging, ERDAS, Hexagon Metrology and NovAtel, Hexagon 2012 promises to provide more than 3,000 attendees with an experience of unprecedented scope and value.
The Geosystems track alone will feature more than 75 presentations and hands-on training sessions by industry experts tailored for the mapping, positioning, surveying, engineering, construction, asset management, public safety, and geospatial solutions industries. In addition, Geosystems' attendees will benefit from interactive technology demonstrations, exhibits, unlimited networking opportunities, compelling case studies, and best practices shared by customers from around the globe.
Ken Mooyman, President of Leica Geosystems NAFTA said, "We thank our customers for their amazing encouragement and support of our inaugural, full-scale event in 2011. According to our post-conference survey, over 90% of Geosystems track attendees stated that their expectations were either met or surpassed and that they would recommend this event to a colleague in the industry. "We're planning to exceed their expectations again in 2012."
The Hexagon 2012 theme, "Think Forward", highlights Hexagon's continued determination to take on the challenges of the design, measurement and visualization world by mobilizing the full capabilities of its brands to innovate across boundaries and chart future directions. More than 3,000 attendees are expected to attend Hexagon 2012. The MGM Grand facilities are ideally suited to a conference of this size - the hotel and the entire conference center will be dedicated to Hexagon 2012, thus maximizing networking among attendees.
To register and for more information, please visit  www.hexagonconference.com.
Based in Heerbrugg, Switzerland, Leica Geosystems is a global company with tens of thousands of customers supported by more than 3,500 employees in 28 countries and hundreds of partners located in more than 120 countries around the world. Leica Geosystems is part of the Hexagon Group, Sweden.