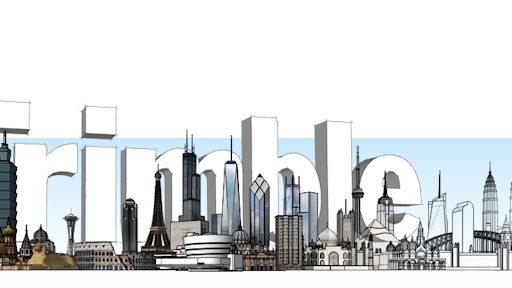 Trimble (NASDAQ: TRMB) announced that it has entered into a definitive agreement to acquire SketchUp, one of the most popular 3D modeling tools in the world, from Google (NASDAQ: GOOG). The transaction is expected to close in the second quarter of 2012, subject to customary closing conditions and expiration of the waiting period under the Hart-Scott-Rodino Antitrust Improvements Act. While financial terms are not being disclosed the transaction is not expected to be material to 2012 earnings per share.
SketchUp is currently used by millions of users annually — ranging from architects to engineering and construction firms to building and design professionals — for designing, modeling and visualizing projects. The SketchUp product and its vision of "3D modeling for everyone" has allowed modelers worldwide, across a wide range of industries, to express design concepts easily, accurately and efficiently. Additionally, SketchUp users benefit from its extensive third-party developer community that provides industry-specific solutions for a variety of customers.
As part of the SketchUp platform, Trimble will also partner with Google on running and further developing SketchUp's 3D Warehouse, an online repository where users can find, share, store and collaborate on 3D models. The site enables users to create collections of models, including 3D Buildings, and share them with fellow modelers around the world. Individual models can be loaded, saved and viewed in 3D from within SketchUp or a web browser.
For the foreseeable future, Google will host and operate the 3D Warehouse for Trimble and together the companies will continue to offer the same capabilities, functions and services that are offered today. The ability for users to submit 3D Buildings for potential acceptance and viewing in Google Earth will be maintained. Currently the 3D Warehouse has almost 2 million user-generated models.
"SketchUp and the corresponding 3D Warehouse provide an important element of our long term strategy by enhancing the integration of our field presence with the wider enterprise," said Bryn Fosburgh, Trimble vice president. "Trimble has already created the de-facto standard for field data models and project management tools for our key markets. SketchUp, together with these existing capabilities, will provide a stand-alone and enterprise solution that will enable an integrated and seamless workflow to reduce rework and improve productivity for the customer. Users will be able to collect data, design, model, and collaborate on one platform. The combined capability will enhance our ability to extend our existing market applications including the cadastral, heavy civil, and building and construction industries. In addition, the SketchUp platform will enable Trimble, third-party developers and our distribution partners to efficiently develop new applications.
"Since its inception, the SketchUp team has been committed to providing a robust, user-centric solution to its community and we look forward to engaging their talent and expertise. Beyond extending the reach of the product into Trimble's commercial markets, we are committed to continuing to provide SketchUp as a free version to millions of users. Trimble and Google will also continue to collaborate on utilizing other Google tools for Trimble's markets that, along with SketchUp, will provide our customers innovative and productive tools that transform their work," Fosburgh concluded.
"In Trimble, we found a partner that will grow SketchUp in a way that best supports the SketchUp team and our users," said Brian McClendon, Google's vice president of engineering. "While at Google, the SketchUp community grew significantly because the team put users first, and we are confident they will continue to do so at Trimble. We at Google look forward to a continued partnership with Trimble and the SketchUp team."
Companies in this article