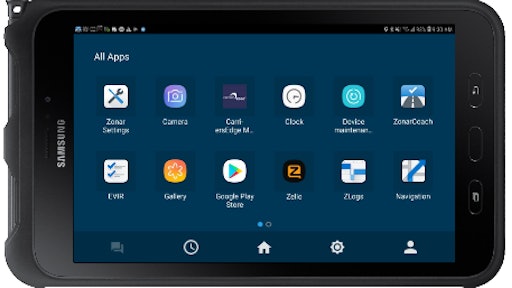 Zonar announced the expansion of its mobile ecosystem designed to deliver even greater fleet safety, compliance and business efficiencies for its customers.  The Zonar Mobile Ecosystem, enabled by the addition of the ruggedized Samsung Galaxy Tab Active2 to Zonar's device portfolio, allows greater flexibility for customers of all sizes across vocational, pupil, mass transit and commercial industries.
With a variety of third-party apps available from both Zonar and the Google Play Store the expanded ecosystem provides more options for managing devices deployed across fleets. Customers can now choose the device, applications and data plan that best meets their current and future digital and mobile needs:
The Connect Plan: includes the fully-managed, ruggedized Zonar Connect

tablet with apps developed by Zonar including Advanced Navigation,

 

Electronic Verified Inspection Reporting (EVIR), Zonar Logs, Zonar Coach, Zonar Forms and more. A selection of pre-approved third-party apps are also available. Device security, data plan and Zonar SIMs are included.
The Certified Plan: includes a fully-managed, ruggedized Samsung Galaxy Tab Active2, enabling access to both apps developed by Zonar and certified apps from the Google Play Store. Device security, data plan and Zonar SIMs are included.
The Open Plan: includes a fully-managed, ruggedized Samsung Galaxy Tab Active2, managed by customers own data plans, enabling access to apps developed by Zonar along with any apps of their choosing from the Google Play Store to further boost fleet operations.
A user of the Zonar Mobile Ecosystem enabled by the ruggedized SamsungGalaxy Tab Active2 is SEFNCO, a telecommunications company that provides communication network services and operates a fleet over 650 vehicles.
"Zonar's expansion of its mobile ecosystem to include the Samsung Galaxy Tab Active2 allows us the flexibility to deliver fleet management functionality on a platform we can customize for seamless integration with other applications required to continue operating our business as efficiently as possible," said Wayne Farris, project implementation manager at SEFNCO Communications. "Zonar is working closely with us to understand how our needs are evolving, and to develop solutions capable of doing the same."
"Fleet management solutions are not one size fits all. We know fleets have unique business problems that require unique solutions," said Ian McKerlich, president and CEO at Zonar. "Our growing ecosystem of managed app programs and portfolio of tablet offerings empower our customers to make critical decisions that improve the safety and performance of their fleets – from drivers and operators, to the bottom line of their businesses."

"Today's fleets increasingly rely on mobile devices for advanced navigational, analytical and recreational functions," said Taher Behbehani, Senior Vice President and General Manager, Mobile B2B Division, Samsung Electronics America. "We are excited to collaborate with Zonar on this transformative solution, which leverages the ruggedized Samsung Tab Active2 to empower drivers to do more with their devices, and help fleet managers gain greater benefits from their digital strategies."
Zonar provides professional onboarding and installation services to customers ready to adopt the Samsung Galaxy Tab Active2, including onsite training and 24/7/365 technical support. Pricing and purchasing options will be available in early summer. Businesses can depend on Zonar's industry-leading customer care program to manage and maintain their Zonar solutions and associated data plan.