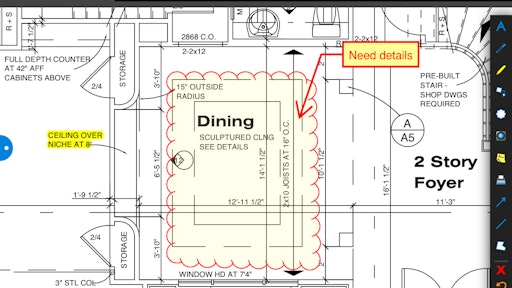 Mobile app: Bluebeam Revu for iPad
Developer:  Bluebeam Software, Inc.
Cost: $9.99
Available on: iPad
Access and navigate PDF files, markup PDFs and collaborate with colleagues in real time using the Bluebeam Revu mobile app for the iPad, which includes the integrated cloud-based solution Bluebeam Studio. This mobile solution allows users the ability to redline PDFs with industry-standard symbols and verify measurements while in the field. The app will even save custom markups for reuse across sessions.
Video: Bluebeam Revu iPad - Add and Manage Accounts
When using the Revu iPad app, each file that is opened gets its own tab so users can easily navigate between PDFs. When reviewing the PDFs, users can switch between full page, scrolling pages and reader view modes. The app also lets a user search for text, reorder pages, insert and delete pages, and add, delete and jump to bookmarks in a PDF.
One of the biggest key features of the app is the ability to markup PDFs. Revu's markup tools include text, notes, highlighter, lines, clouds, callouts and more, which can be further customized by changing the color, fill, opacity, line type or font. A contractor can add comments, images, symbols, multimedia and more. Markups can then be saved in Revu's Tool Chest for reuse. In addition to being able to add markups, the app also tracks the author, date, time and comments association with each markup in the Markups list. New in Revu iPad 2.4, users can view, add, delete and edit replies to markups using the Reply to Markups feature in the Markups list.
Built-in Field Measurement tools in the app allow users to calibrate and then verify measurements. You can take length, area, perimeter, volume and radius measurements. The app even lets the user adjust the units of measurement and precision ratio as well as utilize custom formulas. With Revu iPad 2.4, when users take one measurement, Revu now automatically calculates all other related measurements, including Wall Area, and displays them in the Markups list. Additionally, subtotals for grouped measurements created with Revu's desktop version will now also display in the Revu iPad Markups list.
According to Revu iPad app user Jim Gentile of C.W. Driver, "With the Revu app on the iPad, I'm able to look up my submittals and RFIs, compile them all into one document, and get all that stuff back to the architect and the client from the field instead of going back to trailer, finding it all, scanning it and creating this huge PDF. It's cut down over 40 hours of travel back and forth."
Video: How C.W. Driver Uses Bluebeam Revu iPad Mobile App on the Job
In addition to the Bluebeam Revu iPad app, Bluebeam also offers the Bluebeam Vu iPad app which allows project team members who do not have a Revu license to access and navigate PDF files free of charge. Vu iPad users can also markup and collaborate on PDF documents with project partners when invited to real-time Bluebeam Studio Sessions, or they can view documents in Studio Projects, Revu's light document management system.
App features:
Add multiple photos from the field or your image library to any markup with the new Capture tool; use the new Capture viewer to easily click through all embedded images
Take one measurement and all related measurements will calculate automatically, including Wall Area, and display in the Markups list, which tracks all annotations
Access, check out and edit files in Studio Projects created in Revu Windows
Start Studio Sessions or join existing ones to collaborate with colleagues in real time
Text chat with and follow any attendee's view as they markup Session PDFs
Set attendee permissions, such as their ability to save, print, markup and add documents, in both Studio Projects and Sessions
Sort markups, view custom columns and manage which columns are displayed in the Markups list
Change the status of markups in the Markups list to accepted, rejected and more
Use the Reply to Markups feature in the Markups list to create a conversation regarding a change, answer questions or update the status of the markup
Sync PDFs or entire folders from Dropbox, Box, WebDAV and Studio Projects, or transfer files via iTunes
Pin files and folders to custom categories directly from File Access tab, which displays a list of recently opened files, or the Document Manager for future access