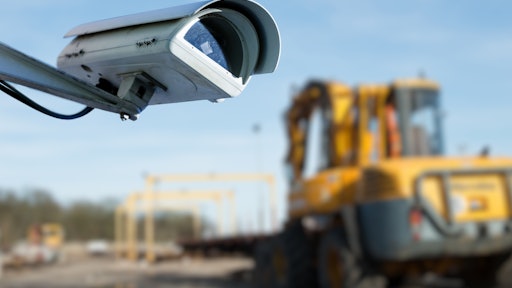 @Goodpics - adobe.stock.com
Construction sites are frequent targets when it comes to theft. Valuable equipment and materials are often out in the open—sometimes unattended—and the sites themselves can be difficult to secure completely.
In 2021, there were 11,504 burglaries on constructions sites in the U.S., according to Statista. Not only do you have to pay to replace stolen items—which is now more expensive due to inflation—but it can also take time to get the new items on site, delaying your project's already-tight timeline.
While it can be extra work to secure your site, a little planning may save you time and money if something happens down the road. Here are a few steps you can take to help reduce the likelihood of someone stealing from your jobsite.
1. Determine Risks Ahead Of Time
Before you begin work on your project, assess the site for potential risks. Is there a history of theft or other crime in the area? Are there areas of the site that may be easily breached? Is there public resistance to the project that could lead to violence, vandalism, or other damage? Have you conducted background checks on the people you've hired to work on your site?
While it's impossible to completely eliminate all risk factors, a quick assessment can help you avoid an incident. Once you've determined the elements that could make your site more susceptible to theft, you can use what you found to improve the overall security.
2. Secure Your Jobsite To Deter Unauthorized Individuals
Limiting access to your site can help deter potential bad actors. Fences can make it more difficult for unauthorized people to get on your jobsite, while installing security cameras and lighting will make it easier for you to identify anyone who trespasses.
For an extra level of deterrence, add signs that warn people the site is under surveillance. If those measures aren't enough to keep thieves out, install an alarm system that will alert you to an intruder.
You can also implement additional protocols to keep track of who's on your jobsite. Here are a few steps to consider:
Maintain a list of employees who are allowed on the site and which pieces of equipment they're authorized to use
Keep a log of all visitors coming on and off the site
Provide employee ID cards and assign visitor passes to people who will be on your site temporarily
3. Protect Tools And Equipment After Hours
You won't be on your jobsite 24/7, so it's important to make sure you have additional layers of protection. Here are a few suggestions:
Make sure all equipment is in a fenced-in area secured by locked gates
Lock up equipment when it's not being used or secure it using tie downs, cables, or wheel locks
Attach GPS devices to pieces of equipment to find them if they're stolen
Remove keys from equipment and store them in a locked area out of sight
Disable heavy equipment before leaving the site
Mark your equipment with your company's name or logo
Take photos and document the serial numbers of equipment in case they're stolen
It can also be helpful to conduct a site inspection at the end of each day, looking for vulnerabilities that could aid intruders. Here's a list of things to look for:
Are access points well lit?
Is your inventory secured?
Are entry points, fences, and gates secured and in good condition?
Is there anything near the fence that an intruder could use to climb over?
Are your security cameras working properly?
Are doors and windows locked?
To protect your site after hours, consider hiring a security guard. Set clear expectations for your guards, laying out which areas they need to patrol and when they need to walk the property.
You can also work with local law enforcement to help protect your job site. They may offer extra patrols during off hours and help monitor high-risk projects. If they're aware of the work that will take place on the site and when that work will occur, they'll be better able to identify suspicious activity during their patrols.
4. Have Insurance In Place To Help You With The Costs Of Replacement
The equipment and materials you need for your job aren't cheap. If you have something stolen from your jobsite, having the right insurance coverage can help with the cost of replacing items. That way you don't have to pay thousands of dollars out of pocket.
Installation coverage, contractor's equipment insurance, or builder's risk insurance are often good options to start with. Still, it's best to talk with your agent, insurer, or local expert to discuss a risk management program and policy specific to your business.