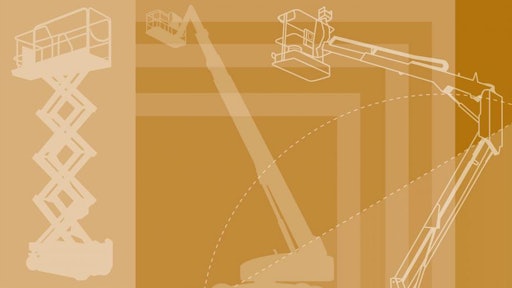 IPAF
When talking lift equipment, the Equipment Today team had to get insight from Tony Groat, North America, Regional Manager, for the International Powered Access Federation (IPAF). In this Q&A, Groat discusses safety, certification and more.
What are some important reminders for contractors about keeping operators safe on scissor and boom lifts?
The start to any product's safe use is the awareness of applicable rules and regulations. While the Occupational Safety and Health Administration addresses aerial lifts in its regulations, they were written in 1970 and address scissor lifts as "rolling scaffold towers." This is not the most effective way to ensure operator safety. I suggest contractors purchase a copy of American National Standard Institute (ANSI)/ Scaffold & Access Industry Association (SAIA) safe use and training responsibilities from SAIA on the website www.saiaonline.org.
This standard provides the most current industry best practices for employers—mobile elevating work platforms (MEWP) user—and their operators. This begins with the creation of a MEWP safe use plan that starts with a site risk assessment. IPAF offers a guide for the development of a safe use plan Developing a MEWP Safe Use Program Guide to assist employers.
The key is to ensure that the operator is properly trained on the MEWP category and then familiar with the model-specific machine before being authorized to operate it. The operator must be aware of the results of the risk assessment that identify potential hazards and the safe work procedures, including any contingencies required, in carrying out the identified tasks.
A main reminder is that safe use is how to be productive. The time, cost and delays caused by an accident can never be made up by the minutes to take short-cuts.
Some key best practices are:
Operator training and machine familiarization before operation
READ the machine operator's manual
Conduct a daily prestart inspection and isolate/tag/report any problems or malfunctions that are found
Conduct a daily workplace inspection to ID any new hazards in the area of operation
Stay at least 10 feet from any overhead power lines
Know the machine controls and ensure that you know the direction of movement to avoid hitting/crushing; particularly important with boom lifts that platform slew—direction of travel changes from forward to reverse
NO machine modifications—do not add to or remove manufacturer parts or components
Stay within the work platform and do not overload
ALL ITEMS SPECIFIED BY THE MANUFACTURER (in the operator's manual)
What certifications are available or required for operators of scissor and boom lifts?
A certification of completion for MEWP operator training for the category MEWPs is necessary before being approved to operate. This training should comply with ANSI/SAIA A92.24-2018. This training requires both theory (classroom or online) training to address safe-use practices, potential hazards, how to perform a daily pre-use inspection and other detailed instructions covered in the safe-use standard. When the theory training is successfully completed, the operator must complete a hands-on practical evaluation for each MEWP category to be used.
MEWP operator training is general and operators must additionally receive model specific machine familiarization on the control functions, machine operating characteristics, and safety devices. This should be documented.
Industry best practices for MEWP training AWP/MEWP Operator Training Best Practice Guide can offer some added guidance. An important note is that familiarization can take 15 minutes to 60 minutes, and operator training can take 3 hours to 6 hours or more based on the number of trainees and MEWP categories. Don't be fooled to believe that training can take place in an hour.
What else should contractors/operators know about the use of these lifts?
While aerial lifts or MEWPs are the safest ways to gain temporary access to work at height, all work at height is exposed to hazards that must be addressed. More than 70 workers die unnecessarily every year on this equipment. These fatalities are completely avoidable. This statistic does not come close to the number of workers who are injured or involved in a near miss (an accident waiting to happen).
While operators must be trained, those who directly supervise them must also be qualified to monitor, supervise and evaluate operators regularly to ensure their proficiency. Many MEWP online supervisor courses are available that can provide a great foundation for a supervisor to have the knowledge necessary to support safe MEWP operations. One example is MEWP Supervisor Training - USA - Virtual from United Rentals.
Learn the potential hazards associated with MEWP operations with the "IPAF Global Safety Report Analyses Ten Years of Incident Data."