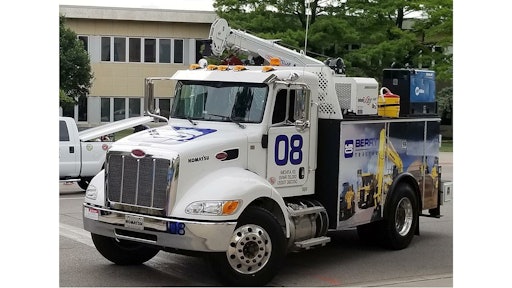 Berry Tractor
By Gregg Wartgow, Contributing Editor
Fleet managers who rely on fuel, lube and mechanics' trucks to keep construction crews up and running are finding DOT Hours of Service (HOS) restrictions on truck drivers increasingly hard to bear.
"The rules may differ depending on what state you're in," says Carter Dicken, vice president of mobile equipment at New Enterprise Stone & Lime Co., a Pennsylvania construction materials supplier and general contractor. "If you're strictly following the Federal Motor Carrier Safety Administration (FMCSA) guidelines, any vehicle over 10,000 pounds engaged in interstate or intrastate commerce is considered a commercial vehicle subject to HOS regulations."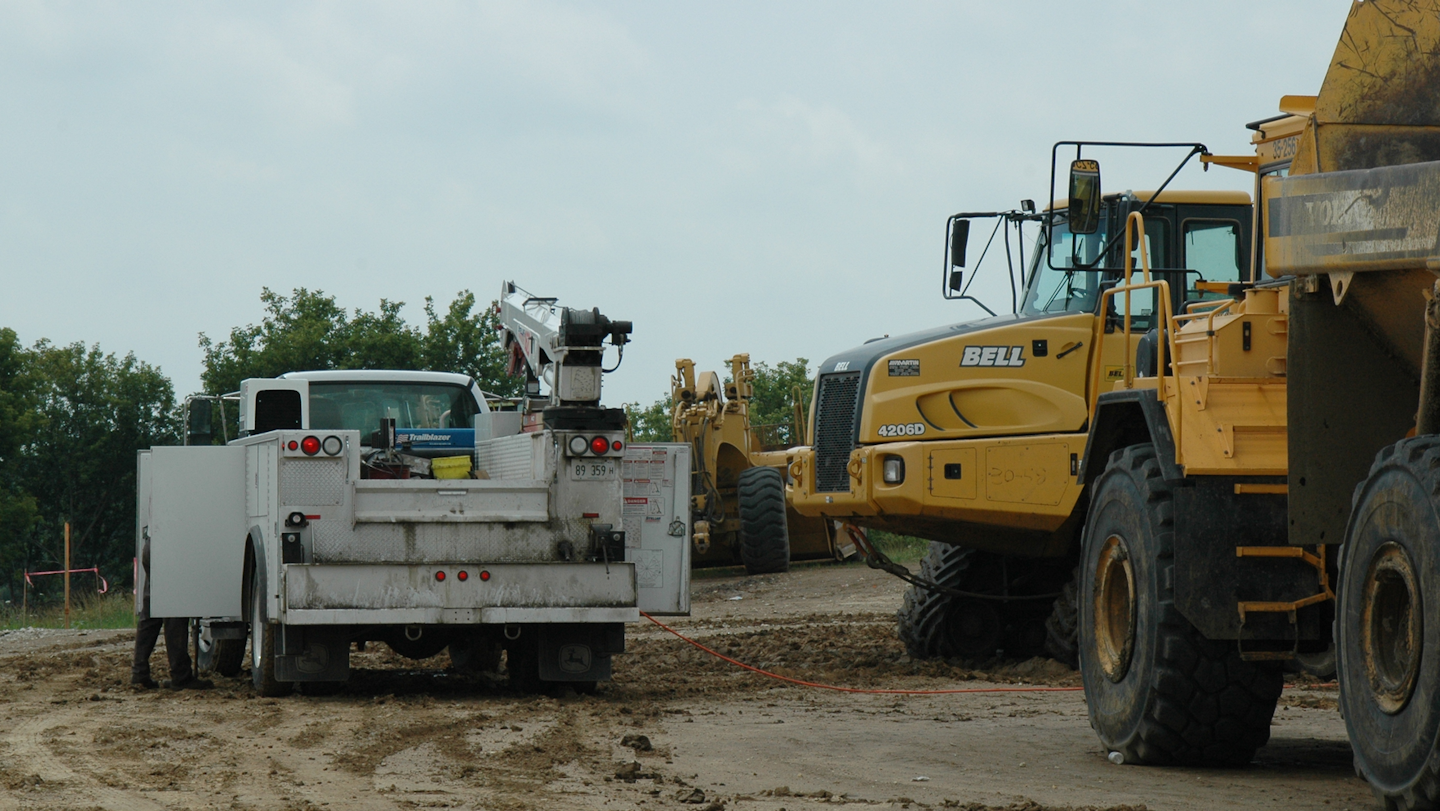 The HOS rules currently limit the driver (technician) to working a 12- or 14-hour shift before having to take 10 hours off. That makes technician scheduling a challenge.Because an equipment technician's service vehicle is carrying tools (property), it is considered to be engaged in commerce. The HOS rules currently being enforced limit the driver (technician) of that vehicle to working a 12- or 14-hour shift before having to take 10 hours off. That makes technician scheduling a real challenge for fleet managers and dealers alike.
"As an equipment dealer, our first goal is to take care of the customer," says Jon Berry, president of Berry Tractor. "That can be difficult when some of our services can be an 8- or 9-hour job. Also, there are often quite a few miles in between our jobs that can require some drive time." Berry Tractor has four locations in Kansas and Missouri. It is a wholly owned subsidiary of Berry Companies which has a total of 32 locations stretching from Wyoming to Houston, Texas.
Balancing efficiency and compliance
"In the complex world of construction, equipment technicians have been asked to work days and nights, short and long shifts, and to be on call at certain times to help get projects done," Dicken says. "The HOS rules are making it difficult for dealers and construction companies to staff accordingly."
If a construction crew works through the night, a service technician needs to be available in the event that something breaks down. That means the technician can't work during the prior daytime hours. "With the technician shortage this industry has, it's hard to have a staffing plan for every possible scenario that could pop up," Dicken says.
For example, a technician is called out on an emergency repair. It takes 45 minutes to drive to the jobsite. The repair is a 2-hour job. But the technician only has 2-1/2 hours left on his 14-hour shift. By the time the technician is finished with the repair, he'll be 15 minutes over. Plus, he still has to drive back home or to the shop. In this case, the company would likely have to dispatch a different technician to that job.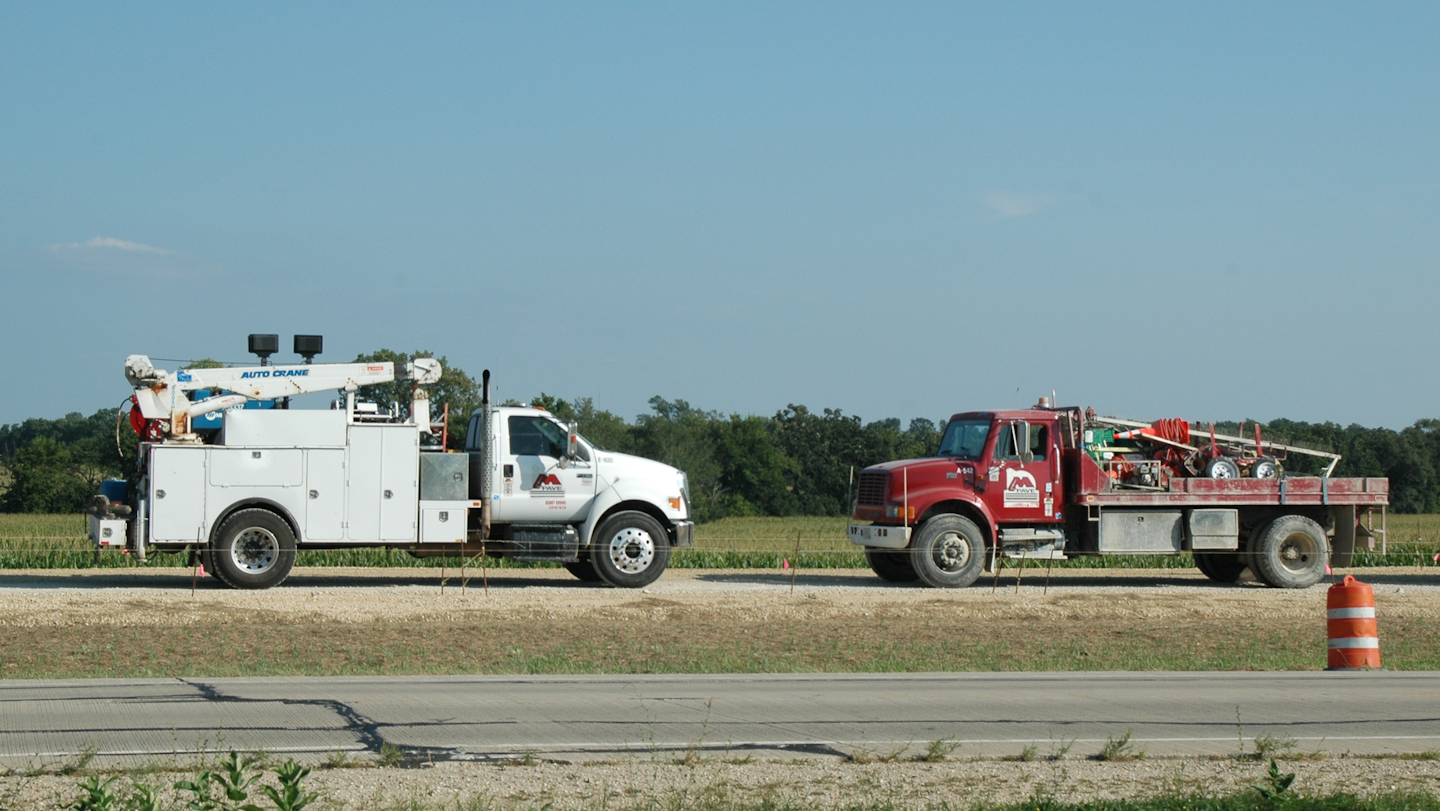 In the past, a field technician could go to a jobsite, do an eight-hour repair job and stop at other sites along the way back. This is no longer possible under HOS."In a 12- to 14-hour day, our technicians are typically wrenching for 8 hours," Berry says. "It can be very difficult when you're in the middle of a really large job. Should the technician check into a nearby hotel if he is going to go over his 14 hours? Does he have time to make it back home? Should he sleep in his truck? Should he take a second guy with him who is off the clock until it's his turn to drive? None of those options are very cost-effective."
Dicken says he has experimented with night shifts, which have proved difficult to manage. If a technician is scheduled for a night shift, he needs something to do while waiting for a potential breakdown to occur.
"The typical nighttime incident is a hose break," Dicken says. "That takes about 2 hours to repair. What does the technician do for the other 10 or 12 hours of his shift? We try to plan as much preventive maintenance as possible on that same jobsite. Additionally, we look to see if there is a nearby quarry or aggregate site where the technician could go do some preventive maintenance. Options are limited, though, and it's not easy to make this work."
Balancing efficiency and HOS compliance is an enormous challenge. "In the past, a field technician could go to a jobsite and do an 8-hour job," Berry says. "Then on his way home he could stop at a couple of other jobsites to do some diagnostics and get parts ordered. The technician can't do that under HOS; he has to head straight home because his hours are limited."
Learn more: The Contractors' Guide to ELD
Making HOS rules better for construction
A recent development in industry negotiation with FMCSA could bode well for the construction industry. It has to do with something referred to as personal conveyance, or off-duty personal use.
Under current law, a driver must offload his "property" in order to claim personal conveyance. For example, an over-the-road trucker could drop his trailer and use the vehicle to drive back home or to a hotel. That drive time would not count toward the driver's hours of service. A field service vehicle, on the other hand, cannot offload its property because its property is the tools and equipment on the truck.
A new guidance has been proposed that would eliminate the "offloading" requirement, allowing for single-unit vehicles such as service trucks to be claimed as personal conveyances. Appropriate use of personal conveyance would include the commute from a jobsite to the driver's permanent residence or terminal (shop) and the end of the technician's shift.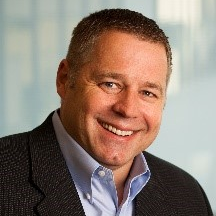 Fred Fakkema, VP of compliance at Zonar, says the ELD mandate that went into effect in January has had a big impact on construction truckers.Another recent update to HOS is the ELD mandate that went into effect in December. Many commercial vehicles must now have an electronic logging device (ELD) that syncs with the engine to track hours. "The ELD mandate has had more of an impact on the construction industry than the overall HOS rules have had," says Fred Fakkema, vice president of compliance at Zonar, a leading technology provider. "That's because ELD provides for fewer exceptions, so more construction companies are impacted."
But how likely is it that a service technician would need an ELD in his truck? That depends on how much ground the technician covers. If a technician stays within a 100-mile radius of his main base of operation, he doesn't need an ELD. A technician can actually claim a 150-mile radius if driving a vehicle that doesn't require a CDL. In either case, the technician can simply keep paper logs on those trips where he travels outside of the radius. The caveat is that he cannot travel outside of the radius more than eight times during a 30-day period.
Fleet managers and dealers need to stay on top of this. If a driver is approaching his maximum allowable eight days outside of the mile radius, Berry Tractor will send a different technician to that job. "It's kind of like managing fouls in a basketball game," Berry says.
The construction industry adapts and responds
For dealers like Berry Tractor, the ELD mandate hasn't necessarily made compliance more difficult, but HOS in general seems to get more confusing as time goes on.
"ELDs have made things easier in some instances, but things have also gotten more confusing with different technicians doing different things," says Kayley Campfield, Berry Tractor's training and development manager. "We don't have many technicians who have to drive outside of their radius more often than allowed. So they are just keeping the necessary paper logs – and we have people on our team watching it."
In fact, Berry Tractor has someone on staff who handles all DOT compliance, including HOS. Berry Tractor also works with a third party who comes in periodically to provide compliance training. "That takes our technicians off of billable hours, which is another cost to the dealership," Berry points out.
HOS has been in effect since 2012, so it's nothing new. However, some would argue that the equipment management side of the construction industry hasn't focused on it enough or collectively stood up to challenge it.
Regulators seem open to hearing the construction industry's concerns. Several exemptions and rule changes have already been issued. For example, the FMCSA recently accepted a petition from the National Asphalt Pavement Association (NAPA) to eliminate the mandatory 30-minute break period. The rationale was that asphalt delivery drivers do a lot of waiting around. Thus, a break is not needed.
Asphalt Industry Gains Relief From Trucking Hours-of-Service Rules
Additionally, the asphalt industry was granted the full 14-hour shift as opposed to the typical 12-hour shift for companies claiming the short-haul (air mile radius) exemption. The rationale was that perishable items like asphalt need to be delivered at the right time. Similar exemptions were previously granted to the concrete industry.
Perhaps a similar argument could be made on behalf of the equipment management industry. If a machine breaks down on a jobsite, and no technician is legally able to be dispatched to repair the machine, what happens to the materials on that jobsite?
The bottom line is that fleet managers and equipment dealers should be focused on training technicians and helping construction companies stay on the job. The more time and money spent on complying with regulations such as HOS, the less time and money spent on doing what they are in business to do.