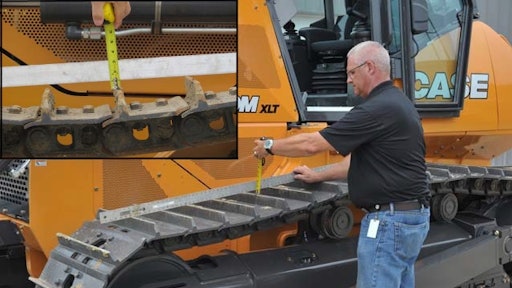 Case
By Larry Stewart, Editor, ForConstructionPros.com
The most controllable factor in undercarriage wear is track-chain adjustment. Correct track sag for many conventional crawlers is 2 in. but check with your equipment manufacturer for specific recommendations. The prescription sounds simple, but it can be difficult to maintain, as track tension changes with many variations in ground conditions.
"We run into a lot of undercarriages that either the operator or the customer's lube guys just don't take care of well enough – they don't keep the tracks cleaned out and track sag adjusted," says Jessy Wolf, product support sales manager, with Florida Deere dealer Beard Equipment. "You have to clean out your tracks on a daily basis, if not a couple times a day.
Cleaning tracks is simple, but certainly not fun. Dig out between the track and the roller frame with a shovel, preferably when the packed material is still wet.
"We run into a lot of clay and sand in Florida," says Wolf, "And when you mix the two together it becomes like concrete up in the roller frames. It's very abrasive."
During operation, materials that stick to and pack between mating components such as rollers, links, sprocket teeth, and bushings increase track tension. So tension needs to be adjusted any time packing in the track chain changes.
"If you get a lot of packing, it only tightens the track up as you go along, so getting them cleaned out and adjusted is the key to undercarriage life," says Wolf. "You could run it [tight tracks] for two or three days and almost cut track-chain life in half with the material we get in Florida."
A little bit of change in track sag makes a big difference. Tightening up chain to reduce track sag by half an inch on a crawler tractor in the 80-hp range results in approximately 5,600 lb. of chain tension when measured at the track adjuster. The suggested 2-in. track-chain sag on the same machine results in approximately 800 lb. of chain tension.
The greater load on tight track results in more wear on contact areas between the track bushings and sprocket teeth and the track-link-to-idler roller contact areas. Increased wear also occurs at the track-link-to-idler contact point and track-link-to-roller contact points.
Sprockets packed with mud can force the track bushing to seat high on the sprocket tooth. Following bushings will strike the back side of the teeth, rounding off the tops and reverse side of both the sprocket teeth and the bushings.
When tracks consistently operate packed with mud, it's best to loosen them to reach the manufacturer's recommended track tension to prevent reverse tip wear on the bushings and sprocket teeth.
Tight track also requires more horsepower and fuel to do the same job.
Track that's too loose will cause bounce and vibration which can affect your dozer's performance, especially when grading.
To measure track-chain tension:
Roll the machine forward slowly and allow it to roll to a stop.
Center a track pin over the carrier roller.
Lay a straightedge or stretch a string over the track grousers.
Measure sag between the straight edge and grouser tip where the track sags the lowest.
Every machine's operator's manual will tell you how much track sag is appropriate. Most will review the process for measuring and adjusting tension. The track adjuster is a grease-filled hydraulic cylinder used to maintain track tension. To change track tension, add grease or remove grease from the track adjuster.
Track adjustments are typically actuated using a grease gun. Read the procedures carefully to avoid the dangers of pressurized fluid. For example, if track is too tight, the grease that's holding the idler out will be under a tremendous amount of pressure and should be handled very carefully. This is why most owners prefer track tension be adjusted by trained maintenance people. Yet there are still misunderstandings about this particular grease zerk.  
"We do have a little trouble with some lube guys who mistake it for a daily grease point and just pump it up until it stops, then move on to another machine," says Wolf.
Many contractors rely on maintenance people to take care of tracks, but that's why it's rare that dozer owners get full value for their undercarriage investment. Most dozer owners don't have dedicated maintenance people. At companies that do have maintenance crews, they don't see most crawlers often enough to react to daily changes in track condition.
"Companies that do it well rely on their lube people to get track tension adjusted," says Wolf. "And they're leaning on their operators to let the lube guy or the equipment manager know that 'Hey my tracks are too tight. You need to get somebody out here to check them out.'"
Track pins rotate approximately 180 deg. against the inside diameter of the bushings as the track chain pivots into and out of the sprocket and idlers. On sealed track chain, wear will occur on about 180 degrees of the track pin outside diameter and bushing inside diameter. On sealed and lubricated track chain, this wear is virtually eliminated.
"The amount of time that you're in reverse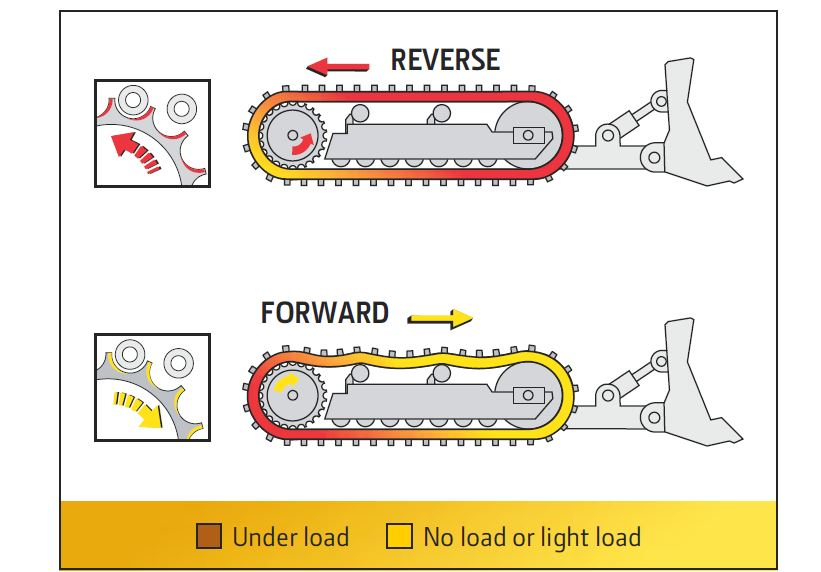 During reverse operation, about 75% of pins and bushings are under contact, load, and motion from the bottom of the front idler to the first pin and bushing joint engaged by the sprocket tooth. Forward operation puts about 25% of the pin and bushing joints under contact, load, and motion.John Deereon a dozer accelerates the wear as well. Just as bad as having them too tight," says Wolf. "Maintenance has greater impact on undercarriage life over a broader cross-section of machines than operating technique because of track tension adjustment. But on dozers, the sprocket rubs in more places on the bushing when it's in reverse, compared to carrying it forward. Three pinch points in reverse, and two in forward."
Operating the crawler in reverse also triples the number of pins and bushings that are under steel-on-steel contact, load, and motion, because drive tension reaches from the sprocket, over the carrier roller, around the front idler, to the ground. In contrast, the only links in the chain under drive tension when operating forward are the few between the bottom of the sprocket and the first grousers with a bite into the ground.
Track wear is directly proportional to speed and distance. Plan your jobsite work carefully to make travel as productive as possible.
Eliminating pitch extension, or chain stretch, slows sprocket tooth wear and bushing outside-diameter wear. Sealed and lubricated chain life is approximately 50% longer than that of sealed, dry track chain. Sealed and lubricated track chain not only reduces wear on bushing outside diameter and sprocket teeth, but it also reduces noise and increases machine fuel efficiency.
Reduced wear in sealed and lubricated pin joints can challenge conventional thinking about when to turn pins and bushings on a crawler tractor. For example, if you're measuring wet chain and the link rail is 40% gone and the drive side of the bushing is at 80%, you could end up with a lot of dry joints if you try to reach 50% rail wear and 100% on the bushings. And the risk of failures is probably not worth it, considering the additional savings available if you change a little early but can reuse virtually all of the pin/bushing seals.
Another buying tip that affects track cost significantly is selecting the narrowest track shoes that provide the flotation you need. Proper floatation helps reduce wear by keeping track from being submerged in material. But wide track shoes used on a hard surface can overload track pin and bushing joints, and can affect pin and bushing retention in the track links. Because the middle of the track shoe is fastened to the track links, the links act as a pivot point to absorb twisting forces that occur as the machine moves over uneven or rocky terrain.
Shoe width can affect seal integrity in lubricated track chain, reducing chain life by as much as 50% in rocky or rough conditions. Wider-than-necessary shoes also increase stress and load on idlers, rollers, and sprockets. The wider the track shoe and the harder the underfoot surface, the faster track shoes, pins, bushings, rollers, and idlers will wear.
Use rock guards only when working in rocks too big to lodge easily between the sprocket teeth and track bushings or between the track links and idler tread. Rock guards also help guide on the idlers and rollers when working on steep hillsides. But avoid rock guards when working in normal conditions. Working on soil or surfaces that pack, full-length rock guards will trap the material between the track rollers and links, reducing the components' useful life.
Equipment manufacturers agree that about 20% of your crawler's purchase price is for the undercarriage, and track will eat up nearly half of your maintenance costs. Many factors can reduce that percentage, but maintaining track-chain tension in changing conditions and buying the right parts will most likely have the greatest impact.
Resources