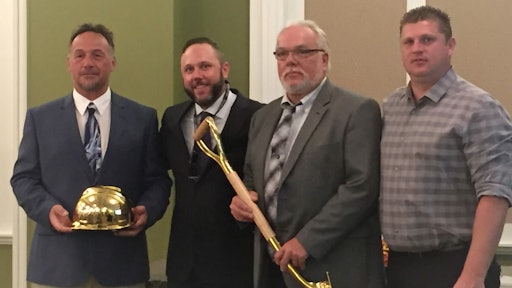 The National Utility Contractors Association (NUCA) Pennsylvania awarded constructor Schlouch Inc. of Blandon, Penn., the association's Industry Impact Award for contributions to improving the future and practices of the industry.
NUCA Pennsylvania specifically cited Schlouch's leadership training programs, which the company has presented for four years for industry members. A fifth year for the event is scheduled in 2019.
According to Don Swasing, Schlouch's chief operating officer, Schlouch developed the leadership training programs because of the company's continuous learning culture, high-performance leadership team and desire to strive for excellence. Swasing said Schlouch saw the need for leadership education in many areas of the utility industry, and chooses to give back to NUCA PA.
The leadership programs are presented by a rotating group of people who make up the "key leaders' group" at Schlouch. Topics covered are:
developing personal leadership
crucial conversations such as conflict resolution
the art of negotiation
project management fundamentals
workforce development for the future
The presenters recognized are:
Steve Funk
Doug Gable
Derek Bainbridge
Steve Nester
Rich King
Stayce Schlouch
Eric Hasenauer
Keith Endy
Glen Powell
Mike Williams
Nate Carpenter
Jeremey Keener
Swasing said there is always a strong showing for the programs. "We are grateful for the attendance, which shows the demand for such high quality educational programs," Swasing added. "We are pleased to respond to the demand, honored to give back to the utility industry and honored to be named recipients of the award."
Schlouch is also an industry leader in developing more effective safety programs in an effort to build what the company calls a "safety culture", a transformation the company embarked on in 2014.
"Safety culture is about measuring the presence of safety, not the absence of accidents," said Swasing while quoting a respected safety mentor. "A safety culture is the way in which safety is managed in the workplace. It most often reflects the attitudes, beliefs, perceptions and values employees share in relation to safety."
Among practices the company has adopted are more open communication about safety, a system for celebrating safety successes, elimination of rituals, adoption of "work rules" that produce results, and emphasizing daily front line participation in Schlouch's safety culture.
NUCA Pennsylvania is a non-profit statewide trade association comprised of nearly 300 heavy highway contractors and suppliers specializing in sewer and water infrastructure construction.