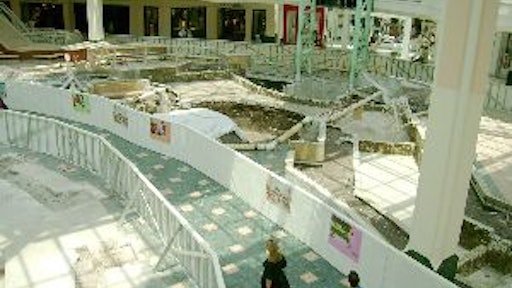 When the Palm Beach Florida area was growing into the north end of the county it became apparent that a new shopping venue was required. After all, these residents wouldn't want to travel all the way to the Island of Palm Beach to shop at Sak's Fifth Avenue or Nordstrom (and why should the Rich & Famous have to?).
Pepper-Southern General Contractors of Atlanta Georgia was hired by the owner (Forbes-Cohen Florida Properties) in 1988 to construct this new project 'The Gardens Mall' in Palm Beach Gardens, Florida. Pepper-Southern called in Griffin Dewatering to provide the proper methods and materials to be utilized when dewatering the proposed structures' footings. The proposed footings were designed to support both floor slabs & structural columns as well as the new glass enclosed central elevator and adjacent water features/fountains. This work was successfully concluded in 1999, and the mall opened with great success. Now 19 years later some of the shine is gone, the tile grout is stained, the elevator is old and it's time to give the mall a facelift.
Flash forward to 2007. Whiting-Turner General Contractors (Ft. Lauderdale Office) hires Griffin Dewatering of South Florida to provide a workable dewatering plan to facilitate the demolition of the old, construction of the new and maintain a "low profile" to accommodate everyday mall business.
Griffin's contract for services included dewatering of excavated areas where the new Grande Fountain, its control vault and the new elevator are to be constructed.
The problems that Griffin had to solve included:
Provide an appropriate dewatering plan to facilitate excavation & placement of underground plumbing lines, concrete structures and fountain/pool shell. This dewatering process had to be environmentally compatible so as not to disturb the daily business of neighboring stores and eateries.
Limited availability of a disposal location for dewatering effluent.
Night work/after hours.
The solutions that we provided were:
Installation of a perimeter wellpoint/wick point system with 1/12" x 15' long (or approximately 7' below excavation bottoms) screened & wicked wellpoints @ 48"+/- centers/horizontally. This procedure minimized/eliminated soils movement from adjacent existing footings and slabs by reducing hydrostatic ground water pressure to a point well below the excavated areas. The dewatering pump is electrically powered and placed in an enclosed box, thus noise level was well below any audible level in the work area. A typical wellpoint pump's vacuum system is mineral oil lubricated and sealed thereby emitting hydrocarbon vapor during the cooling & sealing process, which was a problem. To resolve this issue, Griffin South Florida called upon Griffin Southwest & Griffin Pump & Equipment for an appropriate sized electrically powered wellpoint pump with a water cooled/sealed vacuum pump. It just so happened that a newly refurbished Griffin Model 4NCRE with a Travaini Vacuum Pump was available and suited this project perfectly. The size was right to be placed inside the mall (transported through service corridors), the motor size worked with the available three phase power and the General Contractor installed a flexible steel exhaust line to the adjacent ceiling fans to vent any water vapor or groundwater odor.
For disposal of dewatering effluent, a floor drain was available but only in 3" I.D. size. This constituted a problem as the anticipated dewatering effluent yield was on the order of 500 G.P.M.
Griffin offered to, and subsequently, installed a 300' long x 6" I.D. discharge line under the existing floor slab (tile was cut and replaced), through a service corridor and into an outside service area where a 2,500 gallon weir type settling tank aerated the groundwater prior to its disposal into the onsite drainage system.
The night work was the easy part. Our shift started @ 9:30 PM and concluded @ 6:00 AM.
The discharge line is to remain in place for future use by the owner when draining or servicing the new water features. This work commenced (for Griffin Dewatering) in April, 2007 and Whiting-Turner expects for work to be completed by September, 2007.
The result, another satisfied Griffin Client.
Dave Handy was the Project Engineer on this job and he can reached at: 954-969-8854 or dave.handy@griffindewatering.com for further information.