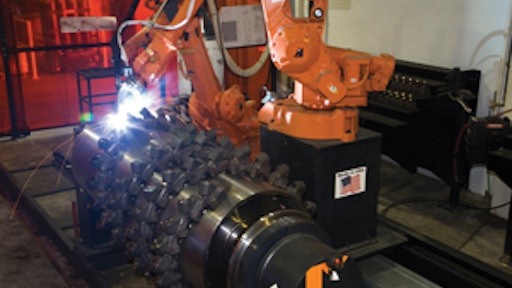 Roadtec now provides equipment owners with new, aftermarket replacement drums for milling machines, reclaimers, utility mills, dirt trimmers, mulch shredders, and rumble strip cutters of any brand. In addition to standard drums, Roadtec supplies a range of specialty drums, from micro-milling (profiling) types to segmented, bolt-on, 4:1 tapered heads.
What's more, the company also offers a comprehensive rebuild program for these components. Roadtec Drum Rebuild Services include the rebuilding of any cutter drum or specialty head for any brand machine, including the rebuilding and straightening of dirt trimmer heads.
All products can be supplied as complete units, ready to install into housing assemblies. Roadtec will install any tooling system the customer prefers on aftermarket or rebuilt drums.
The new cutter drum program is an expansion of the successful Roadtec Rebuild initiative, which the company has been pursuing as part of its 360 Support philosophy.
"Our direct one-on-one relationships with our customers allow us to get to know them and their needs," says Jeff Smith, vice president of customer service at Roadtec. "When you work with us, there'll be no wasted time and money trying to find the best solution. We know what to do to rebuild, repair or maintain your pavers, mills, material transfer vehicles, and stabilizers because that's all we work on.
"We are able to dedicate all our resources to working on that type equipment," continues Smith. "A typical dealer service department has many types of products and customers, and you may not always be first in line. At Roadtec Rebuild we understand your unique needs and what it takes to satisfy them, and we will work with you on any brand of equipment."
Roadtec support includes all-inclusive rebuild and maintenance programs as well as a full-service parts operation. Roadtec supplies aftermarket parts for many brands of road building equipment under the AS Parts label.
Currently, the parts operation is running a winter maintenance promotion and those interested should see Roadtec.com and then click on Parts.