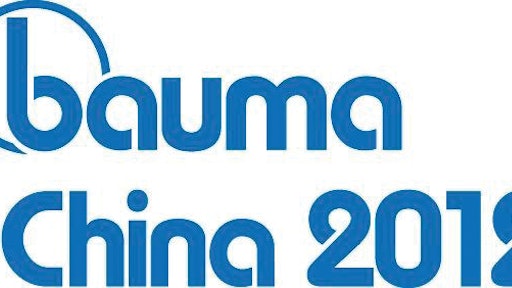 Despite some hiccups in the global economy, international interest in equipment and products for the construction market continues to strengthen. As a result, organizers for bauma, the International Trade Fair for Construction Machinery, Building Material Machines, Construction Vehicles and Equipment, have been required to expand exhibit space at both bauma China 2012 and bauma 2013 to meet growing exhibitor demand.
bauma China 2012 Sets Exhibitor Record
bauma China 2012 will be held from November 27 to 30, in the Shanghai New International Expo Centre. At nearly 360,000 sq. yds. (300,000 sq. meters) of open-air exhibition space, the show is set to be Asia's largest and most important industry event.
With a total of 2,500 exhibitors as of mid-July, bauma China 2012 is setting a new exhibitor record. Not only does this number exceed the 1,892 exhibitors in 2010, but the organizers have added eight halls to the original nine to accommodate the increased demand.
Collin Davis, exhibition group director, Messe MÜnchen International, notes, "It was our aim to offer our exhibitors improved conditions for their presentations in the halls. And as we have eight more halls available for this year's event, we have been much better able to meet their space requirements."
The Asian construction machinery markets will again be putting in a strong showing at the fair. Since 2010, China has been the world's largest domestic market in the construction sector. And, according to estimates by Germany Trade & Invest, the German foreign trade organization, in the coming years, the People's Republic is set to further extend its lead as the Chinese government undertakes huge infrastructure projects in its current five-year plan, running from 2011 to 2015.
In addition to exhibitors from throughout Asia, Austria, Finland, Germany, Great Britain, Italy, Korea, Spain and the U.S. will each have their own pavilions on site.
Visit www.bauma-china.com for more information.
bauma 2013 on Track to Exceed 2010 Results
bauma 2013 will take place at the New Munich Trade Fair Center in Germany from April 15 to 21, 2013. While the 2010 show attracted 3,256 exhibitors from 53 countries and over 420,000 visitors from more than 200 nations, the 2013 event is expected to exceed those numbers.
Covering a total of roughly 6 million sq. ft. of exhibition space, bauma is the largest trade show in the world. All available exhibition space was fully booked as early as May 2012 — 11 months before the show. There is a waiting list for all sections of the exhibition, despite the fact that another 160,000 sq. ft. have been added in the northwest corner of the exhibition site.
According to Georg Moller, exhibition group director at Messe MÜnchen International, "With this additional space we can now admit more exhibitors than at the last event. Nevertheless, it is still not possible to accommodate all those who want to take part, or to meet in full the space requirements of all participants."
The signals for medium- to long-term growth in the construction and building material machinery industry are positive. Worldwide construction activity has grown significantly in recent years, driven by the up-and-coming developing and emerging countries led by the BRIC states. Average annual growth in the global construction industry of more than 4% until 2015 will ensure a sustained demand for plant and machinery, setting the stage for optimal conditions for bauma.
For further information, visit www.bauma.de/en.