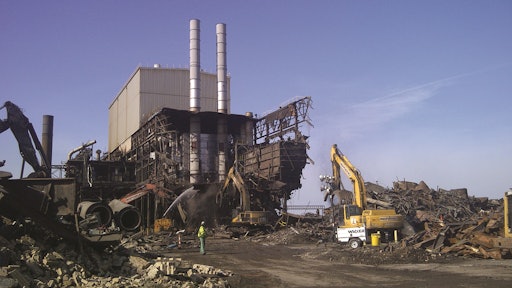 Information from this article was first published in Demolition Magazine and is being reused with permission from the National Demolition Association.
From the onset of the initial bid to the final phases of the project that is now nearing completion, it was apparent that a project like Ford Motor Company's Cleveland Casting Plant Environmental Decommissioning and Demolition would present a lot of challenges.
Built in the 1950s, the approximately 1.4 million-square-foot former foundry sits between two engine plants on one of the largest manufacturing facilities in the United States. The scope of work included a multi-faceted and comprehensive environmental decommissioning and cleanup program paired with complete structural demolition and removal down to grade. On top of that, Ford Motor Company's stringent pre-qualification process sets a high bar for being able to bid a project of this magnitude, making all bidders both highly qualified and competitive.
With this in mind, Independence Excavating Inc., Independence, Ohio, sat down with its sister company, Precision Environmental, to put together a project team and approach to the job that would be best suited to bid and perform this project at the highest level possible. Working together with Ford's construction manager, Rudolph/Libbe, and with primary subcontractors that included EnviroServ, MPS Group and Ballast Fence, Independence was able to work through the bidding and scope review processes to the eventual contract award and start of work.
Once started, the complexity of the building construction presented a significant obstacle for the asbestos abatement since the original plant had been modified many times over the years resulting in large quantities of asbestos containing material hidden or "sandwiched" inside the facility's walls. The initial project schedule was also very aggressive to get all the environmental decommissioning work completed so that the primary structural demolition work could be completed. Using a team approach, Independence, Precision and Rudolph/Libbe were able to work closely together to re-sequence the project's phasing and perform the required selective demolition work to keep the project moving forward safely and on schedule.
The structural demolition of the heavy industrial equipment and steel structure resulted in over 60,000 GT of scrap to be demolished, sorted and loaded out for recycling. Under separate general contracts to Ford and Rudolph/Libbe, Independence teamed up separately with K&K Recycling for the additional processing of all the scrap. The added scrap processing work allowed both Independence and K&K to provide the best overall value to Ford.
Additional obstacles included selective demolition and cleanup of 11 rooftop substations to a TSCA landfill, working over nearly 300,000 square feet of basements, demolition of a variety of stacks and a 150-foot-tall MACT structure that sat in the flight path of nearby Cleveland Hopkins International Airport.
In each case, Independence was able to work with Rudolph/Libbe and rely on its specialized fleet of demolition equipment and highly trained people to get the job done safely in the field. Independence's own personnel exceeded 70,000 man-hours for just this project without a single recordable or lost time incident.
Since operations were taking place adjacent to Ford's Cleveland Engine Plant 1, dust control was also a large concern. Foundry sand from the former casting plant processes was present in the facility, and the fine, black particles can become airborne easily when disturbed. Independence purchased two large and one small "dust destroyer" machines for the project in order to generate and direct large clouds of water vapor for dust suppression during the demolition process. Independence used these machines along with three different types of water trucks and a high reach excavator equipped with a water system and a 100,000-pound Linkbelt material handler to keep the dust down even in the toughest conditions.
One of the final phases of the project was the extensive cleaning needed for the sanitary and storm sewers that spider webbed all over the facility and the surrounding areas. Large quantities of built-up sediments and debris in the system presented a unique set of obstacles, and Independence was able to team up with MPS Group's industrial cleaning division to tackle this work head on. MPS Group was already handling much of the waste for this project, and the addition of its team with extensive sewer cleaning and video expertise from other Ford projects was instrumental in getting this work done correctly without any safety incidents.