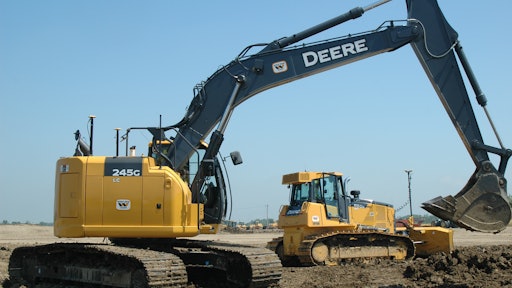 Everyone knows that the business environment is changing on a daily basis. This is especially true in the construction business as:
Equipment choices offer more specialization;
Vendors continually develop new models with higher utility value;
Technology provides options to increase profits;
You can purchase or lease most units;
There is an adequate supply of rental options should you decide to avoid the ownership hassles.
No matter how you look at it, there are many reasons to purchase a new machine that works wonders for your business by enabling it to become more efficient and profitable. But does it? There is no doubt it can, but only if the benefits achieved cover the cost of the new unit and add to your bottom line. To do that, the unit has to have enough time and dollar utilization to cover the cost of ownership.
Calculate Time and Costs
The "more efficient" part of the equation is easy to understand. The unit allows more work to be done in a shorter time frame using less personnel hours. By doing so, it should make your business more profitable.
The "profitable" side of the equation is another story altogether. The question becomes: "Are you more profitable for the year as a result of the equipment purchase, or are you only more profitable on the jobs on which you use that equipment?" If your time utilization is at least 65% to 70% annually, then you should be in the green. If, however, the machine is only used 40% of the time during a year, you are probably not covering the cost of ownership.
It is this last part that created the equipment rental industry. Rental allows you to know your cost, which you can then charge to jobs, and also helps you avoid the time utilization question since you send it back when you're done with it. When you rent a unit, you hopefully have 100% time utilization because you are using the unit every day you have it.
I'm using rental jargon when I talk about time and dollar utilization, because rental companies have to measure these two metrics on a daily, weekly and monthly basis for every unit in their rental fleet. Contractors should be doing something similar to ensure they are covering the cost of ownership for each unit in their fleet. If you don't, then I advise renting as much as you can to help control your costs and ROI on assets.
Time utilization is easy to understand. It's how many days the machine is available in any given time period and how many days it is actually used on a jobsite. For example, if a unit is available for a month and you only use it for two weeks, you have approximately 50% time utilization for that month. If 65% to 70% utilization is required to make a buck, you may not be covering your cost for that machine. But since we're only talking one month, it's entirely possible to make up shortfalls in the future and wind up with 75% for the year.
The dollar utilization side of the equation is a little more complicated. Even if you have adequate time utilization, if you do not charge a "proper" amount of cost to the job, you may not cover the cost of ownership of that unit.
Remember, you have to cover debt service (P + I), maintenance, storage, transportation and all the other related costs of ownership. Debt service alone is probably 20% of the equipment cost per year, so you really have to hit a 30% to 35% ROI on owned units to keep from hurting your performance numbers. Dollar utilization can cover up some of the sins related to low time utilization, but don't count on it.
Use Rental to Set Rates
You need to get comfortable with the costs of your equipment, which probably include new and used units — some of which still require note payments and some that are fully paid off. You have to manage this investment to earn an adequate ROI, or adjust your investment to make the ROI work for the shareholders and your bank.
There is little doubt that contractors are buying less and renting more as a way to maximize ROI on what they own and reduce overall financial risk. If you are not thinking along these lines, I suggest you compare what you charge to your jobs vs. rental rates for that same equipment for the time periods involved.
Rental companies earn their living by managing their fleet and using rates to achieve an overall profitable return. I would suggest that what you charge to a job for your equipment use should be similar to what a rental company would charge for the same equipment and time frame. If your rates are substantially lower, you may be kidding yourself about covering cost of ownership.
Every contractor that owns a significant fleet should have an internal rental department that determines what rates to charge for equipment use; compares those rates to external rental rates; and adjusts the cost of owned equipment and its internal rates to maximize equipment ROI.
Do yourself a favor and buy a share of a public rental company, and then review its quarterly reports, in which the bulk of what is discussed is time and dollar utilization. I would also pay a visit to one of the rental companies you use to review how they manage their fleet and equipment ROI. If you wish to avoid this process, then rent as much as you can and only own what is used 75% of your busy season. 
Garry Bartecki is the managing member of GB Financial Services LLP and a consultant to the Associated Equipment Distributors. He can be reached at (708) 347-9109 or gbartecki@comcast.net.