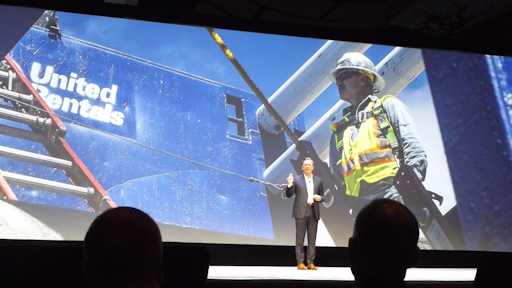 Equipment dealers have always been the go-to for fleet service needs, whether it's parts, repairs or solutions to help you better manage your fleet. But where you obtain these services may evolve as a key player in the rental space sets its sights on delivering a new service model to customers.
United Rentals has been progressively expanding its service offerings to become a "one-stop shop" for its rental customers. At its Total Control and Innovation Conference held in San Antonio last month, Paul McDonnell, executive vice president and chief commercial officer, indicated the company isn't done yet. It will continue to invest in products and services — whether in trench safety, industrial tools or site services — and expand its portfolio of equipment.
During his keynote presentation, McDonnell noted the construction and industrial market environments that are making it imperative for construction companies to adopt a more modern approach to work sites. "Managing complexity of the modern work site is a major challenge, with huge opportunity for improved performance," he stated.
To assist its customers in this process, United Rentals introduced enhancements to the user interface for its Total Control work site management solution, as well as a mobile app that will allow users to track equipment and rent on the go. In addition, it announced plans to expand its equipment servicing operations. It currently has 170 service locations in the U.S. and Canada, with plans to reach 280 locations and 480 technicians by the end of next year. The expansion will enable the company to broaden its reach in total fleet management.
"For some customers, right now, we're taking that next step into fleet management," said Norty Turner, senior vice president, services & advanced solutions. "On selected industrial sites, we're not only maintaining servicing — providing parts, repairing equipment — we're also managing the equipment for them. And as our Customer Equipment Solutions network grows and expands, we see the opportunity to [serve] commercial contractors who are operating equipment on multiple work sites, so that we can manage [those fleets], as well."
Other announcements at the conference included the addition of new self-service digital capabilities for the United Academy safety training and operator certification program, as well as the company's continuing exploration into advanced technologies and offerings such as wearables, autonomous vehicles and drone services.
So, is United Rentals setting the stage for a paradigm shift in the rental sector, with more key players soon to follow suit? There are others starting to venture into services beyond rental, but on a far more limited scale. Only time will tell where it leads, but in the meantime, you have another alternative to help you maintain the performance and maximize uptime of your equipment fleet.