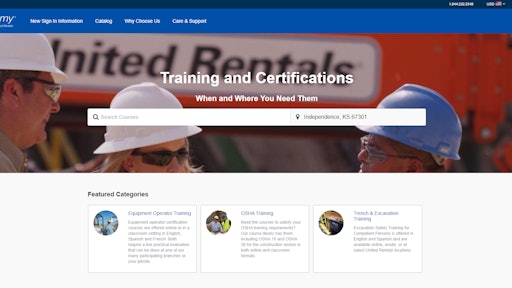 United Rentals, Inc. has unveiled the next generation of its United Academy safety training and operator certification program, at the 2019 Total Control & Innovation Conference taking place in San Antonio. As the industry's largest safety training provider, United Academy has new easy to use, self-service digital capabilities that provide managers and students a single unified experience whether purchasing training, taking courses, running reports or accessing training profiles.
United Academy enhancements include:
Updated Learning Management System. Designed for human resources and safety managers, the system allows users to create risk-based training plans by role of the learner and worksite requirements. With the system, companies can manage training certificates and certifications of their workforce in one place – whether United Rentals did the training or third parties. The system also creates customizable compliance reports.
Virtual Wallet Card. The wallet card provides a digital link for employers and employees to store worker certifications and training for easy on-the-worksite verification. Other United Academy mobile capabilities include full site functionality for managers with ability to purchase and assign training transactions on the go, and verify training compliance for project teams. Students can check expiring certifications, search the training catalog, review enrollments and consume eLearning courses.
Expanded Training Curriculum Addresses New Compliance Requirements. United Academy continuously adds courses designed to help companies meet new regulatory requirements, such as ANSI standards for aerial work platforms and confined space standards.
Adding in VR Training with Innovative Technology. United Academy offers Mobile Elevating Work Platform and Forklift simulators that integrate Virtual Reality (VR) and Augmented Reality (AR) for operator training and evaluation.
"Increasingly, customers are looking to United Rentals to help them address work site safety and compliance," said Norty Turner, senior vice president, services & advanced solutions, United Rentals. "This next generation of United Academy offerings advances our ability to provide a quality learning experience to companies, so they achieve better safety at their worksites. For students, it is learning on-the-go made easy. For managers, it transforms how they train people to develop a safer workforce, helping them better execute on their business for greater returns."
United Academy now provides single account and log-in access to all United Rentals offerings across all devices using the UROne online workplace and the ability to complete self-serving transactions with purchase orders.
About United Academy
As the industry's largest safety training program, United Academy has 420 online, in-person and blended training courses that accommodate a diversity of needs among learners, and more than 80 full-time certified trainers. Its robust course library includes operator certification, fall protection, worksite safety, OSHA required training, confined space entry, and competent person trenching and excavation.
In 2019, United Academy is on pace to train more than 92,000 customers in work site and operator safety. It delivers training where and how the instruction works best – online, face-to-face at a customer location or at one of United Academy's cutting-edge training centers. The Academy has mobile training centers – trailers complete with computers and simulators to bring the classroom to any location a customer wants it.