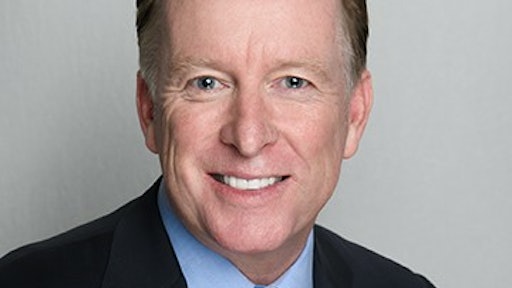 United Rentals, Inc. today kicked off the 20th Annual 2019 Total Control & Innovation Conference in San Antonio, which has drawn the event's largest-ever crowd with more than 900 executives and professionals from the construction and industrial sectors. The conference helps attendees advance their understanding of how digital tools and innovation in applying equipment, data, safety and expertise can help enhance work site performance.
In the keynote address, Paul McDonnell, executive vice president and chief commercial officer, United Rentals, discussed construction and industrial market environments which are making it imperative that companies take a more modern approach to their work sites. Projects are getting larger and more complex, equipment is often underutilized, labor markets are tighter, regulations more stringent, and there is a growing gap between productivity and opportunity. Companies find managing multiple equipment vendors makes projects overly complex, driving demand for a single source that understands their business and can respond immediately.
McDonnell advanced the United Rentals perspective that tackling these challenges takes the combination of digital tools and innovation, which leads to differentiation and competitive advantage. The United Rentals digital ecosystem -- with capabilities that include telematics, online self-service tools and benchmarking equipment utilization -- provides powerful solutions for helping companies put actionable data into the hands of more people driving business productivity and transforming how work gets done. United Rentals also has greatly expanded its vertical expertise, in areas such as how contractors build data centers and power companies refresh transmission and distribution systems, to quicken customer time to value at work site projects.
"Managing complexity of the modern work site is a major challenge, with huge opportunity for improved performance to be found for customers," said McDonnell. "United Rentals works to be the customer advocate for companies and to help them to excel on the modern work site. Our digital solutions and innovation help customers – in the field and in the back office – capture untapped opportunity and drive greater work site performance."
In a presentation following McDonnell, United Rentals executives, Chris Hummel, chief marketing officer, and Norty Turner, senior vice president, services & advanced solutions, outlined how construction and industrial companies can take a holistic approach that brings together equipment, data, safety and expertise to unlock more productivity and value.
Equipment

. From the United Rentals perspective, it's about "all" equipment – general construction, industrial, specialty, and – above all – availability of the right equipment, when and where you need it. The company said it has an equipment fleet with unmatched scale to provide the selection, availability, reliability and uptime companies need. The fleet not only meets general construction and industrial needs but also many other worksite needs, such as generators, pumps, tools and on-site services like portable toilets.

Data

. Data is the new currency of the work site, providing visibility into equipment and people.

Total Control

, United Rentals' flagship work site management solution, has a new user interface that improves user experience. The company introduced United Rentals Mobile App, which extends digital capabilities to additional workers on the work site through both Apple and Android mobile devices.

Safety

. Safety is core to both United Rentals and its customers – a shared DNA. The executives

unveiled the next generation of the United Academy safety training and operator certification program.
Expertise

. The executives discussed the growing portfolio of United Rentals services to help companies manage their entire fleet – rented and owned. The new United Rentals Customer Equipment Solutions addresses customer equipment maintenance challenges through services and advanced solutions.
"Increasingly, work site performance is the driver for companies to differentiate, innovate and win, so it is imperative to extend these solutions to more and more workers, especially in the field," said Hummel. "United Rentals is helping customers achieve better performance on their work sites through a comprehensive approach to equipment, data, safety and expertise."
Turner added, "United Rentals is on a mission to solve customer work site challenges through services and advanced solutions to help them achieve extraordinary results. We are dedicated to working with our customers to improve utilization of both owned and rented equipment, increase safety, and help customers ultimately boost their bottom line."