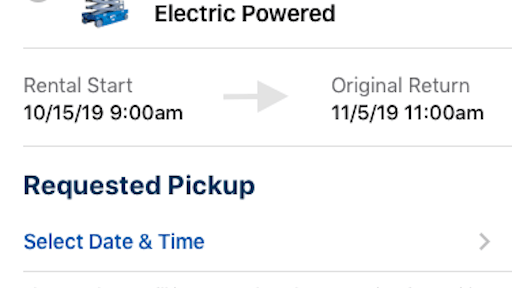 United Rentals, Inc. is introducing the United Rentals Mobile App, a productivity app that helps more customer users to take full advantage of the tools and information available to them. The app brings consumer-like mobile experiences to manage work sites more efficiently, saving money on underutilized equipment, tracking equipment in real time and providing access to actionable data. The announcement was made at the 2019 Total Control & Innovation Conference taking place in San Antonio.
With the app, users can stay informed while on the go and take quick actions to get work done. The app provides visibility into a company's equipment fleet across multiple projects and allows users to browse and order anytime from the United Rentals equipment inventory. Users can track orders and deliveries, monitor utilization, know the precise location of rental equipment at all times and off-rent and extend equipment rentals – all in a more efficient way.
Off-renting equipment provides a strong example of the ease of use of the United Rentals Mobile App. In a single click the app allows users to request a pickup 24/7, at a time convenient to them. Customers receive instant confirmation, which decreases risk of discrepancies in returning equipment. 
"The United Rentals Mobile App places the power of our digital tools directly with workers on the work site so decision making is closer to the work," said Chris Hummel, Chief Marketing Officer, United Rentals. "The app improves business efficiency by helping the field get a handle on what equipment they have, where it is located, how much they are paying for it, how often it is being used and when they need to return it.
"The United Rentals Mobile App provides another channel for customers to engage with us in this digital-first world," he continued. "Our digital tools allow them to access Total Control software, conduct business through UR.com and engage while on the go through a modern mobile experience, all while taking full advantage of the actionable information right in front of them."
The app connects with United Rentals Total Control, a cloud-based work site performance solution that provides a single system of record, delivering visibility to manage both rented and owned equipment, including excavators, trenchers, backhoe-loaders and other pieces of equipment.
The United Rentals Mobile App is offered to all customers at no charge and operates on Apple iOS and Android devices. United Rentals is initially releasing the app now to attendees of the 2019 Total Control & Innovation Conference. Broad availability in the Apple iOS store and Google Play store is planned for early 2020. The United Rentals Mobile App is replacing the UR Jobsite Mobile App, which is being retired.