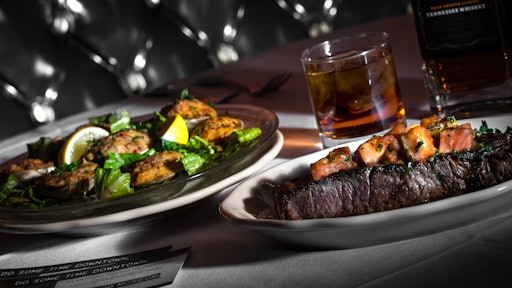 Golden Steer Steakhouse
The steakhouse is a staple for dinner out in Las Vegas, and the city has no shortage of delicious options. While it's tempting to visit them all, that's probably not possible. This article offers a sampling of Las Vegas steakhouse options to whet your appetite. Definitely check one (or more) of these out while you're in town.
Gordon Ramsay Steak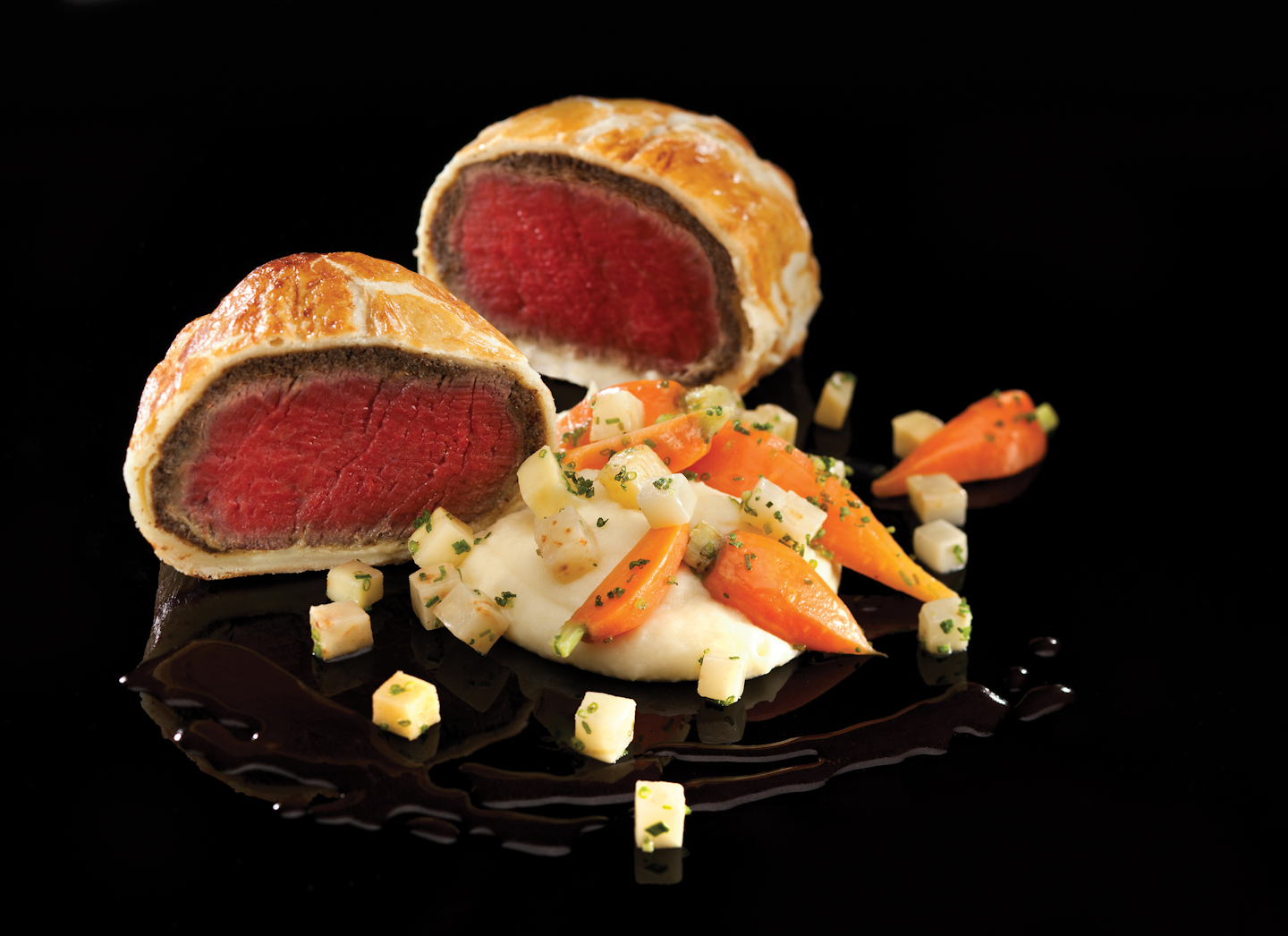 Gordon Ramsay Steak at Paris Las VegasLocated in the Paris Las Vegas, Gordon Ramsay Steak is a highly rated steakhouse that appears at the top of many searches for best steakhouses in Las Vegas. Internationally renowned chef Gordon Ramsay opened his Vegas steakhouse in 2012.
The roasted beef Wellington tops the list of dishes to try when you dine here. Other suggestions include a 32-ounce royal long-bone chop and the triple seared Japanese A5 Kobe. Or — if you want to venture outside of the beef options — try the iced shellfish platter or the mac and cheese.
Aside from dining, guests can get a glimpse into Chef Ramsay's beef aging program, a steak cart presentation for every table and a handcrafted cocktail.
THE Steak House
If you like to see your meat prepared for you, stop over to Circus Circus to get a table at THE Steak House, which has been serving Las Vegas guests for over 30 years. THE Steak House serves Midwestern beef, dry-aged for 21 days in a glass-enclosed room that guests can see from the main dining room. Adding to the excitment, the cooks prepare the prime cuts over an exhibition-style, open-hearth mesquite charcoal broiler.
The dinner menu has five steak options that include New York strip, filet mignon, porterhouse, prime rib and ribeye on the bone. There's also a selection of seafood and chicken options.
Each entrée comes with fresh baked breads, vegetable and choice of potato. Try the tri-color peppercorn sauce or cheddar cheese sauce for an extra bonus on your steak.
STK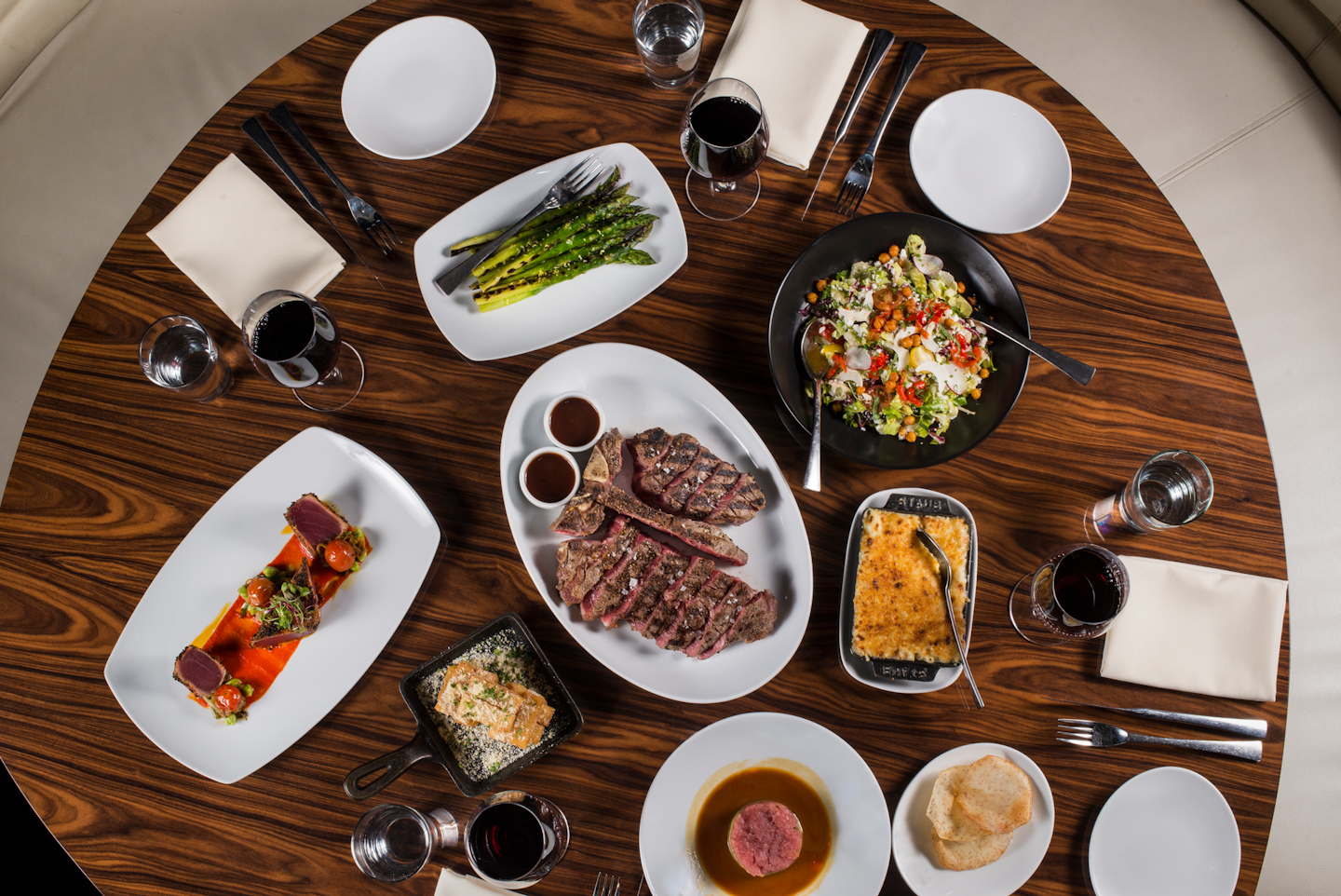 STKLocated in The Cosmopolitan, STK offers a more modern, sleek style steakhouse that even boasts a live DJ. Executive Chef Stephen Hopcraft has been featured on Bravo and Food Network. STK has also been named to OpenTable's 100 Best Steakhouses in America.
Don't just come for the vibe, though. The dinner menu boasts 11 steak options of USDA beef primarily from farms in Iowa and Nebraska. Steak options include filet, flat iron steak, sirloin, bone-in ribeye, porterhouse and more.
Top your steak with one of seven topping options like jalapeno onions, truffle butter or go all out with a King Crab topping. There are also eight sauces to choose from.
Tom Colicchio's Craftsteak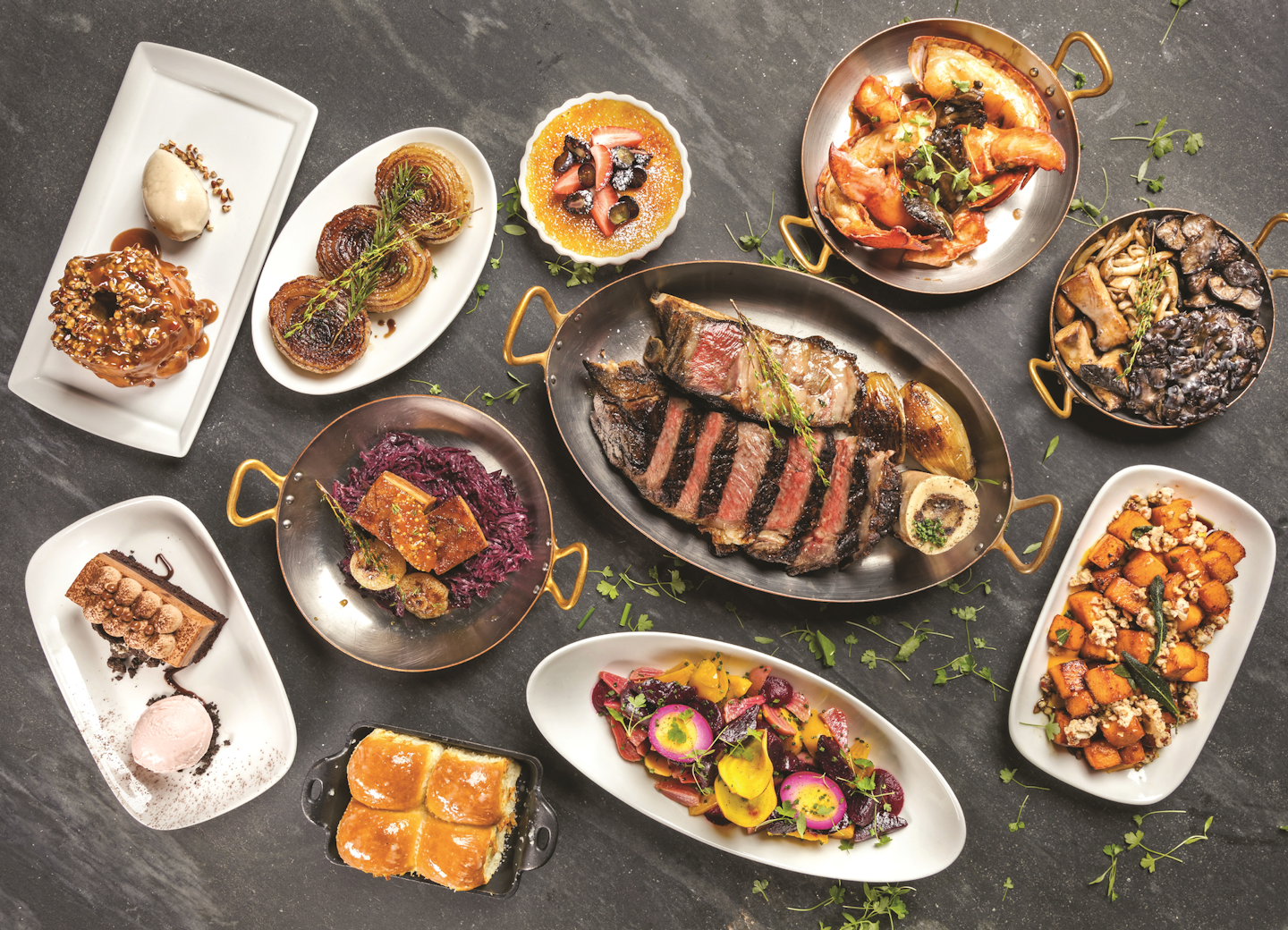 CraftsteakMGM Resorts InternationalIf you find yourself at the MGM Grand stop in at Craftsteak. The restaurant itself got a bit of a remodel at the end of 2019 for a fresh look. The menu features ingredients from small family farms, artisanal producers and day-boat fisherman.
The beef entrees include steak like ribeye and bone-in filet. There are also a few surf and turf options if you're looking for a bit more than steak. There is an extensive side dish menu to add to your meal as well as an award-winning wine, bourbon and scotch list.
CUT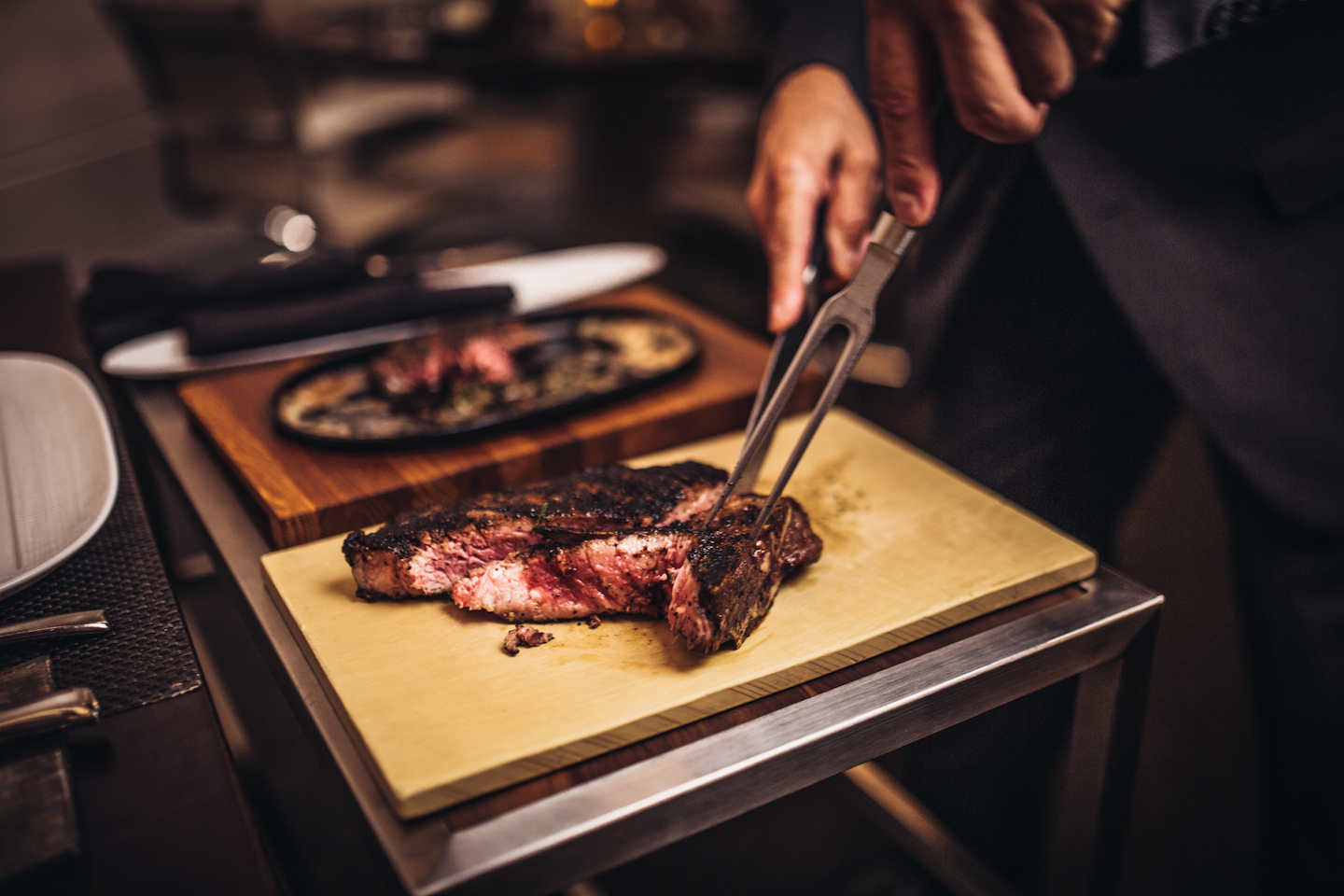 CUT Las VegasWolfgang Puck Fine Dining GroupLas Vegas has no shortage of restaurants by celebrity chefs, and CUT by Wolfgang Puck, located in The Palazzo, definitely makes the list of celebrity chef steakhouses to try. It is an AAA Four Diamond Award-winning restaurant that puts a contemporary twist on the classic steakhouse.
The restaurant menu offers a wide array of options for a broad appeal. Signature cuts of beef are offered along with seafood, pork chops and more. Try Japanese pure breed Wagyu beef or USDA prime aged New York sirloin, ribeye or porterhouse.
You can't order an entrée without trying one or more of the sauces, which include a house-made steak sauce, cognac grain mustard and more.
And if you're looking for the right wine to accompany your meal, CUT has a list of over 500 wines to choose from. Or, check out the bar inside the restaurant with custom cocktails and a roaming custom cocktail cart for tableside mixology.
STRIPSTEAK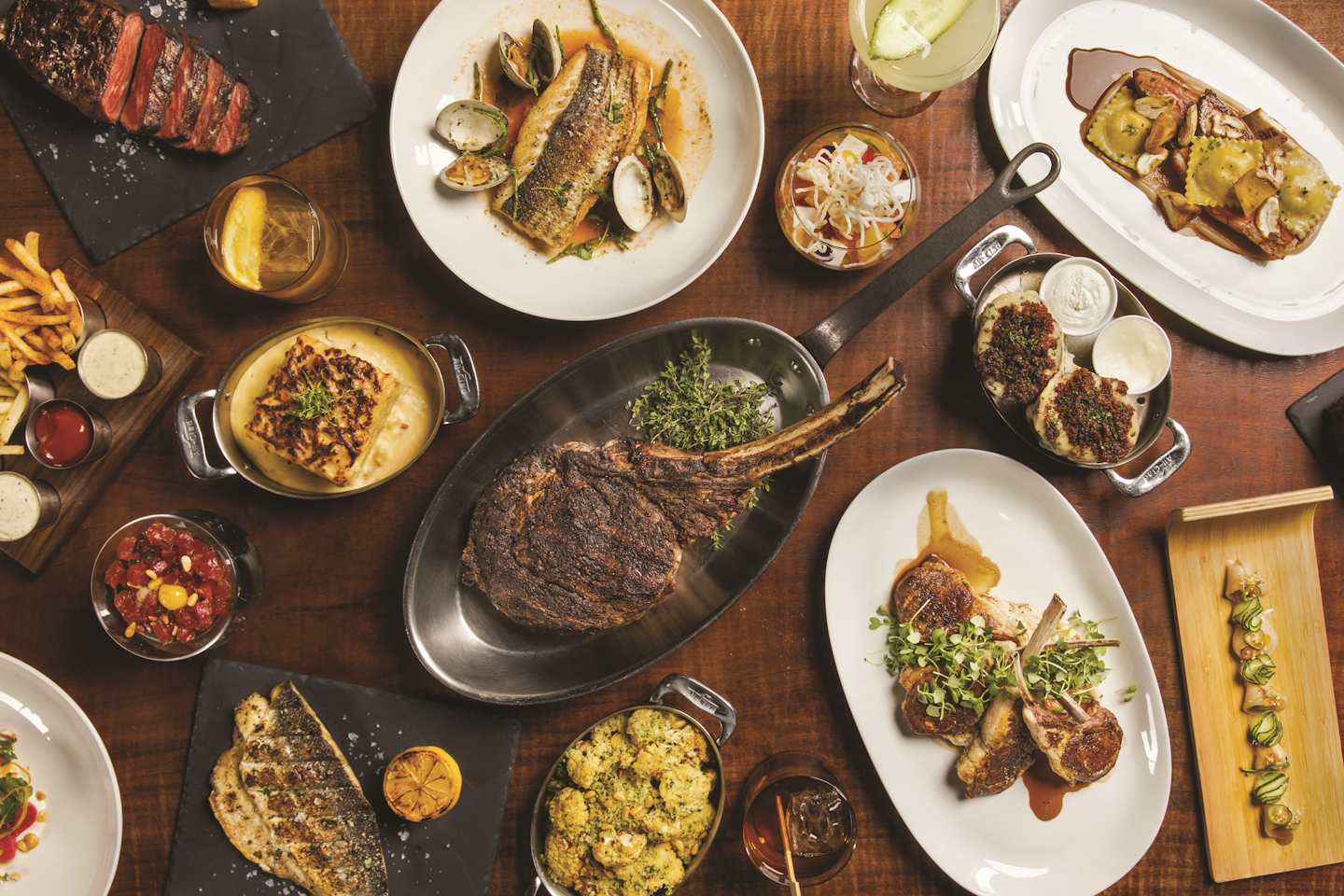 STRIPSTEAKMGM Resorts InternationalLocated in Mandalay Bay, STRIPSTEAK features a classic menu in a modern steakhouse atmosphere. The first steakhouse for Chef Michael Mina, STRIPSTEAK uses corn-fed, all-natural meat.
Choose from 10 beef entrée options including bone-in ribeye, New York strip, filet mignon, Japanese A5 Wagyu and Australian tomahawk, among others. Choose from 12 steak accompaniments like bleu cheese crumbles, black truffle butter or a trio of sauces.
Add a side dish, salad, appetizer or a trip to the Raw Bar to go along with your meal. Wash it down with a selection from an extensive drink menu including 100 single malt scotches.
Echo & Rig Butcher and Steakhouse
Looking for a bit of a different steakhouse dining experience than the typical Las Vegas option? Check out Echo & Rig on Rampart Boulevard, 15 minutes from the Las Vegas Strip.
As the name says, this steakhouse is also a butcher shop featuring a large open glass meat locker, vertical displays and a demonstration area. Select a cut of meat to take home and grill or cook up.
Or, you can sit down and order off the menu. The beef menu includes classics like ribeye, tenderloin and New York strip, or try one of the options off the Butcher's Cuts menu. Accompany it with soup, salad and sauce options including charred onion, lemon chimichurri and more.
Del Frisco's Double Eagle Steakhouse
Just down the road from the Las Vegas Convention Center is Del Frisco's Double Eagle Steak House. Featuring USDA Prime, aged corn-fed beef that is shipped fresh to the restaurant, Del Frisco's offers an ala carte menu that includes cut to order meats and family style side dishes.
Del Frisco's offers a variety of dining options including the dining room, outdoor seating, cigar patio, sports room and eight private dining rooms.
The wine list boasts over 1,200 wine options. With 17 steak options on the menu in addition to seafood and chicken, there is something for everyone to enjoy. Try a hand-cut filet mignon, ribeye or porterhouse or opt for one of the dry-aged or Wagyu steak entrees. If you have room after dinner, try an option off the large dessert menu like Butter Cake, Chocolate Mousse or Del's Delight.
Golden Steer Steakhouse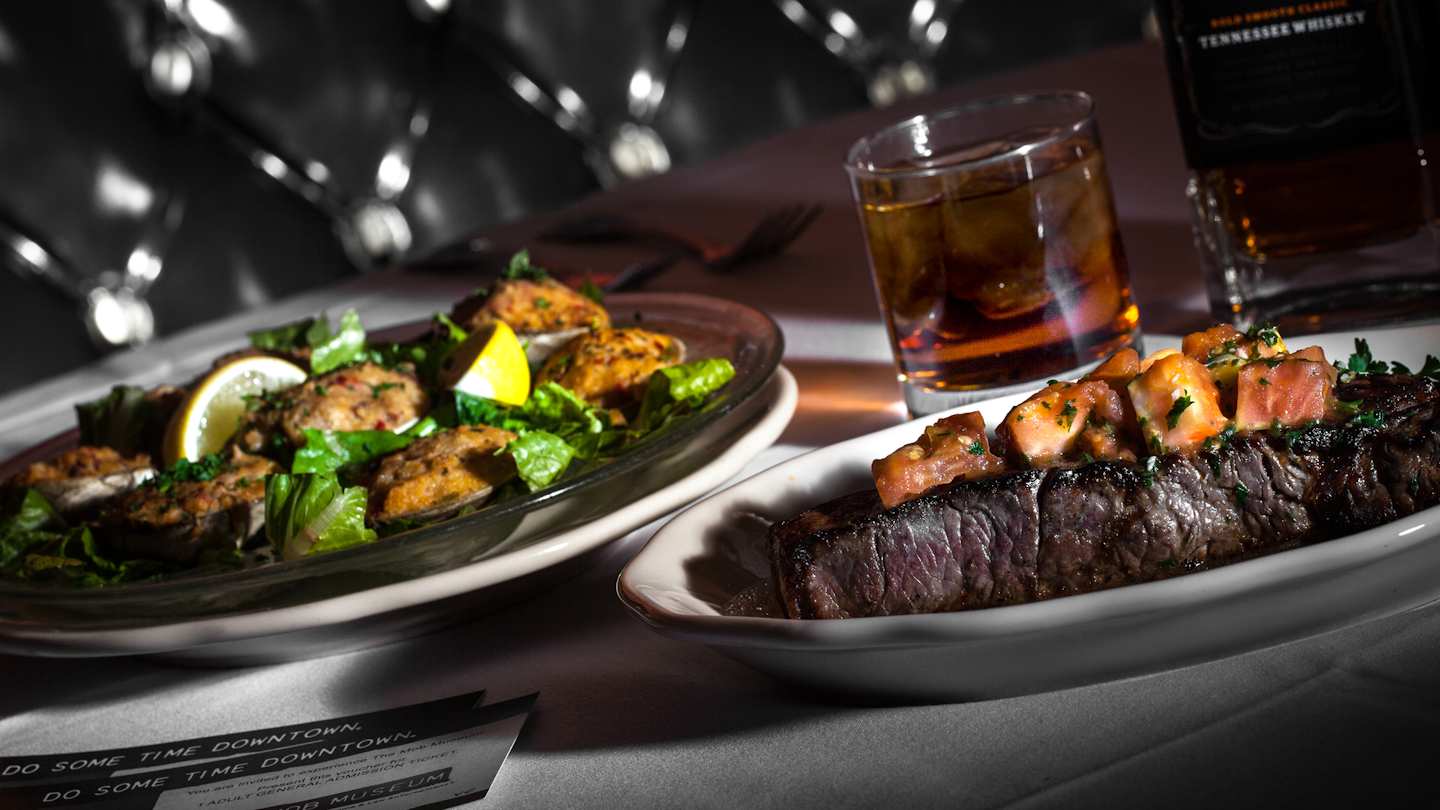 Golden Steer SteakhouseOpened in 1958 and claiming the title of Las Vegas' oldest steakhouse, Golden Steer Steakhouse on Sahara Avenue has hosted many a visitor including Elvis, Frank Sinatra and Muhammad Ali.
The steakhouse gives a nod to the classic steakhouse atmosphere and décor with old-Vegas charm. Enjoy dinner at this steakhouse and put in a request to sit at one of the many favorite booths of celebrity diners.
Golden Steer Steakhouse serves prime aged beef that is wet-aged for 35 days. Ala carte steak options include ribeye, filet mignon, shorthorn, longhorn, porterhouse and prime rib, among others.
Diners can also choose from appetizers, soup and salads, seafood, sides and the dessert menu.