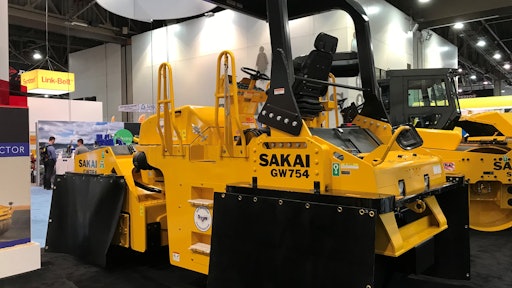 Sakai America Inc. took advantage of the 2020 ConExpo to introduce two new rollers to the market.
The GW754 vibratory pneumatic tire roller is a versatile roller that can be used on a variety of materials including hot mix asphalt and soil. The roller is a smaller size, weighing 22,440 lbs., and offers quiet operations. Its vibrating rubber tires massage materials dynamically and provide uniform compaction, and the GW754's versatility and high compactive efforts help cut operating cost on the jobsite.
Sakai also launched its SW9994ND oscillatory/vibratory tandem roller, featuring dual drum oscillation and vibration. Versatility is achieved by switching "on the fly" from vibration for high compaction efforts to oscillation for smooth finish of the pavement surface. Optimized dual drum oscillation achieves target density of thin lift pavement (1-1.5-in.) in fewer passes, increasing paving train speed. Oscillation also can achieve density on no-vibration jobs where structural integrity is a concern.