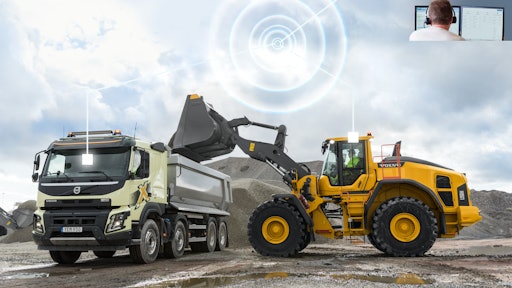 Volvo CE
Artificial intelligence (AI) and automation are taking the world by storm. More and more we are seeing everyday actions turned into digitally automated tasks. While the construction industry hasn't reached the point of autonomous machines quite yet, the industry is moving toward remote wheel loader machine control and dump truck machine control. Additionally, the industry is providing some wheel loader automation as well as dumping automation functions.
What Is Machine Control and Automation
Machine control is when a machine is programmed to make actions easier and more efficient by controlling or limiting a process whereas automation is the machine's ability to automatically complete an action without any human assistance or command.
Some trends in automation and machine control with dump trucks and wheel loaders include:
Mapping systems, connecting machines
Collision mitigation
Load weighing
Remote operation
Trends in Wheel Loader Automation and Machine Control
Here are four of the ways that manufacturing companies are incorporating automation and machine control into wheel loaders:
1. Remote controlled loading: This entails a loader having the ability to work from an office-like setting and still complete loading tasks on job sites. An example of this technology is Caterpillar's Line of Sight.
Market Professional at Cat Command technology, Alan Pumklin, said with this technology "I don't have to transport [loader operators] between sites, I can take my best loader and now that best loader operator can be available for multiple sites."
2. Engine speed: Joel Grimes, market professional compact wheel loaders and small wheel loaders at Caterpillar Inc. said, "if the operator is not doing any significant work, the machine will automatically go into a hibernate state at just 800 revolutions per minute."
3. Torque power: Fuel and tires tend to account for the most operating costs, so controlling the amount of torque that is sent to the tires helps prevent excessive fuel use and damage to tires by avoiding spinning the wheels.
4. Operator profiles: Having profiles allows operators to log in to the machine and have their specific preferences load up for them. For example, if a worker speaks Spanish, they would be able to log in to the equipment and have it change the language settings to Spanish.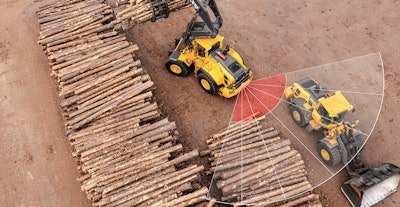 Benefits
Helps novice operators: New operators can begin understanding the machines when they are just getting started by having the machines automate things like the amount of torque going to tires. Figuring out the correct amount of torque to push, but not making the tires spin can be tough for novice operators.
Grimes mentioned that this type of feature "is helping the newer operators just get the most out of the machines."
Safety: Features like machine speed limit and collision avoidance advance the safety on a job site.
Safety increases by using "intelligent speed limits where that machine can… set a speed limit of say, 15, or 18 miles an hour instead of the traditional 24 max speed of that machine. And now the machine will pick the right gear ratio and keep the engine RPM down for a very efficient speed limit," Scott Schmidtgall, product application specialist, medium wheel loaders at Caterpillar Inc. explained.
Saves time: With applications like Volvo's Connected Load Out, workers are able to avoid wasting time by digitally accessing requested load orders and seeing when to prepare the orders. This allows them to better plan out their workday.
Eric Yeomans, product manager, wheel loaders and load assist at Volvo Construction Equipment, said this technology helps decrease "administration and miscommunication by digitizing orders and load tickets as well as improving visibility, enabling sites to become more productive."
Remote Control Work
Safety is a main concern when it comes to construction workers, so being able to remove some workers from the dangers of dealing with heavy equipment is extremely appealing. The advancements in dump truck machine control and wheel loader machine control can add efficiency and safety to the job site.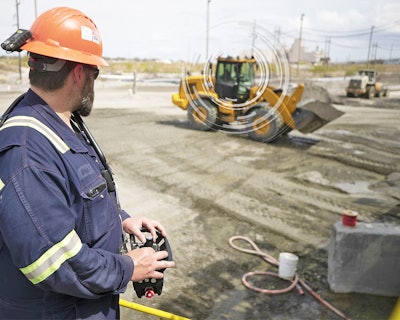 Some of the best workers might have some sort of restriction for one reason or another that prevents them from being able to work onsite and in heavy machinery. Some companies like Caterpillar, with its Cat Command technology, have started putting their best loaders into an office-like setting where they are able to control multiple vehicles from one space. This also improves the amount of work that strong loaders can complete for companies. The transport between sites is no longer needed and the worker can now easily switch between jobs.
Automation Is Hard to Achieve
Some areas of work around the world can achieve a high level of autonomous capability for their tasks, but construction is a relatively difficult field to even attempt automation.
A huge issue with trying to get construction equipment to a higher level of automation is that there is a lot of variability within the industry and the work that is done.
"Automation works best for processes that are repeatable," Yeomans disclosed.
If there are tasks that are repetitive and rather unvarying, automation can be implemented. Things like quarry work can be automated because of their repetitious nature. Wheel loader automation is especially nice in this sort of scenario because it has the capability to dig the same amount and pour at the correct levels.
Similarly, auto dig, a wheel loader automation, is particularly useful for quarry work and can make the monotonous and tedious job of digging and pouring more simplistic.
Matthew Moen, rental product manager at Komatsu said that the idea behind auto dig "is essentially you've turned that system on, all you do is drive into the pile and hold your foot down on the gas and the machine will actually sense that you're trying to load that bucket, it will automate that loading cycle of the bucket to try to get the optimal fill factors to try and get a full bucket load."
Solving Issues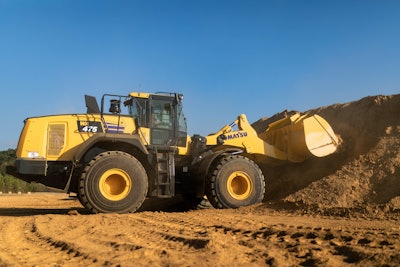 With these types of technological advancements in wheel loaders and dump trucks, there are quite a few problems that the construction industry is facing that can be remedied. Here are a few:
Labor shortage: One of the big issues that the industry is dealing with is the labor shortage. Not as many people are interested in this line of work and contractors are struggling to find people willing to work heavy equipment like dump trucks and wheel loaders. The use of automation and machine control makes reaching more people possible.
Having remote control options widens the worker pool by making typically restrictive jobs available to more people. Now, the field can offer jobs to people with disabilities, wounded veterans, etc. On top of that, the age-out range can be increased because of the decrease in danger and wear and tear on the body.
"Putting them in an office environment might extend their working career," said Pumklin.
These assistance technologies can also aid inexperienced workers and act as a training guide for them to learn how to properly use the machines. This opens the pool of potential operators even more.
Overloading and underloading: When operating a wheel loader, it is important not to underload the dump truck so that there is no time wasted on extra passes. But it is especially important not to overload the dump truck.
"You choose the bucket, depending on the material that you're loading," said Moen.
"What that helps you do is between the configuration of the machine, and the load meter that we have integrated as a standard in all of our machines, they help you make sure that you're hitting a 12 and a half ton per pass… and that you're hitting that mark with as close of accuracy as we can so that… whoever's leaving is getting exactly what they expected," Moen continued.
Avoiding mistakes: With machine control and automation, machines can learn to initiate when an anticipated action hasn't been completed by the operator.
"[T]he machine recognizes that the operator didn't do it and the machine will give that slight lift command to keep that machine very efficient," Schmidtgall remarked.
Contractors Should Obtain This Technology
Dump truck automation and wheel loader automation are ideal technologies for contractors and the construction industry in general. When automation isn't an option, dump truck machine control and wheel loader machine control are just as helpful for construction workers. Not only can these types of assistance technology make construction jobs easier, but they can also make monotonous jobs like quarry work quicker and more manageable.
With the labor shortage being so prevalent in the construction industry, having simpler training routes such as having equipment with automated or machine-controlled capabilities broadens the possibilities of who can work in a construction career. Construction contractors will appreciate the availability of assisting technology in dump trucks, wheel loaders, and more.
Companies in this article