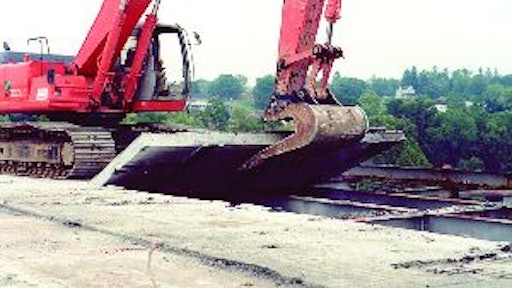 Excavator and wheel loader buckets can be useful tools for clearing demolition debris, but they can also be costly if the bucket isn't up to the task. The first step is to choose the most appropriate bucket style.
In the demolition industry, the more rugged the better with any attachment. "Severe-duty is the correct spec to apply to attachments," says Dale DeWeese, national sales manager, Werk-Brau. You should also maximize the amount of protection available. "Wear straps and wear plates are always recommended."
Tracy Black, Kenco Corp., agrees, noting, "If a contractor is demolishing concrete, brick, stone or other abrasive materials, then a severe-duty attachment should be used. These are typically constructed of AR-400 or T-1 steel.
"The AR-400 provides great abrasion-resistant qualities, while the T-1 has a high tensile strength, which flexes to deter cracking under stress," Black explains. These steels or equivalent should be used in high wear areas, such as cutting edges, cheek plates, wear straps, etc. However, manufacturing practices, and durability, can vary. "Some buckets may have additional or thicker plating, which extends their service life."
Dealing with stress
Doug Pierce, marketing manager, ESCO Corp., recommends considering both structural strength and abrasion resistance when selecting a bucket for demolition applications. But keep in mind that buckets have limitations in this type of work.
"Excavator buckets are not specifically designed to pull [walls or embedded concrete]," he states. "However, some of the stress loads experienced during the pulling are similar to those experienced when digging and the buckets will work fine."
Because the highest stress loads are experienced at the four corners of the front ring of the bucket, the wider a bucket is, the higher the stress levels in those corners, Pierce notes. Thus, extra reinforcement in these areas is beneficial in a demolition application.
"For instance, ESCO XDP plate lip buckets utilize gussets in the four corners of the front ring to provide additional rigidity and transfer that stress energy around those corners," says Pierce. "Cast lip buckets also include cast beams, and both the lip and casting extend around the four corners of the bucket with a radius that transfers the stress energy around the corners and provides additional stiffness for the bucket."
Other areas are also subject to high stress loads. "The critical stress area is the top channel portion where the hangers attach to the bucket," says DeWeese. "Werk-Brau uses a proprietary manufacturing process to CNC form this portion of the bucket."
Buckets vs. dedicated attachments
As frequency of demolition use increases, there may come a point where you need to look beyond even a severe-service bucket.
"We typically recommend if a contractor is using an attachment for a specific application more than 25% of his total time, he needs to look at a dedicated application attachment," says DeWeese. "This will increase productivity, decrease downtime and pay for itself over time."
Black cites Kenco's Slab Crab as a prime example. "This bucket's special design allows for easy removal of concrete slabs from a bridge or road job. Simply slide the Slab Crab under the slab, pry it loose, tilt back and remove. Contractors have reported that they are 30% to 50% more efficient in slab removal jobs. In most cases, specialty attachments do cost more, but the upside is contractors tend to get their return many times over."
Yet, a dedicated application attachment isn't suited for every situation. "Grapples are a great choice for large debris on a demolition job. They are very efficient and allow the operator to pick items that otherwise may not fit in a bucket well," says Black.
Bucket and thumb combinations, on the other hand, can be more productive in certain applications, says Pierce, such as when the materials are more friable, meaning the debris to be removed is smaller.
"Most excavators will also be used to dig, so having a thumb on the machine allows the operator more flexibility," Black adds. "Thumbs are less expensive than grapples, and unless the machine is used solely for demolition work, the thumb option is usually the best."
"Utilizing a bucket and thumb combination for demolition provides the user with much more versatility," Pierce agrees. "Besides demolition, these tools can be used in excavation applications without changeout, making the justification to purchase much easier. If a contractor has a long-term project/task for a given excavator, then a dedicated attachment should be considered, but this gives up excavator versatility."
Wheel loader buckets
Most wheel loaders are typically sold with a general-purpose bucket, which is not well suited to demolition applications. "A general-purpose bucket will wear prematurely and cost the contractor in the long run," says Black. "Usually in these situations, the operator must move slower and more cautiously to avoid damaging the bucket."
Black advises switching to a bucket equipped to handle the rigors of demolition applications. "If equipped with the appropriate attachment for the job, the operator can move quicker with confidence. This allows the contractor to get the best production possible."
Demolition buckets are built to handle the additional demands placed on them. Consider the Werk-Brau demolition bucket. "The size of all high wear areas are increased by over 35%," notes DeWeese.
Certain areas of buckets are more prone to failure in demolition applications. "The most common issue areas are where the hangers mount to the bucket and the cutting edge," says DeWeese. "We increase material thickness in the hangers by 35% and mandate an aux bolt on the edge of all demo loader buckets."
There is a trade off - with this extra reinforcement comes additional weight. "Capacity needs to be reduced to accommodate for the increased weight and maintain the maximum machine performance," says DeWeese. But the added life and potentially quicker cycle times typically offset any capacity loss.
Beyond durability, there are other variables to consider when choosing the correct demolition bucket for your loader. "Consider the space restrictions, yardage needs, spade edge, straight edge, teeth, shell liner, segments, grapple, etc.," suggests Black. "Buckets can be designed for any special application."
Companies in this article