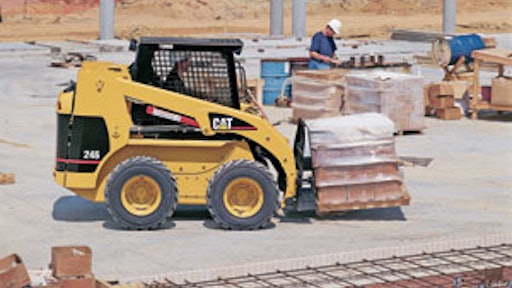 With the right attachments, skid steers, compact track loaders and other machines in your fleet can be adapted for expansion into the landscaping business. This can include branching out into restoration and rehabilitation work, or offering a complimentary addition to existing earthmoving services.
Landscaping attachments come in a variety of types, ranging from basic attachments such as forks, six-way dozer blades and buckets to specialty tools such as rakes, augers, backhoes and soil preparators. Following are examples of how several contractors have taken advantage of such tools to build their business and expand the ROI of their existing equipment fleet.
Landscaping adds revenue
Ratliff Landscape & Excavation, Flippin, AR, made the leap into landscaping a couple of years ago. The company is 10 years old and its owner, Jody Ratliff, has 31 years of experience in the excavation business. The equipment fleet consists of a dozer, backhoe, 1-ton pickup and two skid-steer loaders — a late-1990s model JCB and a new Case 410.
The firm's main focus has been earthmoving. "We have tried to specialize in watershed problems," says Ratliff. "We are a small business."
The decision to expand into landscaping was not easy. "We kind of fought against the idea of going into landscaping, mainly because it seemed tedious and I wasn't sure that the money was there," recalls Ratliff.
There was also concern about the equipment that would be needed. "I felt like we were going to have to change the equipment around quite a bit," says Ratliff.
The turning point came when a customer asked Ratliff Landscaping & Excavation if it could design a pond/waterfall feature. "We designed it and he hired us," says Ratliff. "We built it and it turned out great. We had such a great response from it that we decided to branch out."
The company started out with water features, then expanded into different hardscape-type projects. "We do a lot of retaining wall systems," says Ratliff. The company also lays sod, but it doesn't do much with softscape.
This past summer, landscaping represented 50% of the company's business, and is contributing to overall growth. "We found that we have done as much work in the first seven months of this year by doing landscape work as in our biggest year previously," says Ratliff. "It was a dramatic increase toward our income and, of course, cash flow overall."
The concern over not having the right equipment for landscaping jobs proved unfounded. "Over the years, we have found a way to adapt what we have to what we need," says Ratliff.
The skid steers, in particular, have proven an efficient multi-task tool. "I don't know how we would do without them," says Ratliff.
Buckets and pallet forks for the skid steers are kept in the fleet. All other attachments are rented as needed. "The local Case dealer, Potter Equipment, carries some of the attachments — for example, preparators for lawns," says Ratliff.
Rental allows Ratliff Landscaping & Excavation the flexibility to handle a wide variety of projects, from larger earthmoving to finish work. "We have taken advantage of the rental industry and we have started leasing or renting machines just for specific jobs, especially if we take on large jobs," says Ratliff. "It keeps us from having such a big overhead."
Much of the larger equipment is rented from Jackson Rentals in north Arkansas. Smaller hand tools have recently become available for rent at the local Home Depot.
Ratliff Landscaping & Excavation has also found that landscaping is easier on equipment than general excavation. "Even though it is a little more labor intensive, there is a lot less wear and tear on the machines," says Ratliff. "The machines sit to the side quite a bit."
Maximizing fleet efficiency
Horizon Contracting, Round Hill, VA, is primarily focused on erosion control. Started in 1997, it constructs right-of-ways, public areas, swales, berms and underground drains for building contractors.
The company's 100-employee workforce is split into 25 or 26 work crews. Some of the crews are for general labor and some are set up for new construction. "The crews cross over quite a bit," says Jerry Fletcher. The tasks performed by the crews determines which equipment they take with them.
Horizon Contracting's 19 Bobcat 773 turbo and 185 skid-steer loaders and T190 compact track loaders are the true workhorses of the fleet since they allow access to tight areas. "They are easily hauled with a 1-ton truck and a 10,000-lb. trailer, with some implements on the trailer, as well," says Fletcher. "So I have been able to use a trailer that can carry a machine and attachment without going to a CDL driver."
Trailers are purchased from the local Bobcat dealer. "We will modify them ourselves, welding different things on them for holding buckets or different attachments," says Fletcher. They are all set up the same so that one trailer can be used for all equipment.
Several attachments are used to complete landscaping tasks, including Glenmac Harley Power Box Rakes pulled behind Kubota tractors. The tractors are also fitted with mounting plates so they can run skid-steer attachments.
The sweeper attachments get the most use with the skid steers. "We do a lot of sweeping with the brooms on the jobsites," says Fletcher. A RockHound landscape rake, auger, forks, tooth buckets, flat buckets and hammer are other attachments dedicated to the skid-steer and track loaders.
The forks see quite a bit of use. "All of the loaders have vertical lift arms because we have our own trucks to haul our own palletized materials," says Fletcher. "They are able to pick the palletized material off of the trucks better."
According to Fletcher, his operators prefer the track loaders to the skid steers. "My guys seem to use them more than the rubber-tired machines," says Fletcher. "We don't run the tracks on the asphalt; we try to keep those in the dirt. But all of the attachments are used on the track loaders. They are a smoother ride and they are faster."
Fletcher also feels a track loader has an advantage when using the forks to unload palletized materials. "When lifting, it is not bouncing around when you take something off of the trucks," he points out.
Using the same brands of machines and attachments allows Horizon Contracting to stock fewer parts and ensures interchangeability. "As a fleet owner, we try to keep with all of the same machines," says Fletcher. "I have all of the same oil filters and all of the same belts. All of your parts are the same so you are not stocking so many different ones. That has been a tremendous savings."
Developing a market niche
Fifteen years ago, Watertown, WI-based Midland Contracting started to fill a niche in the local market for silt fence installation. It steadily grew to 20 employees in the field performing commercial landscaping for highway and subdivision projects, silt fence installation and erosion control.
Instead of targeting the cut-throat residential business, Midland Contracting works directly with general contractors. "We don't do any residential work at all," says Cory Voigt, general manager/co-owner. "We tend toward grading and sewer contractors."
Midland's fleet consists of two Bobcat T190 and three Bobcat T200 compact track loaders and one New Holland LS190 skid-steer loader. In addition, it has five New Holland four-wheel-drive compact tractors (two 80 hp, two 70 hp and one 55 hp), which are used for installing erosion mats, raking and seeding. Attachments include a Glenmac Harley Rake, a York rake and a mulcher.
The primary function of the track loaders is grading and spreading topsoil, as well as silt fence installation. "We have trenchers that we hook up to the loaders that we use for installing silt fence," says Voigt.
Other attachments include a rock bucket, a tree shear and grapple, forks and six-way dozer blades. "We mostly switch between buckets and blades," says Voigt.
The track loaders have been a real benefit for Midland by reducing flats and increasing the productivity of the attachments, such as the Bobcat six-way blades. Voigt cites increased stability, flotation and traction as major advantages. "You can do a whole lot more when it is wet with the tracks vs. the tires," he states. "We had skid steers with [over-the-tire] tracks on them, but the bolts were always breaking or they stretched and the tires still went flat."
This created a lot of downtime. "You had to take the steel track off, take the tire off, get the tire fixed or replaced and put the steel tracks back on," recalls Voigt. The dedicated tracks have changed all of that. "We have no flats."
Matching the carrier and attachments
Acres Enterprises is a large commercial landscape and snow removal contractor with 600 employees in Waconda, IL. With a fleet of approximately 200 Case, Caterpillar and New Holland skid-steer loaders, this company has vast experience with attachments.
About half of the skid steers are used in the summer for landscape services. "We have a basic setup for each construction crew," explains Mark Teegen. This includes a 1/2-yd. bucket with a tooth bar, a set of forks and a Loegering Eliminator rake. "That is the standard setup for a crew. We know if we are going to buy a skid loader for construction that we need to buy these implements with it."
There are other skid-steer attachments in the fleet, as well. "We have some specialty stuff that we use on an as-needed basis," says Teegen. This includes a Glenmac Harley Rake, a Paladin Bradco trencher attachment and Bradco post-hole augers. Items that don't get enough utilization to justify ownership, such as hydraulic hammers and high-flow skid-steer loaders, are rented.
Acres Enterprises also has about a half-dozen compact tractors, which are typically seen in landscaping applications, but crews actually prefer skid-steer loaders. "The skid loaders are faster, more maneuverable and stronger," says Teegen. "For the money, you get a lot more machine."
To get better use out of the compact tractors, they have been outfitted with universal mounting plates to utilize skid-steer attachments. "It is not as strong or as fast," Teegen admits, "but in some applications — especially field mowing — a compact works better than a skid loader."
Worth a look
As you can see, certain segments of the landscape market provide opportunities that are worth closer examination. You may discover you already own most of the tools necessary to tackle the restoration and rehabilitation or landscaping required on your construction projects.