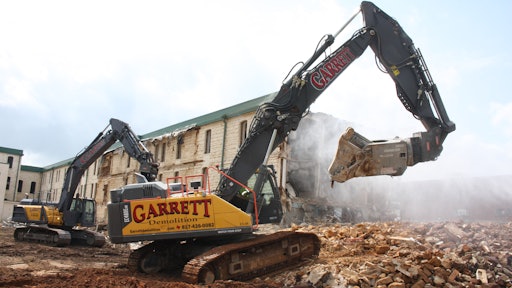 National Demolition Association
Information from this article was first published in Demolition Magazine and is being reused with permission from the National Demolition Association.
By Larry Trojak

Roman poet and philosopher Lucretius said: "The old must always make way for the new, and one thing must be built out of the ruins of another." That maxim is currently being proven out with the demolition of a 126-year-old hospital complex in Rusk, TX. Initially built as a state penitentiary, it was later converted to a mental health facility and spent most of its history in that capacity. Viewed as long past the point of renovation, the structure is being razed to make way for a new $200 million, 623-acre mental health campus in this east-central Texas community.
To help bring that about, Burleson, Texas-based Garrett Demolition Inc. is using a pair of the newest hydraulic attachments available today and expecting to beat projected demo times by more than 20%.
Growing the Business
Started in 2005, National Demolition Association (NDA) member Garrett Demolition Inc. (GDI) boasts a broad range of demolition strengths but specializes in heavy structural projects. According to company owner and president, Brad Garrett, despite some very humble beginnings, GDI currently employs between 35 and 40 personnel and serves a fairly large geographic area that includes all of Texas, as well as Louisiana, Arkansas, Kansas and Oklahoma.
"Ever since I was old enough to do so, I worked with my father whose company did residential housing and commercial building development," he says. "However, my grandfather was in the wrecking business, and I spent many summers with him, which gave me a taste for the demolition business. In addition, my mom's parents had a company that worked for the Army Corps of Engineers constructing lake dams, building bridges and so on, so I feel I've gotten a good taste of both sides of the business: the building up and the tearing down."
When Garrett formed GDI, it was just him, his wife, a skid steer loader and a pickup truck. He said they operated like that for a while until work started picking up, at which point they purchased an excavator with a grapple, a dozer and eventually started adding demolition attachments. That was in 2007, and they've been growing ever since, an upward trajectory that also includes the establishment of an environmental division: Garrett Environmental Services, which Garrett said was born out of sheer frustration.
"I simply got tired of subbing out that portion of our projects. I felt that not only could we offer turnkey services, but pass down a more competitive cost to our clientele while doing so," he says. "The bulk of our environmental work is asbestos abatement, but we also do removal of lead, storage tanks — both above ground and underground — water tanks, soil remediation; we can handle almost any environmental concern. Ironically, however, we chose to sub out the abatement part of the Rusk Hospital project due to GES's current workload.
Razing in Thirds
Abatement work at Rusk State Hospital started in early February 2020 and took about six weeks, followed by another three days to gut-out the trash, wood and other soft material. Actual demolition started in mid-March with the leveling of the three-story north side of the brick and reinforced concrete structure.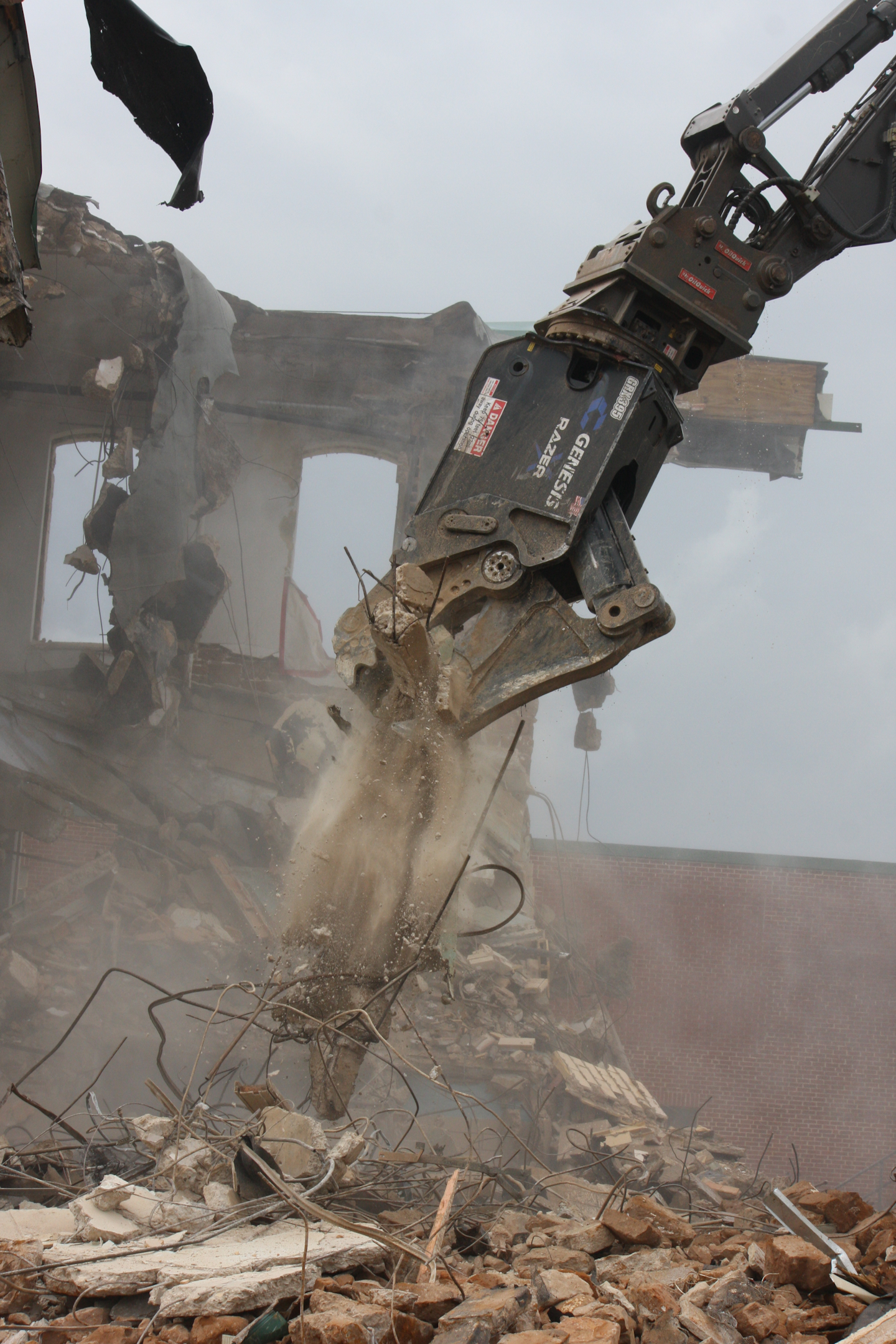 National Demolition Association"We are tackling the hospital in three phases: the north side; the central admin building, which is actually four stories and a basement; and the south side," Garrett says. "What the structure lacks in high-psi concrete it more than makes up for in sheer size — some of the walls are 3-feet thick with a decent amount of #5 rebar. It was a stout building in its time."
The tools Garrett selected for the Rusk Hospital project include a pair of hydraulic attachments from Genesis Attachments, the GDT 290 Razer Demolition Tool mounted on a John Deere 380G and the GRX 395 Razer-X Multi-Jaw Demolition Tool on a Volvo EC480E. The latter, Genesis' newest addition to its demo tool lineup, had just recently proven itself for them, Garrett says.
"Just prior to starting the Rusk job, we used the GRX, mounted third-member on a project to bring down a pair of all-steel airplane hangars, and it was impressive," he says. "It brought a lot of power to bear and cut everything it came in contact with. We cut the roof off, then sheared all the supports to bring the structure down and processed the steel on the ground — all in six days. It's been a really nice addition to our inventory."
The New Normal
Garrett is no stranger to the use of demo attachments, saying they have been a big part of his business's success since its inception. Over the course of the past decade and a half, he has used a host of hydraulic and mechanical tools and is continually amazed with what attachment manufacturers are coming up with for solutions.
"The GRX is a great example of that," he says. "On this job, we have been switching back and forth between its two jaw sets. Not that long ago, that would have meant needing two separate attachments — and a much larger investment. Now, we simply use the cracker jaws to process the concrete columns and walls to bring the structure down and free up the rebar, then switch to the shear jaws to downsize any larger pieces of bar for shipment."
The GRX body features hydraulically actuated pins that connect to the cylinder and jaw set. The pins are controlled from the cab, enabling an operator to change jaws without assistance, making change-outs safer and faster.
Fluid Process
To the larger point of the benefits attachments provide, Garrett says that not only would doing a project like this take considerably longer, the wear and tear on the base machine would be far more substantial, given the repeated striking, twisting and pulling needed to get the same results. "So, there is a payback, not just in shortening the project time, but also in extending the excavator life — and that can be huge."
For on-site dust suppression, Garrett's crew is using a HAWC/Dust Destroyer. Because it is also controlled from within the cab, his operator is able to direct the misting stream, thereby minimizing dust and airborne particulates as the structures come down.
"With the material down and sorted, a final change-over to a 2 cubic yard Rockland bucket begins the load out before we move on to the next section of the structure. It's all a very fluid process," he says.
Support Still Key
Despite the huge leaps forward taken by attachment manufacturers — or perhaps, because of those advances — support is key to Garrett Demolition as its business grows. To that end, Garrett said he has enjoyed a lengthy, solid, successful relationship with both Genesis and ROMCO Equipment, his Genesis/Volvo dealer.
National Demolition Association

"I can't say enough about Matt Hughes, Genesis' regional manager, and Austin Fitch, ROMCO's sales manager for this area," he says. "They have both been there whenever I've needed any sort of help with the attachments or the machines they are mounted on. To me, support can make the difference between a good company and a great one, and these guys have never let me down."
For the middle phase of the project — the administration building — in addition to bringing down the structure itself, both the GRX and the GDT will also be focused on removing all the concrete from the basement and removing the structure's footers. The volumes Garrett will be handling at the Rusk site are impressive. He estimates they will be recovering about 42,000 tons of concrete, while recycling around 550 tons of steel and mixed metals. This concerted effort to recover as much as possible has minimized the volumes of material going to the landfill, and Garrett estimates that, by job's end, less than 50 tons of trash will have been disposed of at the landfill. 
"A lot of that has to do with our ability to efficiently get material down, downsize any oversized material, sort it out and recover everything possible," he says. "We have been hampered by some rainy weather in this area so far. However, even with that challenge, I am thinking we will chop a week off a six-week project. Bringing the right tools to a job can make all the difference, and that's definitely been the case here."
Larry Trojak is the owner and president of Trojak Communications, a Minnesota-based content marketing specialist. He has written extensively for the demolition, construction, survey, wastewater treatment and recycling markets.