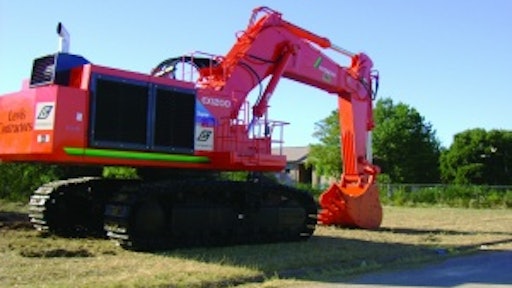 Lewis Contractors was awarded the bid for the $16 million San Gabriel Interceptor project near Georgetown, TX (about 26 miles north of Austin). It consisted of installing 17,591 ft. of 36-in. and 4,885 ft. of 30-in. gravity sewer line, plus all of the finish manholes, easements and landscaping.
The project called for excavating 4 1/2 miles of trench 40 ft. deep with up to 20-ft.-thick layers of hard blue limestone rock. Called "Texas Blue Shale", the rock is typically excavated with massive trenchers and by blasting. Unfortunately, the cost of both blasting and trenchers (with maintenance and teeth) is very high.
Ronnie Lewis, president of Lewis Contractors, chose to do the project a different way. He decided to use two massive Hitachi EX1200 excavators equipped with Leading Edge Hi-Cap Multi-Ripper Buckets. These powerful rock ripping buckets have staggered teeth that hit one at a time, focusing the entire excavator breakout force on single points sequentially as the bucket is rolled and filled with ripped rock.
Lewis had been using some of the Hi-Cap Multi-Ripper Buckets on his Caterpillar 385 and Komatsu PC400 excavators as his "secret weapons" for a few years, and decided to try them on the EX1200s for this job. One of the 72-in.-wide buckets is about 18,000 lbs., constructed of 3-in.-thick Swedish alloy HARDOX steel and uses MTG KingMet brand 200-size Double Vector teeth.
The buckets and excavators allowed the Lewis Contractors team to rip and load the hard rock without the use of a trencher or blasting, thus saving a lot of expense. Lewis Contractors ended up finishing the project "with everything landscaped and money in the bank." The company has since purchased another narrower Hi-Cap Multi-Ripper Bucket in preparation for another project.