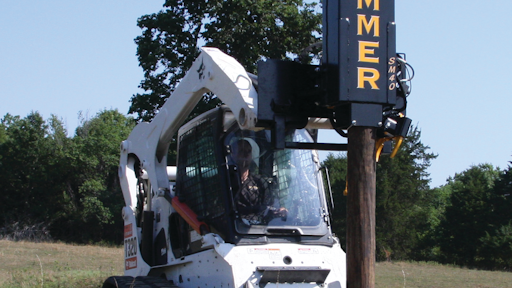 Danuser Machine Company recently caught the attention of the Science Channel, which will feature the company's latest product on the show "How It's Made" on April 24, 2014, at 9 PM EST.
"There's been a lot of excitement around our new attachment, the Hammer, a hydraulic post driver," says Glenn Danuser. "We are incredibly proud that it was chosen to be featured on Science Channel's 'How It's Made'."
"How It's Made" visits dozens of assembly lines each year to highlight how raw materials become finished products. In each episode, viewers see how many common items are manufactured in high-tech factories around the world. The April 24th episode will focus on the production process for Danuser's Hammer, which utilizes a 40-in. drop hammer design to drive objects ranging from T-posts to railroad ties with ease.
In addition to its television debut, Danuser announced it is nearing completion of an expansion project at its production facility. The company has experienced substantial growth in the last three years, and credits its market diversification and new products in expediting the rebound from the last recession.
Danuser was established in 1910 and still resides at its original location in Fulton, MO. "We have strong roots in the Fulton community, and are very excited about completing our plant expansion," report Glenn and Janea Danuser, fourth-generation sibling owners. "We have worked in partnership with Bruce Hackmann (FADC), several City employees and the Fulton City Council, and we are thankful for the continued community support."
Danuser chose Septagon Construction Co., Inc. as the contractor for the project. Excavation started in July 2013 and the building construction should be complete by May 2014. The steel frame and metal Butler Industrial building will add over 32,000 sq. ft. of manufacturing space, bringing the total footprint to nearly 110,000 sq. ft. Management reports this is phase one of planned future expansions.