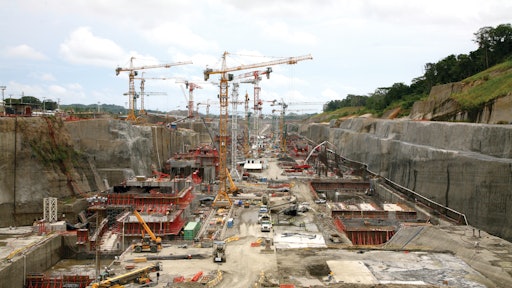 The Challenge:
Cranes play an important role during the $5 billion expansion that is doubling the size of the Panama Canal.
The Players:
GUPC (Grupo Unido Por el Canal)
CORPINSA
Manitowoc Cranes
The Process:
Latin America's largest civil works project is the $5 billion expansion of the Panama Canal. The canal's original construction was an epic undertaking - and the expansion to double its size is an international effort. At the center of the action are 14 Potain tower cranes and four Grove cranes.
Expanding Upon History at the Panama Canal
The multinational consortium of contractors GUPC (Grupo Unido Por el Canal) is in charge of the project to expand the canal. The group chose Panama City-based distributor CORPINSA to handle the lifting work with the Potain MC 205 B tower crane and several models from the Grove mobile crane line.
The tower cranes can move laterally on jobsite railways, saving workers from constantly assembling and disassembling the cranes as they move up and down the canal, said said Alvaro Alanis, tower crane regional sales manager for Manitowoc in Latin America.
At the jobsite, the MC 205 Bs are positioned on both the Atlantic and Pacific sides of the canal, helping to construct a third set of locks. With 164 feet of height under hook and 164 feet of jib, they are working 24/7, installing rebar, formwork and machinery to assist in concrete pouring. Some are moving across the project on jobsite railways while others are mounted on fixed bases. The Potain cranes also feature LVF Optima hoist technology, which allows the hoist to adapt its speed to the weight of the load on the hook, improving efficiency.
GUPC purchased all 14 Potain tower cranes directly from Manitowoc. CORPINSA provided the four Grove cranes on a rental contract, helped install the Potain cranes, established their proper configurations during the planning stage and set the foundations for the fixed base units. In addition, it trained workers at the project in the maintenance and operation of the cranes.
Complementing the Potain tower cranes, GUPC rented two Grove all-terrain cranes - a Grove GMK5220 and a GMK5130-2 - plus a TMS9000E truck-mounted crane and a RT890E rough-terrain crane. The Grove cranes helped assemble the tower cranes and are now handling formwork and performing other lifting requirements.
More than 196 million cubic yards of soil and rock will be excavated from the site and 6.5 million cubic yards of concrete will be poured for the new locks. When finished - with expected completion in 2014 - the canal will have the capacity to accommodate larger ships, including supertankers and the largest modern container ships.
Going Global for the Panama Canal
"The biggest challenge of this project is the limited time frame - everything has to be done quickly," said Raymond Mizrachi, general manager of CORPINSA. "The cranes can never stop working, so a responsive and effective support system must be in place."