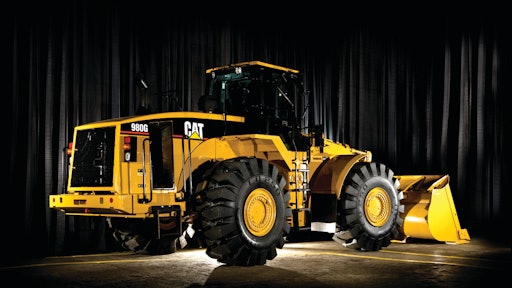 Eventually, no matter how well-built, every piece of equipment reaches the end of its useful life. The Cat Certified Rebuild (CCR) program offers many Cat machines (including the power train) a second life.
The CCR program is a cost-effective way for Caterpillar customers to receive a like-new machine for a fraction of the cost of an engine replacement. The program incorporates the latest Cat technology and critical engineering updates into each CCR machine. Only trained dealer service technicians and genuine Cat parts are used, and the result is a proven option for Cat customers when it comes time to decide to repair, rebuild or replace.
Cat dealers lead the way
Last year Cat dealers worldwide completed 500 total-machine rebuilds, which, on average, cost each machine owner 40% to 50% less than buying a comparable new machine — even though the process involves disassembling the machine to the bare frame and then rebuilding it to meet factory warranty standards.
"At Caterpillar, we don't want to just sell machines; we want to continually support our customers over the lifetimes of these machines," says Doug Oberhelman, Chairman and CEO of Caterpillar Inc.
"The Certified Rebuild Program benefits more than Caterpillar and Cat dealers," he continues. "By restoring used equipment to like-new condition, we minimize waste while providing high-quality, cost-effective solutions for our customers. That's good for all of our businesses and has less impact on the environment."
Celebrating 25 years of CCR
To celebrate the 25th year of the CCR program, Cat dealer Whayne Supply delivered the 5,000th Cat machine to be rebuilt, a Cat 980G Wheel Loader, to owner Sellersburg Stone Company, Inc.
Prior to the rebuild, which was performed by Whayne Supply in the company's Louisville, Kentucy shop, the machine had 30,693 hours of service. Now that the rebuild is complete, the machine has gone back to its primary job of loading asphalt and gravel. The machine took a brief detour to be seen on display in Generations Park (the outdoor Caterpillar exhibit) at CONEXPO-CONAGG.
"The Cat 980G Wheel Loader was rebuilt in about eight weeks, with a new cab, glass, seat, controls and a Tier 3 engine," says Daniel Frailly, Exchange Manager of Whayne Supply Co. Frailly oversees the CCR program for the dealership, which can perform rebuilds in nine locations. Six to 12 weeks is typical for a CCR, and is determined by the size of the machine.
"We completed our first CCR — a D8K bulldozer — in 1985. The unit is still in operation today," says Monty Boyd, President and CEO of Whayne Supply. "Since then, Whayne has completed 400 certified rebuilds, which required 835,492 labor hours in our shops. The CCR program has enabled us to keep mechanics employed and has provided our customers a good alternative to buying a new machine."
Over the past 25 years, Whayne has rebuilt 33 different models, including large dozers, wheel loaders and trucks. Sellersburg Stone's rebuilt 980G will be used in the company's Clark County, Indiana, limestone quarry, located eight miles north of downtown Louisville. The rebuilt machine is a first for Sellersburg Stone.
"In today's competitive environment we look for ways to keep our costs down as much as possible," explains Kenny Rush, Vice President of Sellersburg Stone and Corydon Stone & Asphalt. "The CCR program gave us a chance to have a like-new machine at a much lower price. We are going to get a second life out of the 980G, and we should have more than 50,000 hours on it before it's retired. If all goes well we may also look at completing a CCR on our 990 or 992G in the near future."
Sellersburg Stone is the largest quarry in the Louisville market and is one of the largest producers of limestone in Indiana. Sellersburg's on-site asphalt plant can produce 550 tons per hour and is one of six asphalt plants operated by the parent company, Gohmann Asphalt & Construction, Inc.
"We look at the people at Whayne as friends and as partners. We rely on their equipment, their parts and their service," Rush says. "We also see them as consultants. Whayne has helped us size our equipment fleet to match our production requirements, and they have even assisted us in designing our haul roads."
For more information about Cat Certified Rebuild Programs, customers should visit their local Cat Dealer or the Caterpillar website: www.cat.com/parts/cat-certified-rebuild.