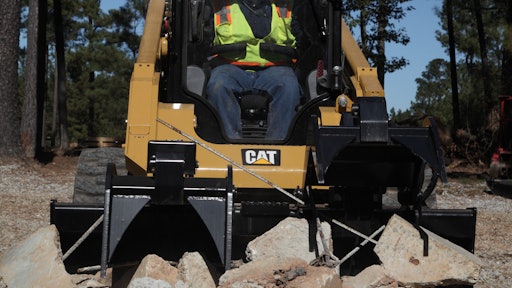 Growth in construction activity has resulted in an all too familiar challenge for construction firms. As with past economic expansions, contractors are facing a dearth of qualified workers to fill vacancies during peak periods. The challenge is exacerbated when the vacancies involve equipment operators, given the more advanced skill set required.
This dilemma has provided impetus for change from the largest to the smallest equipment size classes. Substantial emphasis is being placed on delivering an "office" environment that ensures both new and current operators can be productive in machines quickly, safely and for extended periods.
"For equipment operators, the cab of the machine is their office, so it is important to have features that will keep them comfortable and focused on the job," says Edward Brenton, brand marketing manager, Case Construction Equipment. "When you're in the cab of an excavator for 10 hours a day, comfort and ergonomics are critical for productivity."
"Providing the operator with comfortable equipment he or she enjoys running increases the likelihood of a long-term relationship with a company," says Kevin Coleman, SSL/MTL/CTL product expert, Caterpillar. "An operator's 'office' should be somewhere he wants to be. It should have a comfortable 'chair' (seat), a 'view' (great visibility) and an ergonomic 'desk' layout (operator's compartment).
"For compact equipment, such as the skid steer/rubber track loader products, completing jobs quickly and safely is vital," he adds. "Identifying equipment that can provide these features can provide gains in operator retention, as well as productivity and safety gains."
Bigger, Better Cabs
Compact equipment cabs are being designed to appeal to today's workforce. "Cabs are getting larger, and more emphasis is being placed on ergonomics," says Brent Coffey, product manager - loaders, Wacker Neuson. "If the operator is comfortable, regardless of their size, they are going to be more productive for a longer period of time."
"Case machines have a nice, wide cab with ample foot room. For most compact equipment, that's the way that things are going," says Brenton. "Manufacturers are trying to get the widest, roomiest cab possible, while still maintaining the lowest profile machine from a height perspective, and also trying to stay within the confines of an appropriately sized footprint."
Yet, cab sizing calls for a careful balance. "Keeping the overall cab height down while maintaining a large volume inside the cab is really important," says Brenton, who notes the machine must still be able to fit inside buildings and other structures. "You can't sacrifice overhead height... but you don't want to feel like you're losing headroom."
"The reason people buy compact equipment, in theory, is because it can get into areas that bigger equipment can't, so you have some limitations there," says Gregg Zupancic, product marketing manager, John Deere. "With that said, customers definitely view a more comfortable cab as the one that has a good amount of size.
"The sky is not the limit on cab size in the compact world," he states, "but they have gotten bigger — including for John Deere — over the last five years."
Wacker Neuson placed specific emphasis on the cab design in its new medium-frame skid-steer and compact track loaders. According to Coffey, "The totally redesigned cab is what you would typically find on larger machines. It's nice and wide and provides improved visibility to the sides." This includes a large glass window on the rear of the machine and a low sloped rear hood for enhanced visibility while backing.
The cab is also designed for easy entry and exit. "The frameless door is the widest in this size class," Coffey asserts. "The placement of grab handles also makes it easy to get in and out of the machine."
"Ease of entry and egress are paramount when designing compact machines," Brenton adds.
Tom Connor, excavator product specialist at Bobcat, agrees, noting, "Over the years, and particularly lately, we've seen an emphasis to get door systems on cabbed machines as wide and as tall as possible... There is also an emphasis on lowering the threshold over what was traditionally accepted on a track loader, skid steer or compact excavator."
Another key area of focus is visibility around the machine. "Visibility to the attachment is certainly important," says Connor. "But so is visibility around [the machine] as a new operator comes into a situation so he can really see what's around him. That's an enormous comfort level."
"Machines [need to] have really good visibility so the operator doesn't have to contort to look around the work area," says Zupancic. "Visibility is a really big thing that [John Deere] focuses on in our designs."
The objective is to maximize "working visibility," Coleman explains. He defines this as the ability to easily see the critical areas for everyday work, such as the bucket cutting edge, sides of the bucket, front/rear/sides of the tires or tracks, rear machine corners and the area behind the machine. "If a machine can provide the operator with excellent sightlines to these areas, through design or equipment such as a rear view camera, [the operator] can be safer on the jobsite and more comfortable, which leads to higher productivity," he says.
Noise and vibration levels inside the cab are being addressed, as well. "Through technology, materials, etc., we've done a better job of insulating and keeping the engine and pump sound out of the operator's station," says Connor, "and to diminish the rattles and fatiguing noise and vibration."
"All of the Cat D series models deliver an enclosed cab design that is one complete unit. This means the operator's environment is sealed as a unit," says Coleman. "The one-piece enclosed cab design delivers a clean, quiet working environment that customers can enjoy for the life of the machine. Because the cab is so quiet, customers can also take advantage of an optional Bluetooth radio/microphone to place or receive phone calls or stream music."
Such capabilities are necessities in the minds of today's operators. "Some of these features [like Bluetooth radio] may seem inconsequential, but if an operator is sitting in a machine all day long, these types of features can have a real impact on their comfort and productivity throughout the day," Brenton comments.
Creature Comforts
A number of comfort features have transitioned down from larger machines into compact designs. Zupancic believes this is driven in part by changes in equipment buying trends.
"All equipment in the industry has gone up in price over the last five to 10 years due to emissions regulations," he states. "There is a migration of some customers who may have typically bought bigger equipment down into the compact world... because they can no longer afford the bigger equipment."
With this migration, operators who previously might have spent their entire career in a dozer or large excavator are now spending eight to 10 hours a day in a compact machine. Yet, expectations for comfort remain.
"In order to get a guy who may have driven a $250,000 excavator to run a skid steer, and also to do it productively, you have to have the same sort of comfort level," say Zupancic. "The features and luxuries that were in bigger equipment, they're now asking for in compact equipment."
He expects the trend to more "creature features" to continue. "A lot of things that you see in automotive today will migrate to compact equipment in the future, and for the same reasons," he predicts. "People spend a good percentage of their time every day in their automobiles. It makes sense that technologies that you see in the future in compact equipment would be similar."
Such technology is already making its way into some products. Bobcat currently offers automotive-style climate control in its two largest compact excavators. The system allows the operator to set a temperature and the heat or fan speed increases automatically as needed.
For some, such comfort features are now seen not as luxuries but necessities, and even bargaining chips, to attract and retain operators. Connor cites climate control as an example. Once a "luxury item," he says, "I literally hear the opposite now: 'I would never buy a machine without cab heat and air conditioning because I can't get anyone to work for me unless I promise them that.'" He notes that some operators will jump ship for the same wage provided the added comforts are part of the package.
Compact equipment suppliers are working diligently to adjust to changing operator demands. "Manufacturers are incorporating features like fully adjustable heated air ride seats, adjustable armrests, ergonomic controls, updated HVAC systems and other comfort features into their cabs," says Brenton. "Visibility comes into play here also. Larger windows, heated rear view mirrors, as well as rear view cameras and other features that enhance an operator's visibility on a jobsite are being incorporated into today's compact machines."
Cat D Series skid steers and rubber track loaders include an optional highly adjustable, high-back, heated, air-ride seat with independently adjustable, seat-mounted joystick controls that move with the operator. The joysticks allow precise and easy control, even when traversing rough terrain, and can be adjusted independently of the seat to provide a range of comfortable operating positions for operators of any size, says Coleman. The arm bars also adjust with the joysticks to provide optimal ergonomic arm support.
While a number of manufacturers still offer mechanical hand/foot control options, newer operators tend to favor hydraulic pilot or electric-over-hydraulic controls. Such low-effort joystick controls provide maximum control and minimum fatigue, says Coleman, especially when operating for long periods of time.
"Today's workforce — specifically the younger generation coming into the industry — is much more apt to respond to smaller hand movements and low-effort controls," says Brenton. "This really contributes to electric-over-hydraulic control configurations."
There are other benefits, as well. In previous generation machines, Connor explains, as mechanical cables and levers would wear, it would result in diminished responsiveness of the controls over time (hysteresis). "With the elimination of those mechanical connections and the transition to pilot and electrohydraulic controls, we don't see that hysteresis anymore," he states. "When you move the lever a 1/4 in., you get the same reaction from the blade, boom or lift arm in a 50-hour machine as you do on a 3,000-hour machine."
This not only makes it easier to switch between machines, it is especially crucial when performing delicate work. "You don't have to guess what it's going to feel like or [how it will] react in sensitive areas or tight quarters," says Connor. "This is very appealing to operators."
Enhanced Controllability and Customization
When it comes to the controls, manufacturers are taking steps to both diminish the learning curve for new hires, and adapt machines to varying operator preferences and skill sets.
Some manufacturers start by offering substantial commonality across product lines. "Commonizing cab layouts is something we always strive to do," says Coffey. "The goal is to make the acclimation process to operate a machine as short as possible.
"A good example... is to commonize controls, displays and joysticks across multiple compact lines such as skid steers, wheel loaders and telehandlers," he continues. "The objective being that any operator in a Wacker Neuson machine with a skid-steer plate on it can be easily cross trained in minimal time to effectively operate the machine."
Commonality makes it easier for operators to move from machine to machine and between machine types. "We try to make it so an operator is comfortable operating a Bobcat skid steer, track loader or excavator," says Connor. "By comfortable, I mean reading gauges, knowing where the throttle knob is, how to activate auxiliaries, where the auxiliary control is.
"It depends on the packaging but there's also an enormous commonality when you start looking at the joysticks," he says. "That helps the operator because he doesn't have to sit there for 15 minutes and experiment to see which button does what."
John Deere includes three-way switchable controls that enable operators to switch between hand/foot or electrohydraulic controls at the push of a button. "We've spent a lot of time developing and introducing a control system that can be modified to match the entry type of operator's skills or comfort level," says Zupancic. "We also believe in matching operators' comfort and skill sets to what they're able to be productive with — all in one machine."
Wacker Neuson has taken a similar approach with its medium-frame loaders. "[With the] selectable controls, now the machine can be effectively operated by nearly anyone on the jobsite," says Coffey. "This means that one machine can accommodate nearly anyone."
Adaptability to the operator extends to the electronics on the machine. "With the advancements of Tier 4 Final, there is much more computer and monitoring capabilities on board the machine," Coffey notes. "What was once a fixed cluster of mechanical gauges are now digital displays. These displays allow for customization by various users and can help the operator monitor specific features depending on the job they are performing."
For example, selectable work modes allow operators to get more performance out of the engine and more efficiency out of the machine, says Brenton. "These types of features are geared toward making the machine more adaptable to a specific application, and making it less cumbersome to customize for the operator," he states.
Many manufacturers also now offer the ability to set, and remember, specific parameters to meet the comfort or skill level requirements of individual operators.
John Deere offers three speed settings (Precision, Utility and Productivity) that adjust boom and bucket speed to the operator or application. Take Precision mode — while intended to aid in precision work, it can also enable a new operator to run a machine without worrying about getting out of control, Zupancic notes. Similar settings are available to adjust the aggressiveness of drive functions as the machine propels forward or backward. A creep mode reduces the risk of over running hydraulic attachments such as trenchers or planers.
Caterpillar's Advanced Display includes operator control features that allow the operator to customize up to 12 different machine performance, language or display parameters for up to 50 individual operator codes. "These advanced operator control features provide the ability to adjust a number of machine settings, such as the implement response as well as the drive system response. This means an operator can adjust a machine to match his operation style, experience level or even a specific job task," says Coleman. "The ability to tailor the machine performance to an operator's specific experience level allows operators of varying skill levels to be comfortable with the machine and be more productive."
The capability to adjust to skill level also means less risk of an operator who is inexperienced or unfamiliar with a machine causing damage to the equipment or jobsite. "If you can mesh the machine to operate closely to how the operator is familiar, there's going to be less collateral damage," says Zupancic. "So you're protecting your return on investment when the machine performance can be more closely matched to the skill set of the operator."
Cost vs. Benefits
Admittedly, there are costs associated with the more advanced features and options described. However, there are ways to justify the investment.
Start by calculating the costs should you have to replace an experienced operator. "You have the lost time of recruiting, interviewing and selecting [a new operator], and then you have to train them," Connor notes. This takes other peoples' time and attention and cuts into jobsite productivity.
Training can also extend beyond learning how to run a piece of equipment. "In some cases, it takes [a new operator] half the summer to understand how the [business] entity functions — to not have to be told every step of the process if there isn't a supervisor around," Connor points out. "For a lot of people, the biggest advantage of sustaining an employee long term is simply efficiency and productivity."
Next, factor in the potential productivity gains you could achieve from a more full-featured machine. "If an operator environment is equipped with all the latest advanced features... [operators] are going to be happy and productive, and they will contribute to the bottom line," says Brenton. "For new, less experienced operators, these features will help lower the learning curve and get them up to speed more quickly."
Given the tight construction job market, the ROI can add up. "Employee retention has a serious impact on businesses of all types and sizes," says Brenton. "You want to make sure your employees... are provided with the latest and greatest equipment to get their job done."
Companies in this article