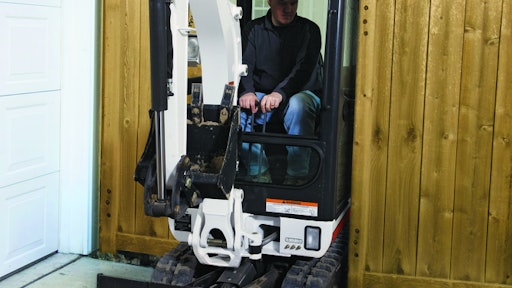 Compact excavators are one of the most versatile pieces of equipment on any jobsite – and in any rental inventory – and they continue to evolve to serve the changing needs of equipment owners. While innovations of the past included such revolutionary advancements as zero tail swing, today's improvements center more on incremental changes that help make operators more comfortable and service techs more effective.
Comfort at any price
While equipment features that increase the comfort level of operators might seem like luxuries in the face of a struggling economy, compact excavator manufacturers know better. In fact, many believe features that improve the operator's experience are more important than ever as they increase the long-term "rentability" of machines.
"Sure there are some buyers who are still looking for the most basic, lowest-cost machine available in order to accomplish their immediate task," notes David Steger, product manager with Takeuchi. "But many are opting to rent, lease or purchase a machine with a higher level of features to allow more productive operation and greater versatility when operating attachments. They also have their eye on maintaining value over the long haul with a full-featured machine."
Mike Boyle, product sales consultant with Hitachi agrees, noting that as more and more contractors discover the benefits of compacts, they are expecting them to have the same features and benefits they're used to having on large machines. "They're looking for things like smooth hydraulics, enclosed cab with heat and A/C, comfortable seat, auto idle, durable construction and shifting from high to low speed," he says.
According to Steger, some rental companies have also begun putting some of these full-featured machines into their fleet, hoping to capture more of the rent-to-sell market. "Everyone has felt the credit pinch in one way or another -- and credit is certainly harder to come by for people in the construction trades -- but what happens when a contractor can justify the machine, has the means to make the payments, but just can't qualify for prime rate financing? Renting certainly becomes a viable option and in this case, the customer may choose a long-term rental of a fully optioned machine with the intent of purchasing the machine at a later time when their cash flow or credit situation allows."
Simplified service
For rental companies, machine uptime is tantamount to success, so equipment that is simple to service is top on the list of concerns. Jay Badhuin, compact equipment product manager with Wacker Neuson, states that many of their models have a tilting cab, offering easier serviceability to key components. "This provides the service technician easy access to items such as the swivel joint, the main control block and the swivel motor," he explains. "All of this will help ensure the daily maintenance gets done on these units, as well as reducing the downtime. It also provides the service technician with a safer servicing environment because they will not need to lift or remove anything in order to access the key components of the machine."
Serviceability is also important to keep things moving efficiently in the shop. "It's more than comparing if one machine takes 20 minutes to change the oil vs. another that may take 30 minutes," Steger says. "Serviceability is the relationship between the overall design and construction of the machine and how easily it can be maintained over the entire life of the machine, from routine service and hose replacements, to servicing coolers and repairing components."
Lower cost, higher value
Cost of operation and machine efficiency are important considerations in today's economy and fuel efficiency directly relates to that. "Contractors are analyzing every dollar being spent and the fuel bill is certainly one area that easily stands out," Steger says. "Higher-horsepower engines result in higher fuel consumption, so if you can do the same work with an optimized power train, why would you choose a model that is louder, less productive and uses more fuel?"
Badhuin at Wacker Neuson notes all Wacker Neuson excavators are built for the contractor who expects and demands high-quality, durable equipment. "All excavators offer the torsion-resistant X-shaped chassis frame, solid-welded structures and steel castings," he says. "Our pins and bearings are purposely designed to be oversized. On high-stressed bearings, they are supported by replaceable hardened-steel bushings with special machined grease grooves. These bearings, pins and bushings mean the machines can withstand heavy use and many types of applications. This means that the contractor will have lower maintenance cost and higher resale value. Also we have designed the bushings to be easy to replace without the need for machining or welding."
Zero vs. conventional tail swing
About a decade ago, the equipment world was in the throes of its love affair with the zero tail swing compact excavator. With the introduction of this advancement, operators were suddenly able to work closer to obstacles than ever before, taking jobsite efficiency to a new level. Today, zero tail swing models are still the rage, but operators have realized there continues to be a place for conventional tail swing models too.
"The trend was going from conventional tail swing to zero or minimal tail swing," recalls Tom Connor, excavator product specialist at Bobcat. "But not everyone wants that now, so we still provide diversity in our line. Today, we have zero, minimal and conventional tail swing models."
Connor explains that with a zero tail swing compact excavator, the operator can get closer to walls and other obstacles and still rotate fully without damaging the machine or the structure. This increases flexibility for the operator, who can dump dirt behind as well as next to the machine. The drawback is a zero tail swing machine has a wider undercarriage, making it more difficult to get inside tight entries.
"By offering both, customers can choose the best machine that fits their present and future needs," says Steger. "For many years the trend to go with a zero tail swing or minimal tail swing was all the rage and it certainly still proves to be very popular in many applications, but customers are expecting more out of their machines and increasing their versatility by adding more attachments and features on the machine. In order to add multiple attachments or longer-reach arms to many of the compact swing machines means you must hang a large counterweight on the rear to regain some of the balance lost with the heavy attachments. This results in better performance than before, but you are still severely limited by the basic platform when it comes to operator comfort and serviceability. Being able to offer a conventional machine with a long arm has allowed Takeuchi to offer a platform that is better suited for working with multiple attachments and still provides all of the benefits of a conventional excavator design."
Today's features, tomorrow's technology
Bobcat continues to offer arm variations on its models, allowing owners to choose standard or extendible arms. "The extendible arm allows an operator to extend the arm up to 30 inches beyond the length of a standard arm," says Connor. "This appeals to plumbing and carpentry professionals; anyone who doesn't want a bigger machine but needs to get over things and get to a depth a distance away."
For its part, Deere notes some changes planned for the near future. "We are making running changes as we move forward on the popular D-Series," says Mark Wall, product marketing manager for excavators, John Deere Construction & Forestry. "For example, we introduced an angle blade for the 50D; look for angle blades on additional models over the next few months. Also, we moved the auxiliary control from a proportionally controlled foot lever to a proportionally controlled switch on the right-hand pilot lever. In addition, we're updating the monitors for better visibility and adding the thumb bracket as standard from the factory to make installation of this popular attachment easier."
Steger sees future developments for Takeuchi including such features as multiple auxiliary hydraulic circuits and higher hydraulic flows for more attachment versatility, as well as auto idle for quieter, more efficient operation and improved function controls. "On-demand control of the attachments is just as important as controlling the other machine functions," he says, noting that Takeuchi has a mid-year introduction planned that will continue to expand the 200 Series machines that were first introduced in 2008.
The big picture
Compact excavators have become an indispensable tool on today's jobsites and that promises to continue. While no drastic changes are expected in terms of performance, the goal of increasing value holds many benefits for equipment owners. "We're not seeing huge increases in bucket force, for example," notes Connor at Bobcat. "What we're seeing now is an effort to continually build on quality and reliability and durability. Owners are striving for the optimal value."
And that value is based in part on what used to be considered luxuries, but are now becoming must-have features. "As the economic situation has played out, owners are putting more thought in the process of buying a machine. They're looking at the cost of ownership, and when they go to trade it out or sell it, a loaded-up machine will more than pay for those options," Connor says.
He notes this logic applies especially to machines in a rental inventory. When customers begin to expect a certain level of quality and comfort from the machines they use, they seek that same type of machine when they need to rent. At that point, the small savings that results from going with a stripped-down model does not translate into long-term gains. As Connor states, "Even though your machine might be cheaper, if it doesn't rent, it's more expensive."
Companies in this article