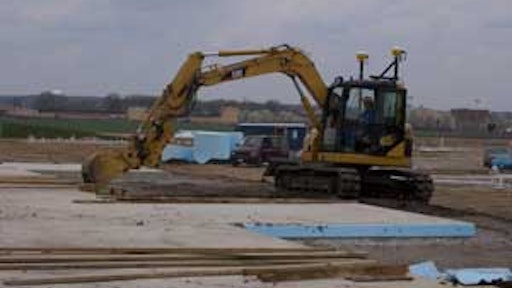 World War I became the testing arena for all sorts of new technology. Although Zeppelins, flamethrowers and carrier pigeons did not survive, the use of planes did. In fact at the height of the war, the U.S. Secretary of War advocated an expanded role for aviation, and the establishment of "flying fields" where young men could "learn the skills of warfare" before traveling across the sea to fight "The War to End All Wars." One such airfield was to be located in Belleville, Illinois - about 20 miles east of St. Louis.
The government gave the contractor 60 days to erect approximately 60 buildings, lay a mile-long railroad spur to connect the field with the main line of the Southern Railroad and level off an airfield. Construction was underway when it was announced that the field would be named after Corporal Frank Scott, the first enlisted person to be killed in an aviation crash.
Today, another ambitious construction project is taking place on 235 acres on and adjacent to the Scott Air Force Base. In three phases, 609 homes for U.S. Air Force personnel and their families are being constructed by private contractors. The two-family and single-family dwellings will meet modern housing standards and be a far cry from as one newspaper described typical military housing: "the bleak, utilitarian units that toe the streets like soldiers at attention."
The government put the bid out for privatization of the housing. The winning general contractor, Hunt Construction Group, Scottsdale, Ariz., has successfully completed similar projects attached to other military bases, so they jumped right into the project. Randle Construction, Inc, Freeburg, Ill. is responsible for completing all of the concrete footings and foundations.
"After we won the bid, we started to look closely at cost-saving ways and how we could do things more productively," states Ron Randle, owner of Randle Construction.  "We had a 20-month schedule given to us, so we needed to figure out how to get it all done in that timeframe."
The mix of housing is far from cookie cutter- 58% being two-family, 42% single-family. Home sizes vary according to the resident's rank. All the buildings are being built of a quality expected to last at least 50 years.
The challenge to Randle Construction is that they are facing 36 different  foundation plans - actually, 72 different layouts since each plan is also flipped to provide a different living configuration.
Randle was looking for time-saving advantages for both the foundation layouts on the building pads and for digging the foundation configurations. "This would have been a tremendous amount of staking, manpower and time had we not acquired technology to help," Randle says.
After consultation with his Trimble dealer, Randle adopted a solution that is unique to his market: They installed a GPS-based grade control system on a mini-hydraulic excavator. The Trimble GCS900 Grade Control System with its dual GPS antenna configuration was installed on a Cat 308C mini-hydraulic excavator.    
His Trimble dealer, assisted with the preparation of data files for the different layouts. "Giving a machine operator the ability to pull onto a building pad and see the layout on screen and know exactly where to dig is fabulous - so investing in the Trimble systems was for me...a no-brainer," Randle says. "To be honest, it would be a nightmare without."
With the savings in labor alone, Randle fully expects to pay for the Trimble GCS900 Grade Control System well before the 20-month duration of this project is completed.
"Foundations that now take four hours to dig with the GPS-based grade control, would easily have taken a full day using traditional methods," states Randle. "In this market, if you're digging with a backhoe you need a laborer in the hole with a story board to check the grades. With the Trimble system on the mini-excavator, I don't need that extra laborer monitoring the grade - besides, the operator doesn't need anyone babysitting her work. The extra laborer is there to clean out the corners, which we can't get when we're digging 90-degrees and offset.
"Also, if you add the time-savings and productivity gains we've experienced with the rover, we're completing stake out on a building pad in about 30 to 35 minutes, which used to take us three to three-and-a-half hours to complete." The rover Randle is referring to is the Trimble SPS880 Site Positioning System "Smart GPS Antenna" and the hand-held Trimble TSC2 Controller - both of  which are attached to a mobile rod. The SPS880 integrates the GPS receiver, GPS antenna, radio, radio antenna and battery into one unit that interfaces with the TSC2 Controller. The combination provides Randle with an all-on-the-pole solution for conducting stakeout and grade checking.
"We love the versatility and one-person operation that the Trimble rover provides," Randle says. "We even use it to make our non-GPS machines more productive. For example, we'll use it to paint off the dig lines for a backhoe and get it digging to save additional time."
Randle cites the combination of the technologies as offering his company future advantages. "With the rover, a base station and GPS grade control, we'll be able to bid extremely competitively on new projects...and different types of projects we wouldn't ordinarily consider. I know that once we're finished with this project, we plan to use the excavator system to perform small utility jobs and other tasks that we've never before been competitive on. We're planning to move to GPS on all of our digging equipment and we'll invest in base stations, to give us the flexibility to easily move our equipment from project to project.
"I'm sold on the technology - it's already saved us a lot of money and it will become more and more significant for future work. For me, there are three big benefits: accuracy on placement, the faster speed in which work can be completed and the significant labor savings." Randle concludes, "We're learning a lot on this Scott Air Force Base housing project that will help us be even more productive in the future."
Jeff Winke is a construction writer based in Milwaukee, WI.