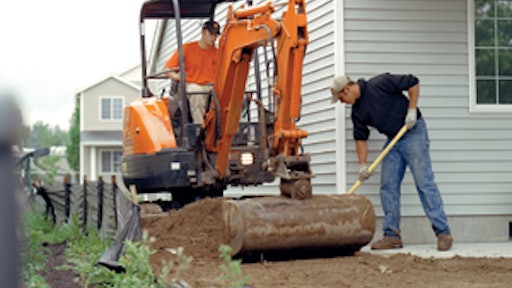 Compact equipment is becoming the norm on more and more jobsites as space becomes scarce but the need for power remains constant.
Today's compact excavators not only fit into tight spaces, but they are light on their feet — so as not to disturb delicate turf — and they can be used with a variety of attachments to increase their versatility.
Following are some stories about how leading machines were able to help contractors perform their jobs as well as assist some rental companies in making a buck or two in the process.
Bobcat on call
Excavating contractor rents compact equipment, breaks into cell phone tower installation
Jerry Walck believes in the power of renting compact equipment. In fact, he says that's what sets his excavation company apart from some of the other guys out there.
"We can match the right piece of equipment with the right job, and that's how we customize," says Walck.
In the beginning, when Walck founded SiteWorks LLC two years ago, he walked into Fisher's Rental Center in Reading, PA with the hope of renting his first machine. "We started with just my last paycheck and that was it. Fisher's Rental was the first one to give me a line of credit," he says. "We started renting right off the bat, and we've never changed."
Since, SiteWorks has rented several pieces of compact equipment to perform excavation and site preparation work for the installation of cell phone towers. In order to meet the demands of primary contractors hired by big-name telecommunications companies like Sprint, Verizon, Cingular and T-Mobile, Walck has discovered that compact equipment with tracks enables him to work in all types of conditions, from confined and muddy to hilly and rocky.
"I think we optimize the equipment for the job. A lot of these guys have got the big backhoes and dump trucks, and they run into these jobs and they're confined. These sites are tiny," he says.
Cell phone tower work calls
Walck happened to fall into the cell phone tower installation market while working on a jobsite for another contractor. While there, an employee with the telecommunications company asked Walck why he wasn't performing the excavation work himself.
Today, cell phone tower installation projects make up nearly all 90 percent of the commercial work Walck takes on. SiteWorks, which specializes in utility installation, light excavation and grading, and concrete work, is usually subcontracted to excavate, install conduit and build the concrete piers that the cell towers rest on. "We do all of the civil work, and then another company comes in and does all the tower work," Walck says.
Walck and his two employees perform all of these tasks with their rented Bobcat 325 compact excavator and T180 compact track loader. Typically, the machines are used in tandem — Walck excavates with the 325 compact excavator, while another operator follows behind and backfills the trench with the T180 after placing the conduit.
In recent years, Walck has seen an increased usage of compact excavators with tracked undercarriages like his 325 by others in the excavating industry. He says more contractors are recognizing the advantages that such compact and agile machines provide. With a rubber-tire backhoe, Walck says he would have to get out, spin the seat around, lift up the bucket and stabilizers, and then move it another 10 feet to continue digging. All of that precious excavating time was being wasted, he says. Now, with the compact excavator, Walck can stay inside the cab and keep digging.
The 325 also eliminates manual labor on many jobsites because it can reach areas that larger equipment can't. "We have a lot of sites that are between parking lots or in between two buildings," Walck says. "We can get in those areas with the compact excavator, and with the way the boom oscillates, you still have the turning radius of the machine. So sites that normally take two weeks, we're getting in and out of them in about four days because we don't have to hand dig them anymore."
And though the compact excavator is small in size, he has found that it's not small in power. "We can dig about 700 feet in an eight-hour shift. It's extremely fast," Walck says. "You're not sacrificing speed or digging ability."
Working in tandem
The SiteWorks crew capitalized on the performance and productivity of its equipment during a recent cell phone tower installation project in Churchville, PA by operating the machines in tandem.
SiteWorks was subcontracted to install 3,000 feet of four, 4-inch conduits and build the piers for a Verizon cell phone tower near the Willow Grove Naval Air Station. Walck and his two-member crew began by digging the 3,000-foot trench for the utility lines. The trench route entailed digging along a roadway and through a golf course. Even though they ran into some rock while trenching, the crew was able to excavate more than 600 feet each day. In addition to the difficult soil conditions, Walck also had to work around mature trees and fence surrounding the golf course. "We could work well alongside the golf course fence because all we had to do was swing the boom instead of having to swing the entire machine and worry about hitting the fence," he says. "You don't run into a lot of obstacles when you're using smaller equipment."
But that doesn't mean the job was without stress. If you ask Walck, he'll tell you that the threat of hitting a fiber optic line is the biggest stress that comes with any cell phone tower installation job. "If you hit a fiber optic line, you might as well shut your doors. I've heard stories of contractors having to pay $750,000 after ripping up a fiber optic line."
On this project, the SiteWorks crew dug alongside a Verizon fiber optic line. In addition to locating the line prior to construction, a Verizon employee also stayed on-site while Walck and his crew dug the 3,000-foot trench. "We routinely marked and checked the location of the line to make sure we weren't getting too close," he says.
Again, Walck says he operated the 325 compact excavator while another member of his crew followed a few feet behind with the T180 compact track loader. As Walck excavated and placed the spoil behind him, his crew member would place the conduit and then backfill the trench. The utility lines were run from a transformer utility pole to the compound where the cell phone tower would sit.
Once they reached the cell phone tower site, the crew attached a 2-foot auger to the compact track loader to install the piers for the cell phone tower shelter. Walck says the 65,000-pound shelter sits atop a total of eight, 2-foot piers. After the concrete for the piers was poured, the site was ready for the cell phone tower to be brought in and set. In all, it took Walck and his crew seven days to complete their portion of the project.
"I think we're twice as productive with these machines," he says. "They're easier to move to a site and you can pretty much fit them on any site."
Mustang cleans up
Compact excavators assist recovery efforts after devastating series of storms
Unmatched destruction characterizes the view from Ciro Manriquez's excavator. As a foreman for a hurricane cleanup crew, Manriquez is reminded of the obliteration caused by the storms of 2005 in the southern United States every morning he climbs into the cab of his Mustang ME12002.
Manriquez belongs to the crew of South Texas Landscaping, a demolition contactor that travels across the southern states cleaning up after natural disasters.
During the past year and a half, South Texas Construction has worked on sites ravaged by hurricanes Ivan, Dennis, Katrina, Rita and Wilma. In addition to disaster cleanup, the crew has expertise in land leveling, as well as the construction of berms and swells for water ways.
Over the past year, the crew has averaged five sites per day over seven-day work weeks.
The crew is not without its own personal loss. Project Coordinator Diana Plauche is helping family members who lost everything they owned — including their homes — relocate to other areas while assisting South Texas Landscaping on its jobs.
The sites on which South Texas Landscaping works are never ideal. Humidity and remaining flood waters make the ground conditions extra soggy and especially taxing for heavy equipment.
Choosing the right piece of equipment was a challenge for the crew, as ground conditions, space constraints and lift requirements all combined to make compact equipment too weak and large equipment too heavy.
The crew selected the Mustang ME12002, sourced from Gulf States Equipment in Gulfport, MS, because it has the perfect combination of strength, agility and buoyancy.
The Mustang ME12002, with an operating weight of 25,397 lbs., boasts a 98.4-hp engine and 19,665 lbs. of lifting capacity.
"Much of our equipment was too large to get into the neighborhoods and weighed too much for the swampy soil we needed to maneuver though," says Rudy De Leon, owner of South Texas Landscaping. "The Mustang was chosen because it met our weight and size requirements."
The crew works off landing mats in wet ground conditions. "We can't spend our time digging those mats — not to mention a machine — out of the mud," adds operator Jack De Leon.
Machine weight is also important for transportation, as the crew convoys the unit from site to site on a lowboy trailer.
The equipment has earned its 320 hours removing trees, clearing land and demolishing homes too damaged for repair.
Equipped with a bucket with a thumb, the ME12002 is able to handle difficult and off-size debris.
While his work is physically and emotionally difficult, Manriquez, who operates the ME12002 on the crew, appreciates the small comforts and conveniences of the Mustang excavator.
Often working 10-hour days behind the controls of the excavator, Manriquez is happy to have an enclosed, air-conditioned cab protecting him, not only from the muggy heat, but from the mosquitoes — which are often the only remaining residents of the neighborhoods he clears.
He also appreciates the ability to switch from rubber to metal tracks as the job conditions change.
Manriquez and the rest of the crew will continue to work in these damaged areas until things are back to normal and the homeowners can return to the areas they used to live.
"We are so proud of our employees, who have conducted themselves professionally as they clean up these homes," said Rudy De Leon. "They take their work very seriously and do their best to help these residents get back the life they had torn away."
Driven to succeed
John Deere zero-tail-swing compact excavators: productivity in tight spaces
Contractors both large and small will find the John Deere D-Series ZTS compact excavators indispensable in just about any job. With faster operating speeds and increased drawbar pull, operators can move more material in less time. And, a zero-tail-swing design combined with an independent-swing boom and 360-degree rotation means the D-Series is far more maneuverable and productive in tight spaces than larger machines.
Just ask Bud Willitzer, president of Lakemaster, a boat dock and seawall manufacturer in Muncie, IN. For many years, crew members used a jackhammer to install the interlocking vinyl sheet piling panels that make up a seawall. Today, their John Deere 35D does most of the work. Using a concrete breaker fitted with a special shoe, the operator simply drives in the piling from the comfortable seat of the operator's station.
"The machine is versatile. It's become an absolutely necessary piece of equipment on the job," Willitzer said. "A backhoe simply doesn't have the 360-degree rotation we need to move dirt away from where we are digging, so we can keep moving down the shoreline."
Many of Lakemaster's shoreline jobs are surrounded by steep hills and are difficult to reach. The 35D's compact size allows it to be unloaded at the worksite from a barge.
"I can get into a lot more places with it than I can with a bigger machine," said operator Kevin Grim. "And even though it's compact, it has good power. Controls are smooth, sensitive and easy to work with. Visibility is wonderful. It's just an all-around good machine."
Not surprisingly, D-Series excavators also are popular among small excavating companies. One such company is Hathaway in Fredericktown, OH, which owns a 35D and a 50D. Hathaway performs mostly light residential work, including work in basements — a tight spot for a backhoe, but no problem for a D-Series machine.
"We're able to put these excavators just about anywhere we need to dig," said owner Kim Hathaway.
Despite the compacts' smaller size, Hathaway has actually seen production increase. "They move so much dirt, it's just amazing," he said. "By the time you're done lifting the outriggers on a backhoe, a mini-excavator has already dug the next section."
Prior to entering the excavating business, the Hathaway family farmed more than 5,000 acres. "We've run Deere for years. The equipment is dependable and reliable, and you can always find the parts you need. I'm really glad we went with Deere."
Filling a niche
Gehl compact excavator success leads to fleet expansion at AAA Rentals
AAA Rentals in Redwood City, CA has been operating the past 42 years with one goal in mind: to meet the continually changing equipment rental needs of its customers by offering everything from chipping hammers to propane heaters.
Founded in 1964 by Ken Brown, AAA Rentals has carved its own niche by specializing in landscaping equipment and specialty tools. Brown recently saw an opportunity to expand the rental yard into the compact equipment sector, due to the retirement of a long-time competitor.
"People were used to coming to this side of town and being able to rent whatever they needed," says Ed Dobbs, manager at AAA Rentals. "We had two choices when they closed up shop: either step up to the plate and expand our rental offerings or lose potential market share to other local competitors."
AAA Rentals rose to the occasion and purchased a Gehl compact utility loader from WB Equipment in Livermore, CA. Seeing the market potential and success with the utility loader, management at AAA Rentals quickly realized that they were going to need to expand their compact equipment fleet.
"Warren [Hansen] at WB always let us know what was out there in the way of larger equipment," says Dobbs. "He helped us pick the right equipment that has been economically beneficial for us and provided consistent results for our clients."
AAA Rentals purchased two Model 223 compact excavators. In addition to the spacious operator compartment and ergonomic design, this model includes the industry-exclusive house leveling feature. This allows an operator to work on hills or steep slopes and level the house up to 15 degrees. Without repositioning the tracks, the excavator can dig a straight trench while on a slope.
"The house leveling feature has created a tremendous added value for the client and creates a need to return," says Warren Hansen of WB Equipment. "The operators get used to the leveling feature and can't get it elsewhere, so they return to AAA Rentals because they are the only one in the area with Gehl 223 excavators."
Consistent rentals of the excavators and a positive return on investment made further expansion of the compact equipment fleet a priority. Within the past 18 months, AAA Rentals has added a 3640E skid-steer loader, two 4640E skid-steer loaders and two CTL60 track loaders to its fleet.
In the last year and a half, AAA Rentals has added two 4640E skid-steer loaders, a 3640E skid-steer loader and two CTL70 compact track loaders to its rental fleet.
"The Gehl machines have become a steady, reliable money maker in our store," says Dobbs, adding that customers especially like the responsiveness and ease of use of the controls in the skid and track loaders. All the rental store's skid-steer loaders have "T-Bar" hands-only controls, allowing the operator to become familiar with the controls in a very short period of time.
Dobbs attributes the success of the yard to its loyal client base. "Our clientele appreciate the quick and efficient rental process and the overall AAA Rentals experience. AAA Rentals has gained the confidence and trust of our clients by having what they need when they need it and getting them in and out of the yard in a timely manner."
Gehl's compact equipment, with its reliability, has added a great new market potential for AAA Rentals. Marv Willard, shop foreman for AAA Rentals, likes the machines because they require minimal maintenance. "We have to have top-of-the-line machinery because of the quick turnaround time. The Gehl equipment is put to the test on a daily basis. With a little regular maintenance they just go right back on the lot to be rented again."
Look out below
Kimber Landscaping finds 101 uses for its JCB mini excavators
For 25 years Ted Kimber has been designing landscaping, hardscaping and fencing for his customers in the southeast corner of Pennsylvania. In the past few years, however, Kimber has found a new and innovative way to conduct business while cutting down on time, manpower and costs.
Kimber's innovation comes in the form of a JCB mini excavator and it has changed the way his business now takes on the day-to-day challenges in the landscape market. Originally, he had a crew of nearly 15 men performing tasks such as land clearing, post hole digging, moving and placing hardscape materials, and various other functions that a crew would need to perform in order to complete the job at hand.
Now Kimber has "seen the light." Both he and his partner, Jason Tisone, work their JCB 8015, 8017 and the newest member to their team — a JCB 8018.
Earthborne Equipment of Warrington, PA was able to provide this new machine to Kimber and Tisone in time for them to take it on their most recent job.
On the site Kimber and Tisone worked the 8017 and 8018 like extensions of their own bodies, where other landscapers would need to run a crew of about 10 men. The first stage of the job was to clear approximately three acres of brush and pine trees. To accomplish this, Kimber and Tisone worked on the 8017 and 8018 in tandem to push trees over and stack the logs in piles.
Later, the pair would attach an auger to drill and dig over 300 post holes to accommodate hundreds of feet of fence that would enclose the now cleared piece of land. This was done by simply placing the 8018 in one specific location which allowed the boom and dipper to be maneuvered to three different hole locations. All this was done in one day. Compared to the past, Kimber states, "It would have taken a crew with a couple of four-man augers to accomplish the same task over a longer period of time."
Kimber has also been able to accomplish retaining ponds, paver patios, decks, hundreds of feet of fence, relocation of large boulders and an assortment of other unique landscaping functions. Kimber attributes his company's success and the ability to take on larger or more complex jobs to his and his partner's abilities to create and innovate new ways to use a machine traditionally only used to dig holes.
Kimber also has the ability to use his JCB mini excavators in unique ways. Kimber states, "I have an assortment of 15 custom attachments that aid in our ability to quickly perform work on jobsites."
In his portfolio, Kimber shows pictures of boulders that have been relocated, fences that have been set and thousands of paver blocks that have been laid all with the aid of his JCBs and the custom attachments he keeps.
Kimber is currently in the midst of patenting these attachments and working on a program to sell a "landscaper package" which would include a JCB mini excavator, the patented "Kimber" attachments, and instructions on "how to be a one-man landscaping crew."