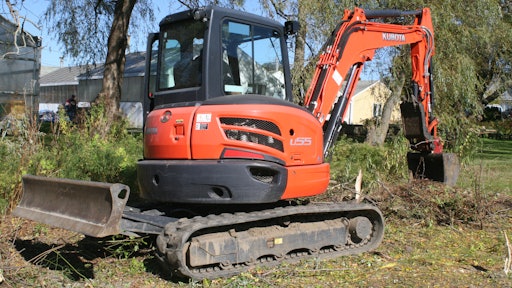 Since their introduction more than 40 years ago, compact excavators have been steadily making a name for themselves, largely due to their ability to work on smaller jobsites or in confined areas. Today, thanks to a host of buckets, thumbs, grapples — and brackets to quickly switch between them — they can make a huge impact on a project.
No one knows that better than Jim Pelletier, founder and owner of Tiverton, RI-based Tiger & Son Tree and Landscape Company. On a recent parking lot expansion project, the Rhode Island general contractor proved just how versatile a single, compact machine can be.
"This was a 30,000-sq.-ft. expansion of an existing lot that served some in-town retail shops," says Pelletier. "We were working as a subcontractor to another firm and were hired to do virtually everything short of the paving itself. Though the work was extremely varied in nature — everything from land clearing, to concrete removal — I was able to do the bulk of it with a single Kubota U55 mini-excavator."
Starting Small
As is often the case with successful small businesses, Tiger & Son Tree and Landscape was formed by a young man with a vision, ambition and a determination to succeed. Fresh out of high school, Pelletier took what had been, for a number of years, a decent summer job and saw the potential of a livelihood.
"I had been mowing grass for neighbors since I was about 14 or 15 years old and really enjoyed it," he says. "So I already had a nice relationship with all these folks. When I decided to start my own business installing lawns, doing some basic landscaping, things like that, they were almost a built-in client list. It was a really nice advantage to have starting out."
As part of that startup operation, Pelletier knew he needed to have some kind of machine with a bucket to minimize the physical part of the job. Working through a local equipment supply house, he purchased a small used tractor and the business was born.
With that single machine, Pelletier steadily built the business to a point where he had as many as seven people working for him. Preferring to stay small and provide more personal service, he's downsized over the years and currently operates with a crew of two plus himself. It was that contingent that was brought in to do the parking lot project in nearby Middletown, RI.
A Versatility Boost
The project started with Pelletier using the compact excavator to topple more than 30 mature trees located on site. Then, with the trees on the ground and gathered, he used that same machine to feed a Rayco RC-20XP chipper.
"Using the Kubota to load wood waste into the chipper is, to me, like having several extra men onsite," says Pelletier. "In fact, it's even better, since removing men from the chipping activity improves onsite safety for us.
"Using the machine's bucket and thumb, I simply grab a mouthful of brush — far more than a single guy could handle — feed it into the chipper and repeat until the pile is gone," he continues. "It makes that portion of the operation fast, safe and efficient — just what a smaller firm like ours needs on a job like this."
With the brush debris removed, Pelletier moved on to removing all the stumps left behind from the tree-felling effort. He says the U55 has an impressive amount of breakout force for a smaller machine, making the grubbing effort fast and easy.
"We just excavate a small area around each stump, reach in, pull it out, set it in a pile and move on to the next one," he says. "When the stump pile is sufficiently big, another area contractor comes by and picks it all up to grind it into mulch. We also haul off and stockpile the mulch we've created from the brush and tree debris for later use. Not much goes to waste out on any of our projects."
Pelletier also used the machine's 6.5-ft.-wide blade to do a basic grading effort in preparation for subsequent work. With that facet of the job wrapped up, he turned his attention to the site's existing curbing.
"This project is an 'R & R,' which means we are removing and reusing much of the curbing that is currently in place," he explains. "While that could be a problem for some contractors… I am able to easily dig around an existing section of curb to expose it, and, again using the bucket and thumb, lift it out intact. When the time is right, more than half of the 850 ft. of curbing we removed will be used to form the back edge of the parking lot, resulting in savings in both time and material."
Additional work at the Middletown site included using the compact excavator with a Gorilla GHB 70 hammer to break existing sidewalks for removal and recycling, and digging more than 1,700 ft. of trench for onsite drainage.
"We used several different sized buckets on that project, ranging from 12 to 24 in. in width," says Pelletier. "That allowed us to not only dig the trenches but also excavate for on-site light poles. Because we are a smaller operation, we have to maximize the amount of work we can do with most of our equipment. We really proved that out with the Kubota unit on that particular job. There wasn't much it didn't do."
The entire parking lot expansion project, from felling trees to final paving, was completed in just three weeks.
Solid Support
Pelletier purchased his U55 through the Burrillville, MA, branch of Norfolk Power Equipment, but his relationship with Kubota equipment and dealers precedes that by some time.
"Back when I was first starting out, I needed an additional tractor and went in to Goldstein's Lawn & Farm in Westport, MA," he says. "There I met the owner, a fellow named Ernie Ferry, who has since passed on — just a wonderful guy. Even though he knew nothing about me, I told him what I needed and he said 'Take this Kubota 1750. I know you'll like it and I know you'll come back and pay.' He was right on both counts."
While Pelletier still occasionally works with Goldstein's, today he enjoys a particularly solid relationship with Norfolk Power Equipment. In addition to the U55, he has purchased a smaller U35,a ZD 326 zero-turn mower, an L4710 tractor and more from the dealer.
"I can't say enough about the level of support Dave Carpenter and the people at Norfolk Power have provided me," he says. "When I bought the U55, it was an almost-new machine — extremely low hours. However, on the first job I took it to, it started showing some signs of fuel-related problems. I called Norfolk and they said they'd send a man out. By the time he got there, I'd figured out what the issue was and had it running fine. Afterwards, I called them because I hadn't gotten a bill and they said: 'There's no charge. We appreciate your business.' That kind of service is almost non-existent today."